Weaving dreams: Jute vendors on city streets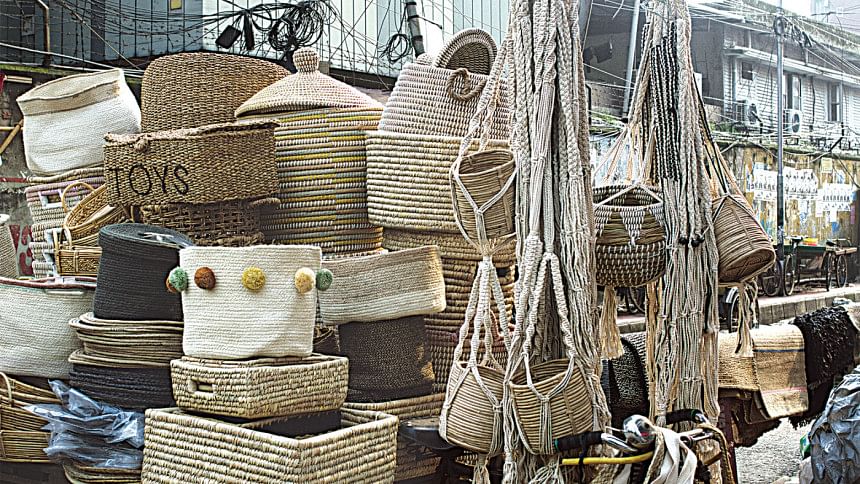 Recently, while passing through the bustling streets of Gulshan-1, an elderly vendor selling beautifully stitched jute bags and mats caught my attention.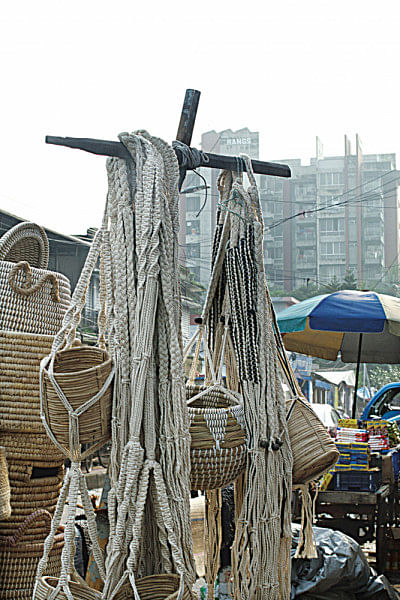 I have encountered such hawkers before — shouting at the top of their lungs to grab the attention of passers-by to sell their jute-infused products.
We will find plenty of such jute-made goods on Dhaka's streets, and the richness of their craftsmanship is immeasurable.
Known as the "Golden Fibre", jute is deeply rooted in Bangladesh's culture and economy. Dhaka is a living testament to this legacy because you will find vendors selling bags, purses, rugs, footwear, and home décor items crafted with jute, in markets or at roadsides in the capital.
Jute's natural allure and versatility have seamlessly captured the world of home décor. From elegant rugs that add warmth to living spaces to intricately woven mats and carpets that tell stories of tradition, jute brings an authentic touch to interior design. 
Just stroll down the streets of Gulshan-1 at Road 11 (beside Gloria Jean's Coffees), and you will find a smiling vendor named Barek Molla selling jute products like masterfully crafted rugs, carpets, placemats, coasters, baskets, hats, and whatnot!    
"We do not necessarily make these products; we buy them from manufacturers who produce them to export abroad. You see, our jute-based products are very popular in foreign countries. Therefore, people exporting them like to order them in bulk," he said.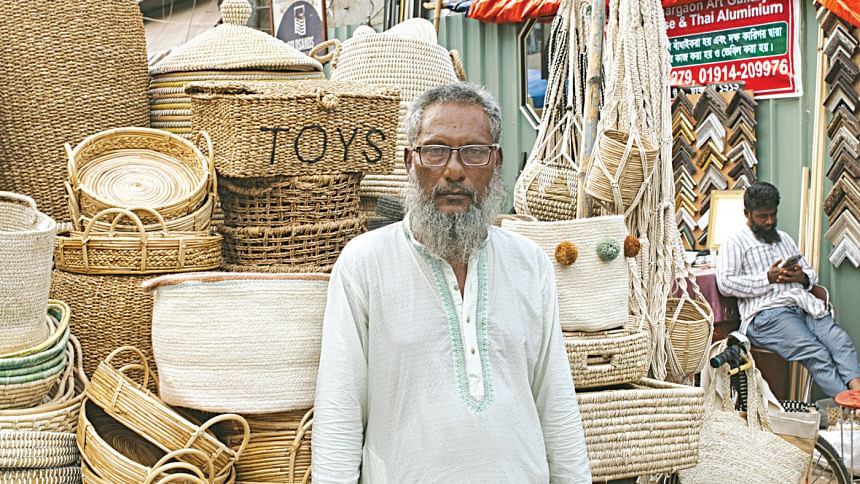 "Generally, factories make these jute-based items more than necessary, and after fulfilling the requested order, they sell the remaining products to us -- the vendors or hawkers, who set up make-shift shops and stand in the scorching heat or get drenched in the rain to sell these products and make ends meet."   
Local artisans find a canvas in jute, creating intricate crafts that tell stories of tradition and skill. These hand-crafted jute items are brought in from the northern parts of our country, namely Rangpur, Dinajpur, and Bogura.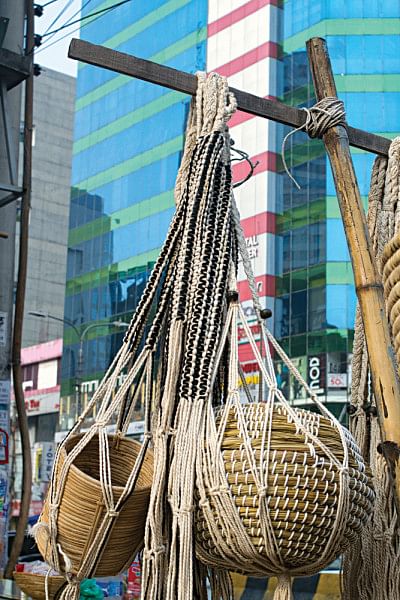 "Adverse weather conditions combined with inflation pose significant challenges for us. For example, due to the incessant rain in the past few days, most of my products were damaged while being transported from Rangpur.
"This is heart-breaking for us, but time and again, we have to endure it," said Barek. 
The allure of jute isn't confined to the carts of street vendors or local markets only. You can find similar products, such as rugs, bags, shoes, baskets, etc., adorning the shelves of leading fashion houses in Dhaka.
However, hawkers or vendors sell similar types of products at a relatively cheaper price, costing anywhere between Tk 100 to Tk 1,500.
Take a tour of Doyel Chattar at Dhaka University and you will find many handicraft shops selling versatile jute products. Dhaka College might also be a good option for you, with shops showcasing a wide range of jute-based products.
Plastic bags that clutter the streets of Dhaka have met their match in jute bags. So, it is high time we recognised these sturdy, reusable, and eco-friendly products, as well as the local vendors and artisans who are trying to bring back the charm of jute to the urban landscape of Dhaka.