Production of jute textiles slumps
Insiders, economists blame relaxed policy on use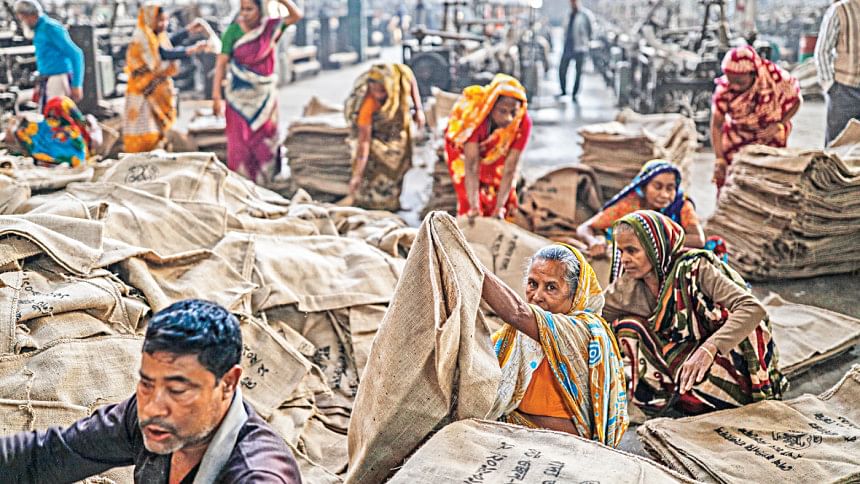 The production of jute textiles has fallen significantly over the past two years due to a drop in exports and the government's failure to strictly impose the mandatory packaging law that led to decreased domestic demand, according to jute textile millers.
As a result, a number of jute textile millers in the country have been either forced to shut down their factories or operate at below capacity, they said.
Rough yet extremely durable and breathable, jute fabrics can be found in everything from sacks, bags, carpet backing to upholstery.
Overall production of jute textiles was 2.43 lakh tonnes in fiscal 2021-22, down by about 28 per cent compared to 3.39 lakh tonnes the previous year.
Similarly, production in fiscal 2020-21 was 12 per cent less than what it was the year before, shows data from the Bangladesh Bureau of Statistics.
"I have been forced to reduce production at my factory by around 50 per cent to avoid incurring losses," said Md Saiful Islalm, managing director of Mazeda Jute Industries.
"I would usually produce 30 tonnes of jute textiles each year but due to the lack of foreign demand, I have retained stocks from last year," he told The Daily Star.
Islam, also a director of Bangladesh Jute Spinners Association (BSJA), said millers like him face a 2 per cent source tax, which worked against their competitiveness in the global market by raising costs.
"The jute industry needs to be saved by withdrawing or suspending this tax," he added.
Mohammad Shahjahan, managing director of Shamsher Jute Mills, said he too reduced production by 25 per cent last fiscal year as domestic consumption remains stagnant.
"Besides, the government is yet to frame rules making the use of jute sacks mandatory for packing commodities even though the related law was enacted a decade ago," he added.
In 2010, the government enacted the packaging law to increase the use of environment-friendly jute goods instead of polythene or polypropylene bags.
"The law would have helped if the compulsory packaging act was enforced," Shahjahan said.
In fiscal 2021-22, the total export of jute yarn and twine declined 13 per cent while that of jute sacks and bags fell 14 per cent, as per data from the Export Promotion Bureau.
Shahjahan went on to say that the country's raw jute markets are not stable.
"Due to unrestrained stocking by middlemen, raw jute prices were unstable in the last two years, leading to high prices of jute products in foreign markets," he said.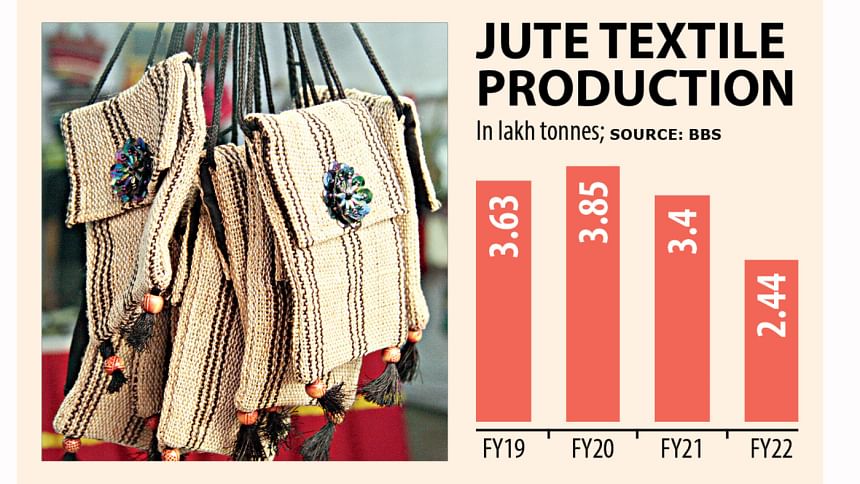 Bangladesh once had a big market in Turkey but the transcontinental nation is now leaning towards cotton products considering the high price of locally-made jute textiles.
In addition, the anti-dumping duty imposed by India is also hampering the country's exports, Shahjahan added.
On January 5, 2017, India imposed an anti-dumping duty on the import of jute products from Bangladesh through a customs notification, which was further revised on April 3 of the same year, according to the commerce ministry.
The anti-dumping duties range from $19 to $352 per tonne on jute, jute yarn and jute bags sourced from Bangladesh.
Shahjahan fears the ongoing Russia-Ukraine war will hamper exports even further in the next fiscal year as the two countries are big markets for Bangladesh.
Khondaker Golam Moazzem, research director of the Centre for Policy Dialogue, criticised the government's relaxed stance regarding the packaging law.
"The jute goods did not get the expected results of the packaging law yet. If we had ensured a domestic market by enacting the packaging law, we could enjoy 80 per cent of the export market," Moazzem said.
He then said the government should try to promote the golden fibre by implementing supportive policies as the industry was facing hurdles on both domestic and international levels.
The economist urged the government to be strong in implementing the packaging law as it will surely face pushbacks from plastic producers that now hold positions in different trade bodies and the government itself.
Moazzem also suggested taking initiatives in the diplomatic arena to have India withdraw its anti-dumping policy against Bangladesh's jute goods.