Farmers doing their part well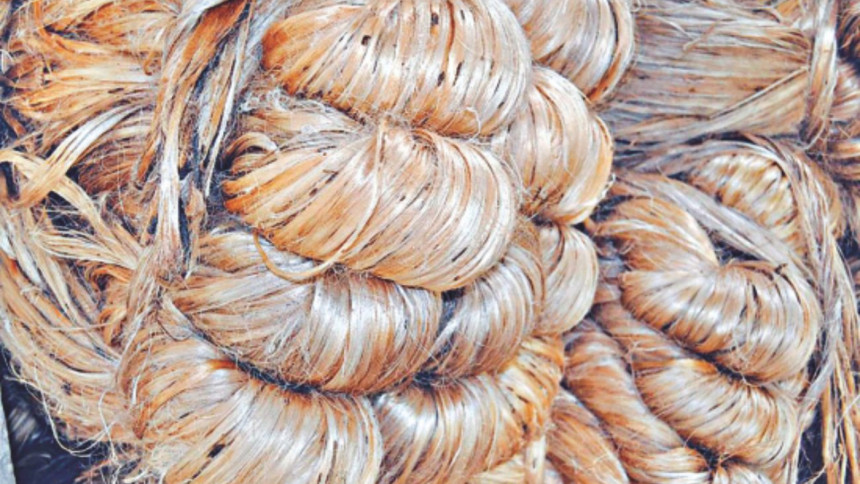 Before the growth of the textile industry, jute was once the main cash crop of Bangladesh as it was the only exportable product in the country.
The golden fibre was not just a moniker derived from the colour of the material; rather, it also alluded to jute's reputation as the biggest foreign currency earner.
Jute's significance would lead to the formation of Sonali Bank, established especially for jute financing and hence the name.
However, over the course of time, jute's prominence began to fade.
Data show that the 1972-73 jute production reached around 54 lakh bales. 
But it soon began to come down then rise again in the late 80s only to fall. By the late 2000s, production reached around 45 lakh bales, with only two lakh hectares used for production, the lowest ever in recorded history.
Mismanagement, corruption, restructuring on western lines, introduction of polythene and inability to market the fibre all led to these ups and downs.
At the time, it was thought that the fibre's golden days had come to an end.
But now, a jute renaissance has begun with the country reaching record production levels.
Increasing use of jute led to the government observing National Jute Day from last year. This year, National Jute Day is being observed for the second time with the slogan: Sonali Asher Sonali Desh, Pat Ponne Bangladesh.
"We have achieved a milestone. We hope that we will create history in jute production in the coming days as various steps have been taken by the government," Mirza Azam, state minister for textile and jute, told The Daily Star.
According to the Export Promotion Bureau, in 2016-17 the total export of jute and jute goods was worth $962.42 million and from July to January of 2017-18 fiscal year, the export currently stands at $661.86 million.
The export destination for the fabric includes Australia, China, Turkey, Vietnam and some African and European Union countries. 
According to Bangladesh Jute Research Institute, in 2010 eighty lakh bales of jute was cultivated in 7.5 lakh hectares of land.
Last year, it was being cultivated on 8.17 lakh hectares of land and production had shot up to 91.72 lakh bales, a record in jute cultivation and production in Bangladesh.
THE JUTE RENAISSANCE
The revival of interest in the fibre comes down to a number of factors, crucial among them the government's role in increasing jute's significance and uses.
As the world moves towards more "green" solutions, jute is becoming an important player. The crop is environmentally friendly and thus its demand is increasing, especially abroad.
Furthermore, jute's use is being diversified, increasing the market size for the product.
The government formulated Jute Act-2017 for the development of the fibre. To promote jute abroad, Jute Diversification Centre currently has 233 types of jute products.
"It will be 250 very shortly," Md Mainul Hoque, director of Jute Diversification Promotion Centre (JPDC), told The Daily Star.
Various consumer goods are now being made using jute, including shoes, handkerchiefs, bed sheets, caps and numerous other items.
Mainul said when JPDC was established in 2005-06, it started providing free training to people on skill development for producing jute goods.
He said since 2009, diversified jute products have started gaining a foothold in markets worldwide.
To increase demand for jute, the government also made jute packaging mandatory for 17 products, drumming up domestic support for the industry.
Bangladesh started enforcing the mandatory packaging rule for commodities -- mainly rice, wheat and maize -- from the last quarter of 2015 to limit the use of environmentally harmful plastic bags.
"So far, we have achieved 100 percent target of jute packaging in six products while we are trying to achieve our targets for another 11 products," Mirza Azam said.
"We have already made viscose from jute. We have set up a factory in Ghorashal of Narsingdi for producing it. Viscose is used to make yarn in cotton yarn spinning mill. Currently, we are importing viscose," he added.
CONTINUING THE RISE
Rising demand also encouraged farmers to grow jute on increased amount of land in the last cultivation season.
Shamsul Alam, director general of the Department of Jute, said fair price was imperative. "Farmers have the option to choose what they will cultivate as there are many diversified crops in the country. Considering soil health and long-term benefit, jute is profitable and that's why jute production is increasing."
Also, the Bangladesh Jute Research Institute (BJRI) has already developed jute cotton blend fiber with cotton. They are now working to make the jute cotton blended yarn.
"Price of jute cotton will be cheap and the clothes made by jute cotton will be comfortable," Alam said.
"Earlier jute was cultivated for traditional agricultural purposes but now jute [is used] for commercial agriculture. Due to technological development and huge research and development work in the sector, along with the government's attention to the sector, it has been possible to achieve record production," Monjurul Alam, director general of BJRI, told The Daily Star.
In order to continue the trend, the government has taken various initiatives to provide training to farmers to produce better quality jute since quality has been a concern for a while. Also, fertilizers are being distributed free of cost.
The days ahead seem bright for the golden fibre but a lot of work remains. Industry insiders believe that much needs to be done but the golden days are indeed returning.