We must not give up on jute
Measures must be taken to save the jute industry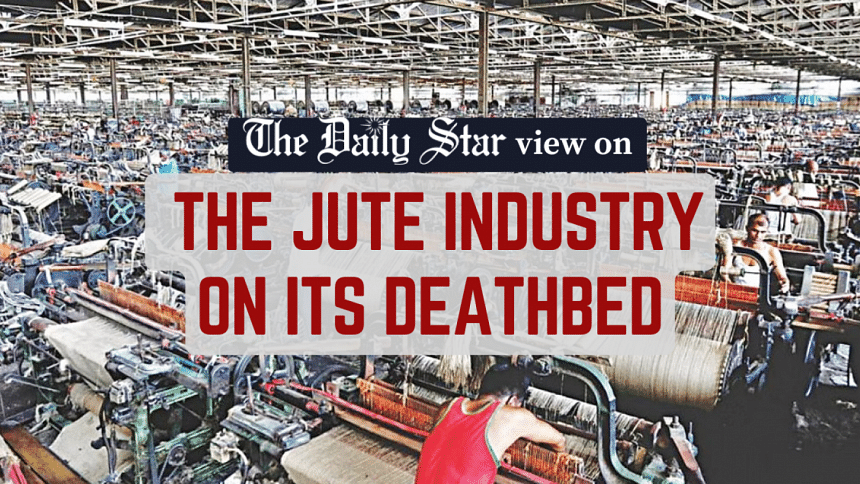 It is extremely unfortunate that the jute sector of Bangladesh, once referred to as the flourishing "golden fibre" of our economy, is now on its deathbed. According to a recent report by this paper, the government has decided to lease out state-run jute mills to textile mills and RMG factories, after failing to lease out more than five of them to private jute entrepreneurs. Experts and industry leaders have expressed that the move will now mark a "dead-end" of the state-run jute industries.
The Bangladesh Jute Mills' Corporation's terms of reference for lease required a 36 months' rent deposit, which proved too high for some bidders. According to the chairman of Bangladesh Jute Goods Exporters' Association, the conditions were too strict as it entailed high maintenance costs, and refurbishing old, unusable machinery in the state-run mills. If prioritising jute-manufacturers were the intentions of the BJMC, then why are we at this point now? The BJMC must answer for its poor planning, inefficiency and lack of incentives to diversify and reform the industry that led us to this moment of defeat. 
Workers are reportedly seeing this step as a direct betrayal of the promise made by the BJMC in 2020 before the shut-down, to reopen jute mills, with plans for retraining and reemployment. Since the closure, which laid off 50,000 workers, reports have stated the dire conditions and hardship that former jute workers have been facing, including overdue wages. Now, the latest decision will ensure that thousands of jute workers, who are only specifically skilled in the sector, will be left permanently unemployed. 
Given that there has been a resurgence in the interest of jute globally, with the rise of green packaging acts and environmental awareness, we would've expected the jute sector to have another opportunity to rise back on its feet. We are extremely disheartened to see the opposite happening. Why couldn't we revitalise jute, a product that has so much potential and could've played an important role in our economic recovery? We find it difficult to accept the "inevitability" of the situation. We urge the BJMC and the government to prioritise saving the jute sector and its skilled workers.