BJMC Golden Handshake: Workers skeptical, feel harassed
Allege hassles in completing paperwork for due wages, benefits; cheque disbursement starts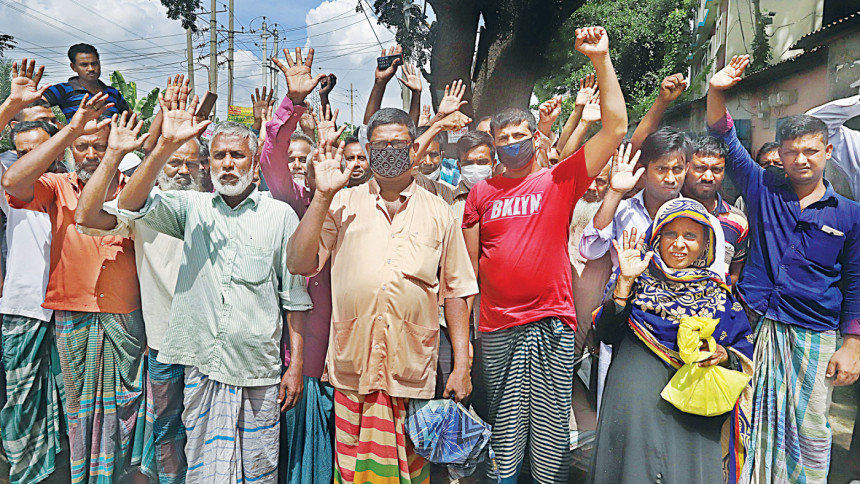 There was a lavish ceremony inside Karim Jute Mills Corporation on the outskirts of Dhaka yesterday to mark the disbursement of due wages and other benefits of the laid-off and retired workers of 25 shuttered state-run jute mills.
Jute Secretary Mohammad Lokman Hossain termed it a "historic occasion" during the ceremony also attended by Jute Minister Golam Dastagir Gazi.
The authorities handed over cheques to 30 laid-off workers during the ceremony. Those 30 are the first workers to receive their dues through bank cheques since the government decided to close down the 25 state-owned mills on July 1.
But around a hundred workers and their family members, who were not allowed inside the factory, were more concerned about getting their dues after being subjected to different kind of hassles to complete the paper works.
There are 1,759 laid off, 612 retired and 2,625 substitute workers in Karim Jute Mills scheduled to get their long-pending dues.
Talking to The Daily Star, most of the workers said they were still suspicious of the payment procedure and alleged that they were being harassed by the officials of Bangladesh Jute Mills Corporations (BJMC) every day in the name of processing their payments.
While the ceremony was going on, elderly retired workers as well as recently sacked workers with their family members were seen waiting outside the gate for the entire day. They also staged a protest when police and security officials tried to drive them away.
Md Moktar, a laid-off worker, said, "BJMC owes us five weeks wages from last year, festival bonuses, arrears from July 2015, provident fund and gratuity. They suddenly fired us and forced us out of the factory without paying a single penny. All of us are now jobless, doing menial works and even some of us are getting involved in criminal activities for survival."
According to these workers, the entire process of payment is being carried out in an uncoordinated manner from the very beginning which has exacerbated their sufferings.
"Due to sudden job loss amid the pandemic, we were forced to leave our residences in Dhaka and returned to our villages. Then BJMC instructed us to open a bank account and to submit various types of papers to the mill authorities. Their only way of informing us to stick a notice on the outer side of the factory gate," said Md Monir, another laid-off worker of the factory.
"We have to rely on our co-workers who still live near the factory to know about BJMC's new requirements. Many of our co-workers could not keep in touch with us and don't know anything about BJMC's instructions," he added.
According to the ministry's decision announced on June 28, 24,609 laid off permanent workers and 10,107 retired workers will receive their dues directly to their bank accounts.
Fifty percent of their dues will be paid through bank cheques and the other 50 percent through Savings Instrument.
But many of these workers don't have any idea about Savings Instruments.
"Many of us are illiterate. We don't know what Savings Instrument is and how to fill out its forms. The officers never explained to us about it. They only instructed us to bring our wife and to sign a document. When I asked about the document, he said I don't need to know about it," said Md Monir.
On September 14, KJML authorities put up a notice to inform the workers to bring in their nominees by September 17 to process their payment through Savings Instruments.
Many workers came to Dhaka with their wives and children for this purpose yesterday but were not allowed in due to the ceremony.
"We have come from far away districts to present our nominees. I don't have any place to stay here. You can see my wife and children waiting outside the gate for hours in this excessive heat," said Akbor Ali, a former worker.
"This is the usual working style of BJMC officials. To do a simple task, they make us wait for days," he added.
Besides, those who received the cheques yesterday were also quite apprehensive about the complexities related to Savings Instruments.
"I will get around Taka 12 lakh taka from the mill. Today, they gave me a cheque of around six lakh taka and they will give me Savings Instruments worth of Taka six lakh. I learned today that I will not be able to encash those instruments for next three years and will get some profit every three months out of those instruments. So, I am actually getting Tk six lakh at a time which is too little even to repair my dilapidated house," said a worker, who got a cheque, requesting anonymity.
Asked about the allegations of harassment and delay in disbursement, Md Abdur Rouf, chairman of BJMC said, "We cannot deny that there are some instances of harassment as it is our first time. In the next phases of disbursement, we shall be able to reduce the rate of inefficiency."
"I don't agree that we made delay in disbursing payments. Funds from the budget of the current fiscal year got released in the first week of September and we started the payment in the second week. We are confident that we will be able to clear all the payments within the current fiscal year," adds Rouf.
Golam Dastagir Gazi, Bir Protik, minister for jute and textiles, said in the ceremony, "Please keep faith in Prime Minister Sheikh Hasina. All of you will get all your dues on time. We shall reopen these factories with modern machinery. The laid-off experienced workers will get the opportunity to work in the jute mills again."
On June 28, he had announced that the mills would be shut down and 24,886 of its workers would be laid off in the process.