Work to tap potentials of jute: PM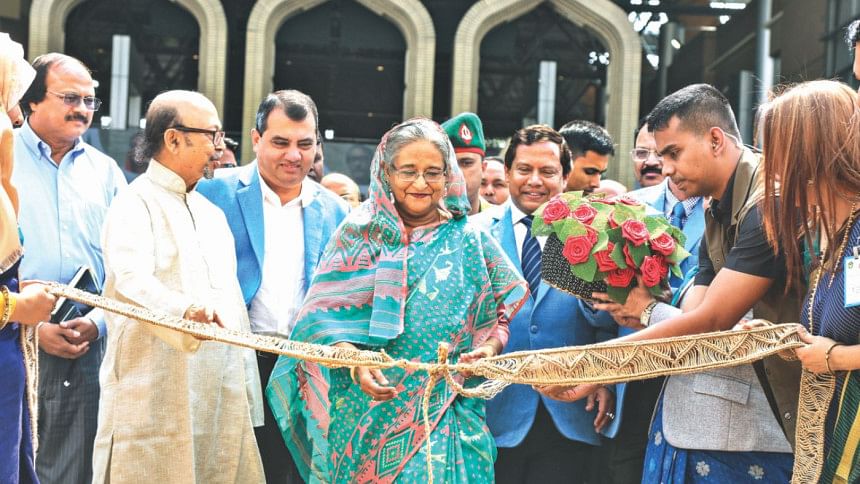 Prime Minister Sheikh Hasina yesterday urged all to work sincerely for unlocking the huge potentials of jute and jute products.
"Jute is our national asset... this is an agricultural product and an industrial material as well.... Its multipurpose use is important for us... we can expedite our socioeconomic development by using it," she said.
Hasina was addressing a programme marking the National Jute Day-2018 and the inauguration of a three-day multipurpose jute product fair in the city's Bangabandhu International Conference Centre (BICC).
The PM said jute and jute products have good demand at home and abroad as people are now very much aware about using eco-friendly items.
"We can produce better jute and jute products. If we can work together, we can tap the enormous potentials of jute for the country's development."
Hasina stressed the need for regaining the glory of jute and its products. The government has been taking programmes for the development, collection and preservation of jute, she added.
She said people involved with the jute sector should look at new items and markets for exporting jute goods to fetch more foreign currencies. "We must not stick to one or two items for our export basket... we have to diversify our export as well as capture new markets."
Referring to decades-old machinery in public jute mills, she said those have to be replaced.  The government has taken steps to procure new machines for the mills, she told the programme.
The premier urged all, including officials and workers, to be sincere in protecting the mills as those provide livelihood to them.
Mirza Azam, state minister for textiles and jute, and Saber Hossain Chowdhury, chairman of the parliamentary standing committee on the ministry, were present at the programme as special guests, with Textiles and Jute Minister M Emaz Uddin Pramanik in the chair.
Earlier, the PM handed over National Jute Award to 12 individuals and organisations under 11 categories for their contributions to the development of the jute sector.
She also awarded six winners of a countrywide essay competition.
Some 235 kinds of jute products have been put on display at the three-day fair. Hasina went round different stalls of the fair and witnessed a documentary on jute.