Justice Shahabuddin Ahmed Park: A refreshing urban retreat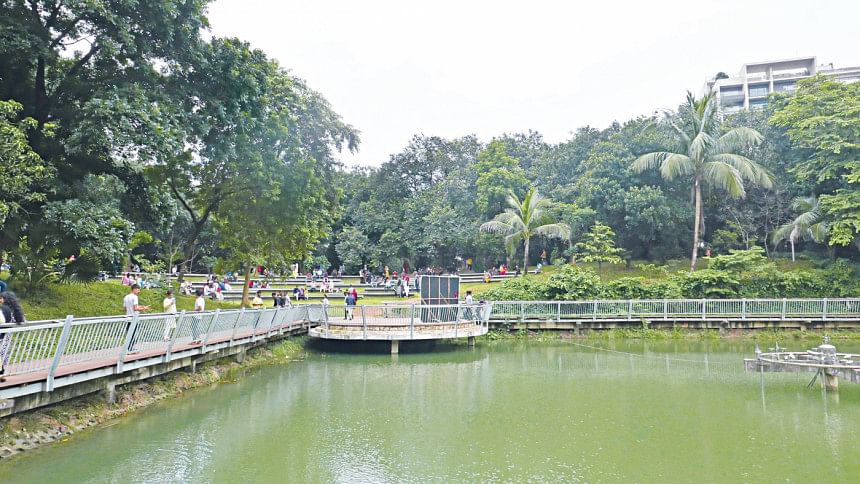 Life, in all its shades and colours, can often become too overwhelming for me, and this is why I let myself escape into a green space. Justice Shahabuddin Ahmed Park, a serene oasis at Gulshan-2, holds a special place in my heart — and here, my scattered thoughts find peace. This park is, indeed, a haven of tranquillity and natural beauty in the bustling Dhaka city.
As Justice Shahabuddin Ahmed Park is not very far from my home. I have had the privilege of spending countless hours amid the verdant beauty that cocoons me. This well-maintained park offers the city residents a refreshing urban retreat like no other. 
Raisa Hakim, a single mother and software engineer, often comes here with her daughter to jog and unwind. She shares, "The environment and security of this park is impressive. I feel at ease coming here. I let my daughter play and take a walk at the same time, and thankfully, I don't have to worry about her safety." 
This place was renovated recently, and the introduction of modern amenities, including a well-equipped basketball court, clean restrooms, and seating areas, has made it even more appealing to families and children alike. 
You would see both teenagers and adults actively playing on the basketball court; kids playing on the playgrounds while parents overlooking them or chatting with other parents.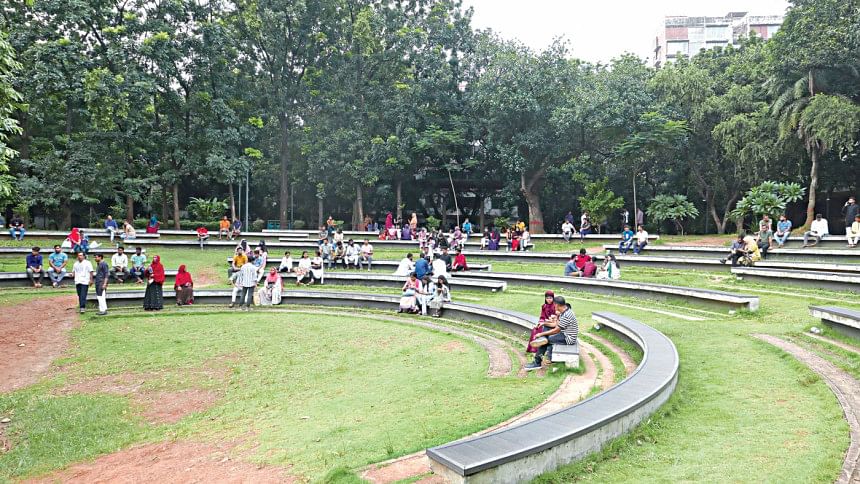 The park has been carefully crafted to harmonise with the natural surroundings, ensuring it seamlessly integrates with the urban environment while preserving its ecological balance. The layout of the wooden walkway above the lake and water features reflects thoughtful planning aimed at enhancing the visitor experience.  
As soon as you step into the park, you are greeted by clean surroundings and North End Coffee Roasters — offering you a delightful coffee experience that blends the soothing ambience of the park with the aromatic allure of freshly brewed coffee.
Nevertheless, what truly captivates me is the bookstore, Bookworm Bangladesh, which adds warmth and cosiness to the park's natural charm! 
Shams Islam, a retired army official and a regular jogger, routinely visits the bookstore. While scrolling through the bookshelves, he answered, "Back in the day, I was an avid reader. However, due to work and family obligations, I lost the habit of reading. But this place has revived my habit again."   
Dhaka is a city that rarely allows you to slow down and take a breather. How many parks in the capital would you find such a bookstore that lets you enjoy a quiet time of reading? None perhaps! 
Surely, Justice Shahabuddin Ahmed Park has set an example of how a public park should look like.    
The pathways are lined with lights that cast a warm glow in the evenings, making it an idyllic place for an evening stroll or jog. For the health-conscious, the park offers well-maintained jogging tracks and outdoor fitness equipment.
The park's amphitheatre will be a place of enjoyment for people with a penchant for culture and the arts. Various events are arranged here — from yoga classes to musical performances — it's a space where creativity flourishes. 
Justice Shahabuddin Ahmed Park is more than just a green space in the city — it's an ideal place to introspect, a sanctuary for the senses and a place to rediscover your connection with the natural world.
So, the next time you yearn for a break from the daily grind, head to this oasis in the heart of the city!