Some breathing space
DNCC renovating three parks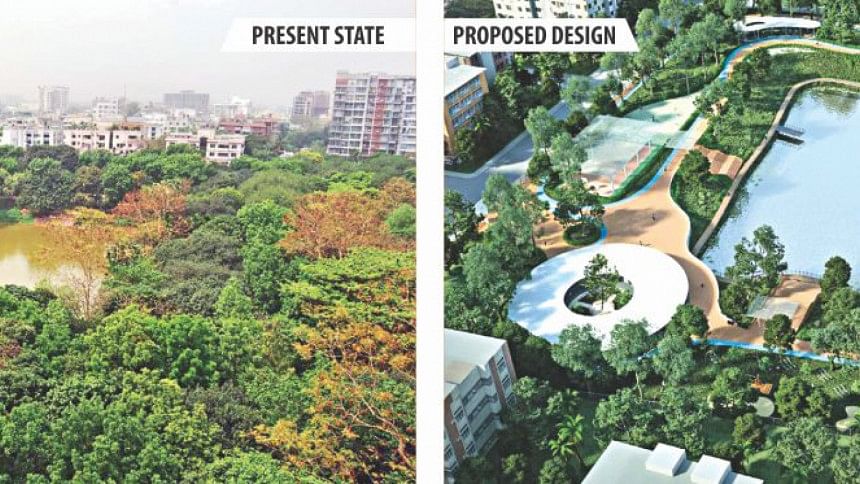 Not many years ago, children in Dhaka used to go out for cycling every afternoon. Many children would eagerly wait for their first bicycle -- a gift that meant the ability to move about independently. Those days are gone, as this city has increasingly become overcrowded and unsafe for children on bikes.  
There is acute shortage of open spaces or playgrounds for children to ride bicycles.
With rampant unplanned urbanisation, most of the playgrounds had to go to make way for high-rises.  Considering the situation, Dhaka North City Corporation (DNCC) is going to modernise three parks introducing bicycle tracks for children.
These parks are: Justice Shahabuddin Ahmed Park in Gulshan, Banani Women and Children's Park, and the park and playground next to Minar Masjid in Mohammadpur.  
Renovation of the decades-old parks started around three months ago. The parks will also feature walkways, exercise zones and kids' playing zones, said architect Iqbal Habib of Vitti Sthapoti Brinda Ltd, which is supervising the refurbishment.
There will be no boundary walls around the parks in order to make the greenery visible to commuters and pedestrians, and to ensure security inside the parks, he added.
"We are incorporating various features to attract youngsters who are now seemingly hooked on electronic devices," said another architect Jinnurain Tasbir Shatil.
Fearing accidents, many guardians nowadays do not allow their children to ride bicycles outside as the roads and alleys experience heavy traffic all the time. Children in Dhaka deserve to enjoy this great experience, he added.
JUSTICE SHAHABUDDIN AHMED PARK 
Justice Shahabuddin Park at Gulshan-2 (locally known as Tank Park), opposite the BNP office, occupies a total of 9.45 acre area. The park's condition was somewhat better than the others in the city, said architect Shatil.
"We have designed an open exercise zone, kids' zone and seating arrangement as part of the modernisation project. A three-tier walkway will be built around the pond in the park as per the suggestion of the late DNCC Mayor Annisul Huq. He believed that lakeside views help brighten our mood," the architect said.
A deck named "Gossha Deck" (for people who are in bad mood) around the pond will be built. Anyone who is not in a good mood can sit there and enjoy the serene view. Annisul Huq proposed the name, he added.
Moreover, there will be a gymnasium, a prayer room, washrooms and an open shed for women. A library where joggers or pedestrians can relax and read, and an amphitheatre to accommodate some 400 people during festivals like Pahela Baishakh and Pahela Falgun are also part of the renovation, he said.
He added that the park has over 1,700 trees which will be kept intact during the renovation.
Banani Women and Children's Park on Road-18
This park located on an area of 1.6 acre is being designed especially for toddlers and their guardians, said architect Shatil.
The park will have a separate space for outdoor activities like making sandcastles, flying kites, and playing hide and seek while for the guardians it will provide seating arrangement and a women's shed for exercise.
Park and Playground beside Minar Masjid in Mohammadpur
"We are going to join the park and playground, breaking the wall between the two," said another architect of Vitti, Wasik Eddaf.
There will be separate walkways -- one for youths and another for elderly people.
The playground will be used as a football ground.
The park will have outdoor game equipment like seesaw and roundabout for children, he said.
The park and playground occupies an area of 1.2 acre.
The three parks -- after renovation -- could certainly be the much-needed green spaces where the city dwellers can sit, walk or just take deep breaths of fresh air with their children.
Contacted, Tariq Bin Yusuf, superintendent engineer of DNCC, said, "We have started the renovation works around three months ago. It will be finished by this year.
"In addition, we are also planning to renovate around 20 more parks. We have completed their primary designs. Once the designs are finalised, we will float tenders," he added.