A Haven for Clothes: Uttara's bustling shopping scene
Buying a trendy Zara shirt for just Tk 300 is only possible in Dhaka. Of course, one must take into consideration that the sleeves might be a little off or a stitch out of place. Brand clothes, thanks to our RMG sector, are no big deal for us, and we have learned to overlook the defects.
Having said that, the culture of shopping for such branded items at Bongo Bazar and Doza Market has now spilled over to vans in Uttara, among other places in Dhaka. The street behind Rajlaxmi Complex is the new hub for clothes, and frenzied shopping reaches its peak in the evening.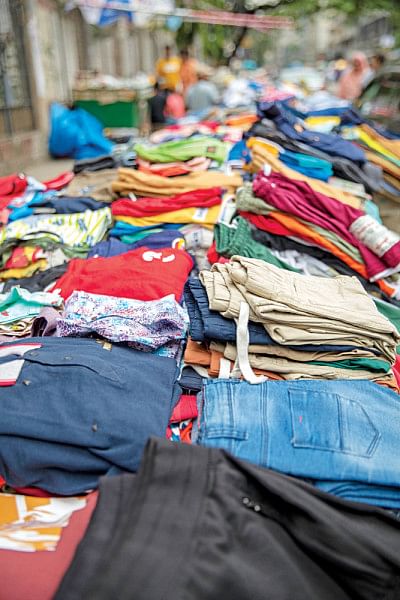 Uttara residents crowd the street every single day, as if it's "chandraat"— the evening before Eid. From oversized clothes to petite size zeros, one gets a freight full of a variety of products and buyers can haggle to their heart's content.
The clothes are trendy, and the fabrics soft, breathable, and of fine quality.
There are plenty of options available, from ripped jeans to colourful jeggings, summer jackets or tops for casual officewear, to maxi dresses for a friend's get-together. 
Going back to the vans at regular intervals, thinking about what's new, or waiting for the call from the vendor when a new lot arrives — all these activities become quite a habit. Besides, reasonable and discounted price is an added attraction. 
In our country, where the wardrobe for young girls and adolescents is stuck to just trousers or shalwar kameezes, the availability of dresses, maxis, midis, skirts, jumpsuits, or denim is such a boon. An added bonus is finding oversized clothing. 
Plus sizes have always been ignored by our local designers, but here one stall is dedicated solely to oversized customers. You can easily go over the top and buy maybe a dozen of them. Undergarments, kaftans, maxi dresses, nightwear — you can find almost everything in these vans. 
If you venture to the underground stores of Rajlaxmi Complex, you are in for a delightful surprise. Beautiful chikankari tops, shalwar kameezes, trending co-ords, coordinated sets, cotton kurtis, or tassar scarves are all there at bargain prices.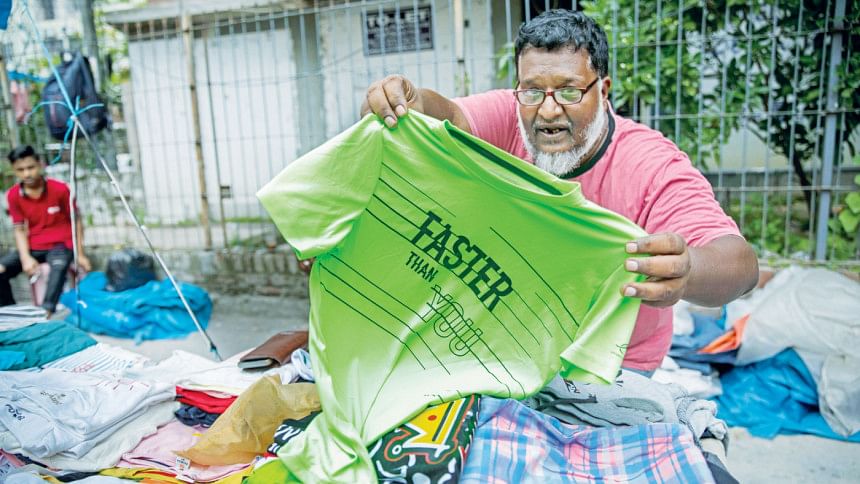 I guess the final surprise is the jewellery vans lined up in front of the market. Oxidised trinkets that you see on expensive online pages are all replicated and available. The price starts at Tk 100 and goes up to Tk 500 at the Uttara vans.
The best part of shopping in Uttara is its van culture, meaning carts vending everything under the sky, from vegetables to curtains. Just imagine the wide range and the best buys are perhaps the clothes; and a single cart is almost like a supermarket in itself!