Authentic Isn't Everything: Nothing hits the spot like Deshi Chinese food!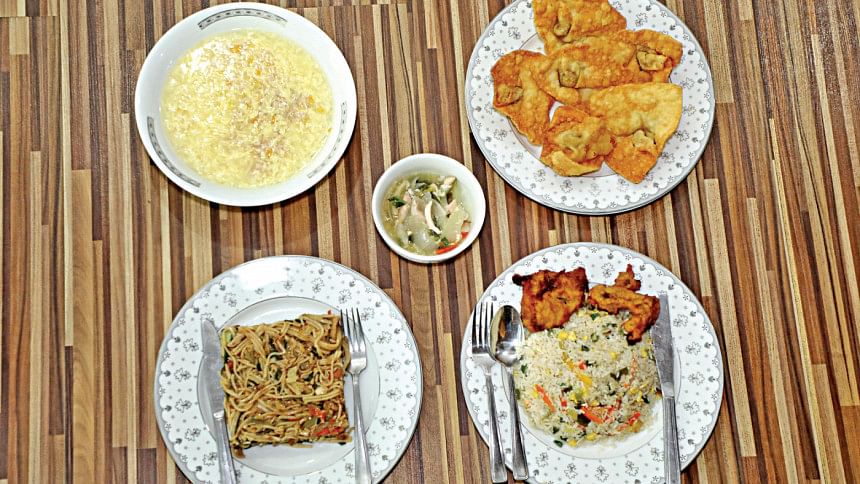 Back in the late 1700s, when Chinese traders and labourers, who worked for the British Raj in India opened restaurants selling Chinese food, they adapted their culinary styles to suit Indian tastes. This is the most popular origin story of this fusion food we lovingly call deshi Chinese.
Eating out in the late 70s usually meant going to Chinese restaurants, typically run by Chinese couples. Those dimly lit restaurants, flaunting red velvet upholstery, welcomed you to another world of unique gastronomic delight. A child's mind is impressionable, and small details of the cuisine like the ramekins of soy sauce, green chilli dipped in white vinegar, and ketchup on the table remain forever etched in our nostalgia.
The food we ordered was always a bowl of chicken corn soup and fried wontons as appetisers, followed by mixed chowmein, fried rice, sweet and sour prawn balls, mandarin fish, fried chicken, and beef or vegetable gravy. Gravy was always needed for our Bangladeshi palate. These items were the staple order, along with sizzling chicken and everyone's all-time favourite Chinese chop suey. Thus began our love for deshi or Dhaka Chinese food. However, if we are being pedantic, it is actually Indo-Chinese food that we refer to when we mean Dhaka Chinese.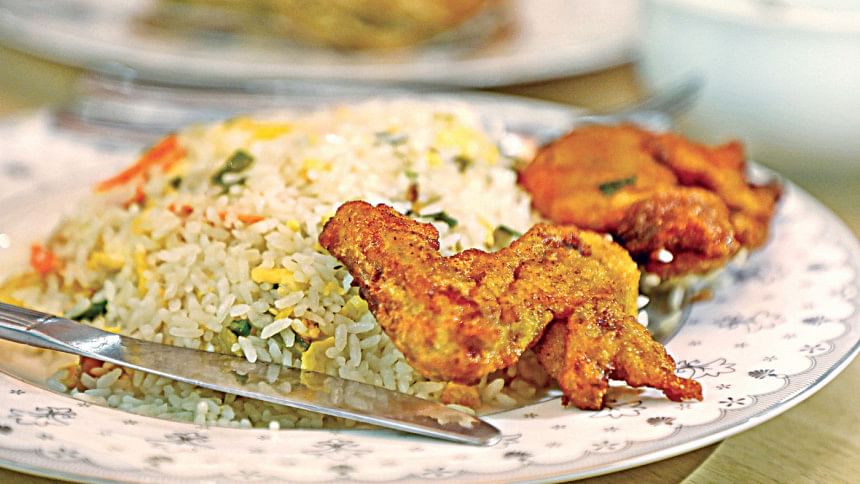 Deshi Chinese was the start of fusion food, where we adapted typical Chinese seasoning and cooking techniques to suit our tastes. Authentic Chinese dishes are much milder; you can taste the flavour of the meat or vegetable, or so I am told. But deshi Chinese dishes are made like stews, or the bowl is full of gravy in Manchurian style, as I have tried in Dhaka. Authentic Chinese dishes usually forgo gravy.
I can confidently say that every person in Dhaka craves deshi Chinese at least once every two months. While there are some (Gen Z and Alpha) who vehemently deny deshi Chinese and instead, seek out authentic Chinese cuisine, most who are millennials or older would love nothing more than our good old deshi style.
Dhaka boasts deshi-style Chinese places like Sung Garden in Eskaton, New Cathay in Banani, among a few. And they all host some of our all-time greats, such as Hakka noodles, or plain old chowmein smeared in soy sauce, oyster sauce, and deshi chilli garlic sauce, sprinkled with ground black pepper and a touch of brown sugar. The chowmein is stirred in a wok with hot toasted sesame oil and mixed with chicken, vegetables, and eggs. The nutty aroma and flavour of the toasted sesame oil give you that addictive taste and smell of deshi chowmein. A bowl of chicken corn soup with wontons or batterless fried chicken, crispy chop suey with Sichuan gravy or American toppings -- all these are practically food for the soul.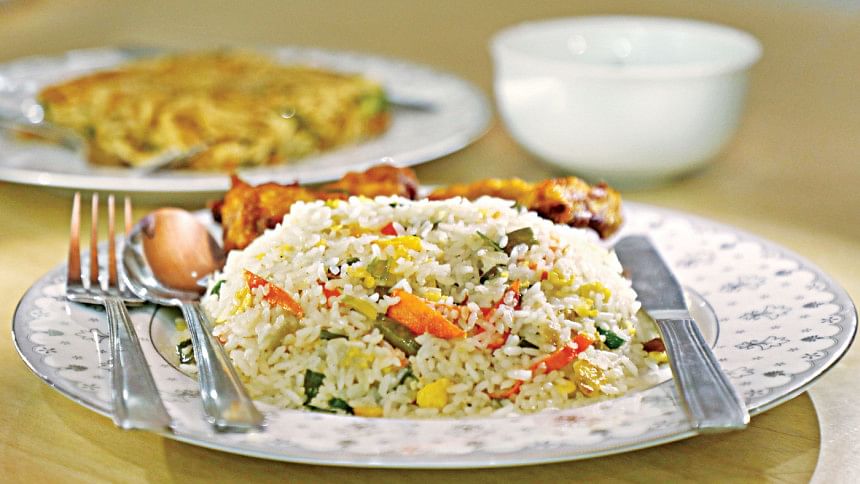 The mere aroma of it all takes me back to those long-ago comforting dinners at old Chinese restaurants with my parents. I believe we crave deshi Chinese for those cherished memories. It is a time capsule ride to happier, carefree days.
If you absolutely must have the real thing, then Dhaka also boasts many authentic Chinese dining places, serving Cantonese, Hunan, Sichuan cuisines. Places like Cheong Shing, Yum Cha District, Chows, are just some of the hot favourites in town. Apparently, the latest craze in Dhaka is dining at Huaxing Chinese Food restaurant in Uttara, Sector 3. It serves mind-blowing original Chinese food, cooked by a Chinese chef from the Xinjiang Province. The chef's authentic recipes make their mild tofu soup so filling, and the black fungus or rabbit's ear salad tossed in soy sauce and mixed with onions so addictive. Their Jinan noodles and Kung Pao chicken are simply delicious, with that genuine style of Chinese cooking. The preparation, the use of sauces, and cooking techniques set the authentic cuisine apart from deshi Chinese, which uses spicy soy-based sauce with classic local spices like garlic, ginger, and green chillies.