Food fusions Yummy or yucky?
It's a debate Dhaka's foodies can't settle!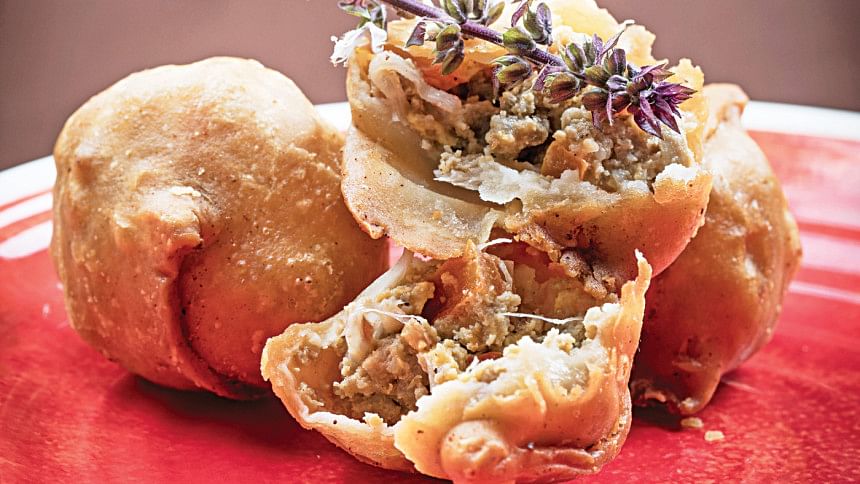 #Food & Recipes
Would you eat shorisha pizza? How about kalabhuna dumpling? Bolognese fuchka? Yes? No? Well that's where the debate starts. First respectfully, then passionately, and then, in no time, things get out of hand!
The food scene in Dhaka over the past few years has boomed. Boom away all it may want, but not all changes have been taken in good spirit by everyone. That's where the debates break into brawls, mostly verbal though. The case of food experimentation and innovation — fusion cuisine — gets fans and haters stirred up equally passionately.
This has not gone unnoticed by me, neither a fan nor a hater, but a resident foodie at my office.
Now, as someone being hailed as a serious foodie, I have certain responsibilities towards others, mostly in the form of answering all their questions:
"Where do I take my wife out for our first anniversary? Is this new place any good? Is so-and-so restaurant budget-friendly? Is that real Hajir Biriyani or a fake? Did Nando's really shut down?"
I answer such questions coolly and confidently. I know my stuff, but when some of my colleagues brought to me the debate of the newer fusion foods, I was in a fix.
You see, I am more of a purist. I'm all in for change and new things, but when it comes to food — and many things in life — while creativity is great, one should also know when to stop.
Unless you are Elon Musk!  But what if the creators of foods such as shorisha pizza or green chilli rosogolla (yes, you read it right), are the Elon Musks of the culinary industry?
And so I entertained this debate: got myself a bunch of fusion food items to try them out with an open mind, with two friends who are polar opposites on this topic, and then write about it.
To keep this debate civil — worried that a clash was waiting to happen between my friends — I began with the so-called, 'Thai soup thick.' It's safe. Because theoretically 'Thai' or not, it does not matter, it falls under the broad category of Bangla Chinese, a subgenre of fusion cuisine that we have all come to accept and love.
I watched my friends peacefully slurp up the spicy, tangy, pink-orange soup on a winter evening without any arguments whatsoever. That's a good start, I thought!
It got us thinking, fusion has always been around in our country and around the world, such as Tex-Mex. Fusion is inevitable. The attempt to make something suitable to the palate of a culture or community is bound to happen.
How many of us even like authentic Chinese or Thai? I secretly do, although I love deshi Chinese equally.
After starting on a positive note, I served kalabhuna potstickers from Dumplings of Fury. So, let the debate begin...
My open-minded friend chewed away with delight. "Dumplings and potstickers can have meat. That's normal. Now, who has ever made a definitive list of meats that one can and cannot use in dumplings? I have a deshi palate and I love this," he advocated. Meanwhile, my cynical friend asked me, "What do you think?"
I just shrugged, not willing to spark an argument. I love some delicacies of Dumplings of Fury, but when it came to this particular item, I felt that the kalabhuna effect overwhelmed the dumpling effect: it was as if I was taking in morsels or lokmas of kalabhuna. But that's the purist in me talking.
I moved on to shingaras from Love Triangle. Clever name, right?
When it comes to shingara, the usual aloo shingara and kolija shingara are some of the most popular deshi snacks out there. Intikhab Ahmed Nasir, the founder of Love Triangle (and one of the owners of Dumplings of Fury as well), took things further.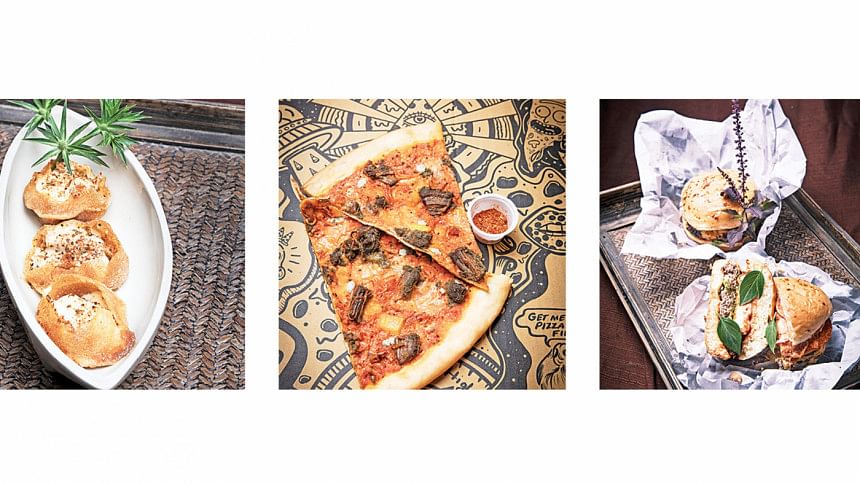 The results of the experimentation were The Pizza Shingara, Kalabhuna Shingara, Cheeseburger Shingara and so on, in addition to the traditional ones. "I brought many of my favourite items and foods within the shingara!" Nasir had told me the day before. The Mini Naga Shingara had the potential to heat up the debate between my friends, but peace sustained as they agreed that this is basically delicious aloo shingara meant for those who really enjoy extra-hot food.
The Pizza Shingara is another highlight: we all were amused as to how immediately and strongly it reminded us of pizza, thanks to all the relevant ingredients and stuffing.
But the winner from Love Triangle was The Shingara Dog. A happy union between shingara and hot dog, it has the shingara wrap instead of the bun, and inside it has sausage, mayo, and other goodies. I enjoyed it more than proper hotdogs.
Next, I brought in some fuchkas — namely Peshawari and Bolognese — products of Fuchkawali. Elevating the notion of fuchka, a husband-and-wife team comprising of architects A M Shafkat Noor and Anzara Ashraf boldly concocted up these innovations.
"When we invited our friends to try it out, we got mixed reactions. Some of them really liked it, some were okay with it, while a few weren't exactly happy," Noor informed.
Well that doesn't point in any direction, I cheekily replied in my head. But these fuchkas indeed became quite popular among my friends on the other hand.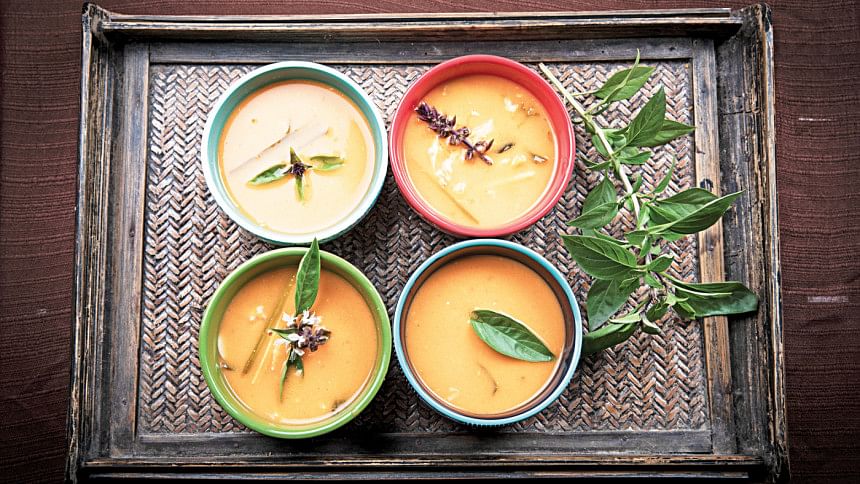 Peshawari and Bolognese, one giving out a Pakistani street food vibe and another an Italian taste, both have beef in common. Beef in fuchka — what do you make of that?
My sceptical friend replied, "I don't mind. It's still good fuchka. But, if I go to Fuchkawali, will I be ordering these? May be not, I'll have their regular fuchka."
"That's because your life is boring," replied my other friend, who has been a fan of these fusion fuchkas for quite some time by then.
Next came pizzas: The Kala Bhuna and Spicy Shorisha from Cheez. It's the brand that made the concept of kalabhuna pizza topping popular in Dhaka, I reckon.
Labib Tarafdar, one of the owners, opined, "Take the shorisha pizza for example. Wasabi is so popular all across the world. But shorisha is rather understated, despite its unique taste."
But, I was not so sure how my friend -- whom I had seen angrily argue even against Hawaiian pizza (that's pizza with pineapple topping) — would react to shorisha.  
Eating a slice of Spicy Shorisha (a shrimp pizza), he mocked, "So what's next? Shorshey ilish pizza? Chicken korma pizza?"
"Dude I don't know about that, but I have ordered their kalabhuna pizza numerous times before," my liberal friend defended Cheez.
Madness continued, this time with Madchef, my favourite burger joint. Not just mine, but my friends' too. And so when we tried The Dhakaiyya, we were hopeful, despite that we never tried this particular burger before. Overall, our collective sentiment was that Madchef cannot go wrong.
After the first bite, I frowned and dismantled the burger to start dissecting.
Dhakaiyya boasts (along with delicious patty and other goodies) deep fried paneer and a green chilli mint sauce.
None of us found the burger awful, but it was a shocker. Weird, because it's so different. So, the natural question to put forward to Tarafdar, who happens to be an owner of Madchef too, has been: "Why?"
"Burgers are of course a popular food all over the world. But we wanted something in our menu to really stand out from the rest, something which will be also be very Bangali," he replied, adding that The Dhakaiyya performs well in sales.
Finally, it was time for desserts: shahi tukra from Basic Kneads. Not triangular, but rather roundish. Not made with pau ruti, but with a different kind of bread: pain au lait. Quite amazing! The makers did not get carried away with their experimentation so much that it would go on to ruin the dish. 
Basic Kneads is a bakery; it has croissant and baguette and so on; and yet shahi tukra fits in nicely with the treatment given.
"We wanted a sweet dish for the celebrations in our country. And hence the experimentation began. Fusion, when done right, can be a wonderful treat!" said Shadman Shahriar, one of the owners.  
All throughout this extraordinary meal we were having, my friends bickered on almost every item. I did not stop them as they were giving me good content: "Innovation is good, given that the innovation is not mindless... but who is to decide what's mindless and what's not... it is like acquired taste, give it time... these fusions just create hype on social media... but let's not forget that some of these foods have also been ridiculed online...it is all about the gimmick factor...no it is about rethinking food to suit the tastes and preferences of the people being served...the integrity of a food must remain intact...but chocolate pizza is popular in many countries...but that's not really pizza, is it?"
Opinions among restaurateurs offering fusion food vary as well: "these are some of our better sellers...not everyone accepts, you can't make everyone happy...there is a segment of people who are open to it and are willing to embrace newer things...we still rely mostly on our traditional items in the menu."
The debate went on for some time between my friends. When done with eating, the three of us resembled chubby cats lying flat on our sofas, too lazy to move or continue on with any skirmish; feeling sleepy after a very diverse, strange, and heavy meal. My stomach was full, and so was my head — full of opinions on fusion food, enough to cover for my assignment on the topic.
And so I reached for my laptop. I had an article to write.
Photo: Sazzad Ibne Sayed
Food Styling: RBR
Disclaimer: The purpose of this write-up has been to report on the current trend of fusion cuisine in Dhaka and to present both sides of the story. The opinions expressed about the particular food items are solely of the author and those quoted.