Is Writing a Gift?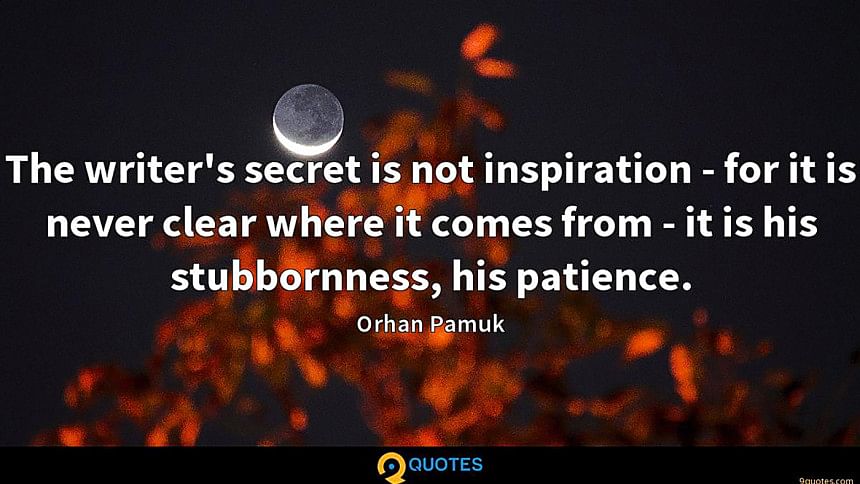 If it is, where is this gift coming from? God? Ahem! As off-putting as it might sound, biographies and autobiographies of writers reveal that most so-called gifted writers are scoundrels. Writers revel in nympholepsy, zipper syndrome, drugs, gambling, mood swings, revenge, fabrications, and jealousy. Writers are eccentrics, too. Think, for example, of Doris Lessing, who abandoned her children to pursue her literary career, or of Virginia Woolf, who committed suicide to save her husband from the consequences of her chronic bipolar disorder. Despite these vices and eccentricities, we tend to consider writers as those whose talents were bestowed on them by God. But why should God gift a group of people who are known for their transgressions? Writing is a secular engagement, and God has nothing to do with writing. Everybody is potentially capable of becoming a writer. Everybody, however, doesn't want to become a writer given that any serious writing is difficult. Very few people want to become writers; fewer write; and fewest are the writers that we read and admire. Because original and authentic writing is coming from only a handful of writers, we conclude that these people are exceptional and gifted. They are not, but the conjectural connection between writing and God is perhaps as old as writing itself. Let me exhume a bit of hoary history in this regard.
Ancient Greek mythology or religion used to consider writing an inspired undertaking. A writer is someone possessed when inspirational gods, Muses, speak through her. What these gods produced was logos, the divine word, and the Gospel claims, "the Word was God." The Greek linguistic and cultural connotation and context of writing was uncontested in Latin, too. In Latin, the word vates stands for both poet and prophet. Since antiquity and into the Romantic period, the act of writing was linked to a kind of sacred mission to reveal spiritual realities of artistic and aesthetic dispositions. Writers were not mere human beings. They were seers with clairvoyance. What they created had a divine origin and aura. Unlike other mundane activities, writing used to require prayers and meditations--invocations-- to make a connection with a transcendental realm. Writing as such sprang from a secret, sacred source. That's how a secular human endeavor like writing got implicated in God and gift. Challenging such a romantic notion of writing amounted to a blasphemy, even when some disgruntled observers occasionally reminded us that writers were the first group of people to defy and defile God throughout the history of our civilization. So, God continues to gift his enemies, who are unlike lesser mortals. Writers are deified as geniuses. Are they so?
Howard Gardner debunks the myth of "genius" in his book, Creating Minds. He examines the lives of seven extraordinary individuals, who each reinvented an area of human endeavor. Some of the names include geniuses like Sigmund Freud, Pablo Picasso, Albert Einstein, and T.S. Eliot. With all the geniuses that he examined, he found one common attribute: "the capital of childhood." These geniuses were gripped by their passions since their childhood and devoted almost invariably ten years to make their initial creative breakthrough and another ten years for subsequent breakthroughs. When these geniuses stunned the world with their creative endeavors, they were well-prepared, not well-endowed by God. Excellent writers fall in the same framework of observation. The testimonies of the writers in the Paris Review reveal one common characteristic, which E.M. Forster in his interview in the same journal in 1953 calls a "literary childhood." George Orwell claims in his essay "Why I Write" that at the age of five or six, he knew that he would grow up to be a writer, and at the age of sixteen, he discovered the joy of words. Likewise, V.S. Naipaul claims in his essay "On Being a Writer" that quite early in his life, he had the "ambition" to become a writer. And his ambition spurred the commitment and diligence to win a scholarship at Oxford to learn the craft of writing. The testimonies of these writers evince that becoming a writer is neither an epiphany nor a revelation. It's a considered decision fueled by ambition and passion. A writer's development, then, follows an often predictable pattern.
Can this pattern pin down a writing genius like Rabindranath Tagore, the only Nobel Laureate in Bangla literature? Skeptics and scholars would scoff at any attempt to fit Tagore in a pigeon-hole of rituals that the development of a writer presupposes. An autodidact as he was, he hardly had any formal education. His literary creation, however, continues to guide the peoples of the Indian subcontinent–and beyond–for emotional, intellectual, and spiritual survival as well as revival even 78 years after his death. His language is fresh and lucid; his thinking is sublime and unique; and he so gracefully shuttles between genres (e.g., lyrics, poetry, essays, short stories, and novels) that he seems to have drawn from a mysterious source. To argue that Tagore is not gifted is a tough sell. A disinterested critic would yet like to claim that Tagore was the beneficiary of the accident of a noble birth. Amartya Sen, another Nobel Laureate in Economics from India, was invited to deliver a lecture in 2011 at the University of British Columbia, Canada, to celebrate the 40th anniversary of the Interdisciplinary Graduate Programs that university offers. While he didn't lecture on Tagore's development as a writer, he presented Tagore as an ultimate embodiment of interdisciplinary studies given his cultural and literary orientations. He implied that Tagore thrived in an environment conducive to his talents.
Professor Sen cited Tagore's own description of the cultural background of his family: "a confluence of three cultures: Hindu, Mohammedan and British." He further claims that Tagore's grandfather, Dwarkanath, was well known for his command of Arabic and Persian, and Tagore grew up in a family atmosphere in which a deep knowledge of Sanskrit and ancient Hindu texts was combined with the learning of Islamic traditions as well as of Persian literature. While Tagore may have had the gift of genius, his cultural and literary backgrounds helped him own and hone that gift. Tagore doubtless had a "literary childhood," which imbued him with an aptitude for literature. Writing was not a passing passion for Tagore. It was his only occupation. Add to Tagore's literary childhood Malcolm Gladwell's rule of 10,000 hours. Citing ample examples, Gladwell argues in Outliers that there are no instant experts in any cognitively demanding fields. The amount of practice needed for exceptional performance is extensive –at least 10,000 hours. Tagore seems to have spent Gladwell's requisite 10,000 hours or more in absorbing and practicing the craft of writing before he started his writing career. And the more he practiced, the more he excelled. Tagore, then, is a genius without any divine intervention. He became a writer by being a writer.
And that's what all writers do. The Paris Review interviews all so-called gifted writers. One of the common questions they pose to all writers is what they suggest to aspiring writers in order to excel in writing. None of the writers has suggested that a potential writer wait until God starts whispering words into her ears. Ernest Hemingway's answer to this question was, "Tell him to go out and hang himself. If he survives, then he has a story to tell. Writing is so difficult." If writing were not so difficult, why would Gabriel Márquez claim in his Paris Review interview in 1981 that he could write only 50 words a day and that next day he would cross out all those words? For a so-called genius like Márquez, writing should have come copiously and perfectly from God. It never did, though. He likens writing to the making of a table. He claims that literature is nothing but carpentry. Both are hard work, full of tricks and techniques, and very little magic. Citing Proust, he claims that writing takes ten percent inspiration and ninety percent perspiration. Turkish Nobel Laureate Orhan Pamuk echoed Márquez's view on writing in his acceptance speech for the Nobel Prize in 2006: "The writer's secret is not inspiration—for it is never clear where it comes from—it is his stubbornness, his patience." And of course, the writer's conviction that writing is a human invention that he fully owns. If he creates magic and mystery with written words, the creator is still him.
A gifted writer is a euphemism for an accomplished writer. These days most accomplished writers seem to undergo adequate academic training before they venture into serious writing. Think, for example, of some of the Bangla-speaking accomplished writers who write in English: Kaiser Haq, Amitabh Ghosh, Tahmima Anam, and Zia Haider Rahman. They all are university educated people and have had prolonged exposure to literature as well as to the learning and teaching of writing. Their development as writers reveals a predictable pattern of preparation. For all of them, writing is an intellectual achievement, not a natural endowment. Why should it be different for any other writer?
Writing is NOT a gift!
Mohammad Shamsuzzaman is an Assistant Professor, Department of English and Modern Languages, North South University, Bangladesh.