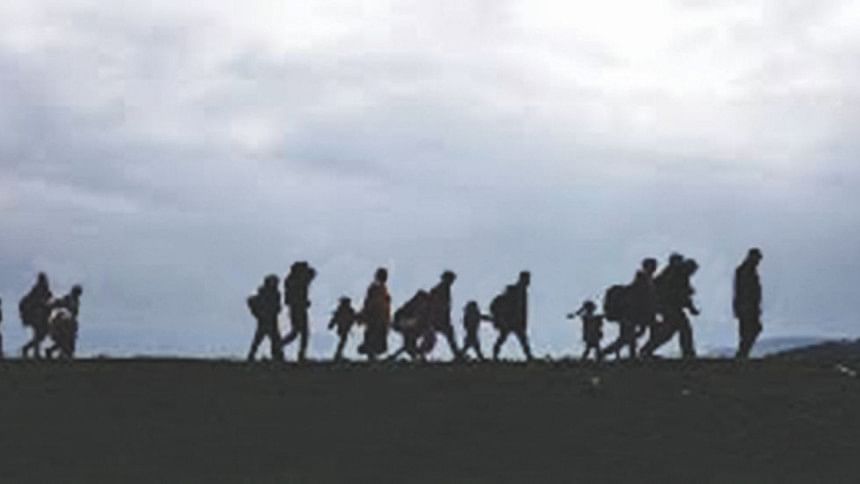 In one of my trips to the USA, I had a ticket on Royal Jordanian Airlines with a stopover at Amman. I halted there for three days, saw the cities of Jerash, Petra and Amman and then went over to New York. The arrangement at Queen Alia Hotel was good. They kept your passport in their custody and devised package tours exactly tailor-made according to your wish and duration of stay.
On my return journey I decided to visit Israel the same way. It was only after landing at Amman that I realized that I was actually venturing to visit an alien territory. Leaving the two big suitcases at the left luggage counter at Amman airport, I packed a couple of changes in an overnight shoulder bag. The flight from Amman to Tel Aviv takes only about half an hour and the twelve odd passengers were driven around for a long time to board a tiny aircraft stationed at the farthest end of the airport.   A security guard who was travelling with us took away our passports. We seemed like prisoners being escorted amid heavy security.  Inside the plane the stone-faced security man sat facing us in a front seat with all our passports inside his upturned cap which he kept on his lap.
Upon reaching Ben Gurion airport, the grueling enquiry at the immigration counter that lasted for an hour and a half was just beyond any tourist's imagination.
--"Who is your contact in this country?" the very young immigration officer asked me. I gave him the name and contact number of the professor who had invited me to stay at his place. The man went away with the phone number and though I was out of hearing range, from a distance I could make out that he was calling the professor to verify things. I assumed that he had contacted him and now would let me go. But no, there was a lot more waiting.
--"Do you have a business card?" he asked next.
Luckily I did have one in my wallet and handed it over to him. He turned it several times and kept on inspecting it for a while. Then came the next googly shot.
--"Your passport shows that you have left home for over a month. Don't you think this tiny bag that you are carrying is insufficient for a month long trip?"
--"Yes, but I haven't brought my entire luggage. I left it at the airport in Jordan." I replied meekly, not knowing what he was implying.
--"Why have you done so? Why didn't you bring everything along with you?
--"That is because I will go back to Jordan and take my return flight to India from there."
--"That is my point. Why do you have to go back to Jordan?"
I did not know how to answer this question. Was he thinking that I was some sort of secret agent coming from an alien territory? But I was totally an outsider in the imbroglio going on in the Middle East.
When at last he did let me go, I was already feeling dejected and stupid for having planned my itinerary in such a manner. I was also feeling bad that my professor friend was waiting outside for such a long time. Suddenly, the young stone-faced officer who had been grueling me for the past one and a half hour, gave a pleasant smile and said,
--"Welcome to Israel. You may go now."
When I came out and narrated my plight to my friend, he was nonplussed and said that it was his mistake that he forgot to warn me of this strict check at the airport and that it was a routine affair. Apparently, the immigration officer was a bit suspicious because no one picked up the professor's phone at his residence. How could he, when he was all the time waiting outside the airport to receive me?
The few days in Israel passed off really well – visiting Jerusalem, Bethlehem, the Dead Sea, the Golan Heights, living in a kibbutz – and the bitter experience of my entry into the country had almost passed into oblivion.  On the return trip from Ben Gurion airport I was once again escorted by a security personnel and the tiny plane embarked on one remote corner of Amman airport. When I reached the main terminal after a long circuitous ride in a jeep, an officer was eagerly waiting for me at the airlines desk. Apparently, all the Calcutta-bound passengers had already boarded the flight and they were desperately looking for me. The man said that it would take long to go through the usual departure route, so he rushed me through no-entry zones to save as much time as possible.  As it happens in Murphy's Law, as I was almost running through the aisles, the strap of my shoulder bag broke and the bag fell on the ground. I was under the impression that the two big suitcases I had left behind were already loaded in the plane.  Upon asking the officer he said that left luggage is never loaded directly till the passenger identifies them once again. So I needed to go back and identify my baggage. But he said that there was no time for it. I could just go and board the plane and the luggage would be sent three days later in the next flight to Calcutta. I started feeling uneasy but the left-luggage counter was quite a distance from where we stood then. Not knowing what to do, I beat the officer in his own game. But how could the baggage travel three days later if I did not identify it? This was good logic indeed. So the man took me back through several more closed 'no-entry' doors and asked me literally to run as fast as I could.
With the beltless bag tucked like a bundle under one arm, and lifting the almost coming out pleats of my sari knee-high on the other hand, and the pallu tucked safely in the waist, I rushed like a great marathon runner in an obstacle race, totally oblivious of what a funny sight it must have been for the people at the airport lounge to see a middle-aged Indian woman running around in such a mad frenzy.
I made it in the end. Though I remained doubtful about my suitcases being loaded inside the plane at the last moment, they arrived safely with me in Calcutta. But I will never forget the strange stares I received from the fellow passengers of my flight who were forced to wait more than half an hour because one crazy Indian lady with a valid boarding pass was missing all this while!!
Somdatta Mandal is Professor of English at Visva-Bharati, Santiniketan.