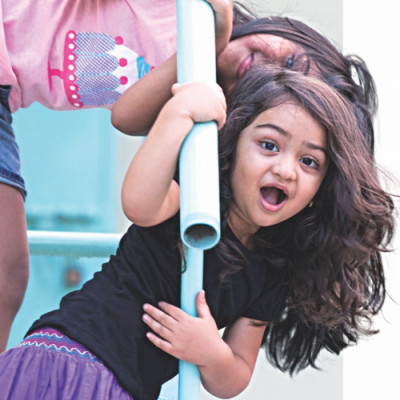 An active child is a happy child; this is one statement that has never failed to reciprocate! Outdoor activities are NOT just meant for fun, they are highly required for the sound mental and physical growth of tiny people.
An active kid who spends long time outdoors, playing with her friends, often learns to be social – she is able to make friends easily, express her feelings better and solve problems effortlessly, while working in groups.
Do all the achievements sound familiar? Something you have heard of in your adult life, maybe? Yes! They are called life-skills! Incredible qualities that can be easily grown while doing something fun, such as – playing football or aiming for the hoop!
In today's digital world, unfortunately, the children find very little time for physical exercise. They are either busy watching cartoons  non-stop or playing video games on their laptops. Some may even argue that most of the video games are interactive today and require the movement of hands and legs!
While virtual reality may be fun, we are talking about true-blue physical activities and not any sort of make-shift!
If you find that your child is averse to any sort of outdoorsy activities then maybe you haven't intervened properly.
The best way to encourage children to play like kids is to first find a fun activity that they might actually be interested in. Some like the water, whereas few others find nothing more harrowing! So you can't expect all the children in the world to like swimming – even though a high percentage does, your one tiny tot just might not!
In that case, try to find out their preferences, you may be surprised at the unique and diverse results like horse-riding to wrestling.
Another idea is to stop comparing the little kid with yourself. For example, you may find yoga to be very invigourating or Zumba to be the most fun thing to do in life! While your kid appreciates your preferences, it's not necessary that he or she would want to do the same!
Before forcing any activity on your children try to think like a kid first.
And do not overdo it! Some kids are just over-scheduled. They need enough rest as well. If they are not feeling well, or want to skip the outdoor activities for a day or two; give them the freedom to do what they want. 
Parents also worry about one additional thing and that is cleanliness. No good ever came from sitting back at home and doing nothing. As long as they wash their hands properly and take regular showers, there is absolutely nothing to worry about.
Last but not the least, stop being a couch potato! Kids are always looking out for role models in their lives. If they see their parents spending hours in front of TV, lying on the sofa then there's no way they are going to believe that physical activity is more fun than sitting around at home and brooding all day!
Photo: LS Archive/Sazzad Ibne Sayed