InstaKC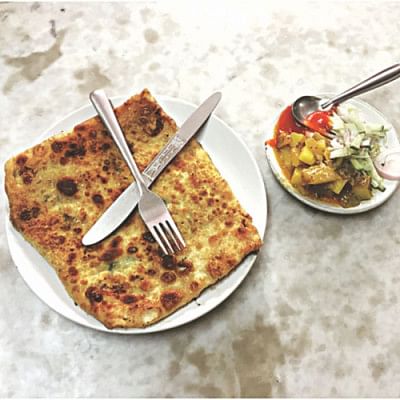 The very famous and iconic Mughlai paratha. This particular one was made with duck egg, as opposed to chicken egg. The cubed potatoes on the side were an added attraction in my salad days. The Mughlai paratha in Dhaka is a crispier version.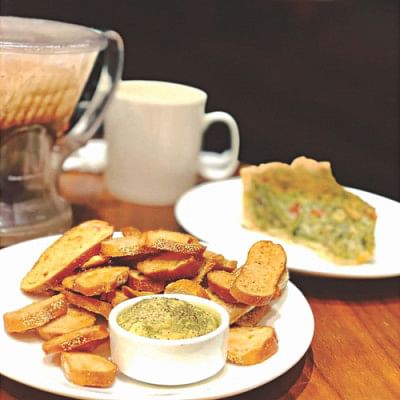 Loved these toasted bagel chips with hummus. Although, the hummus, I thought, was a little too tight to be, well, hummus. The quiche in the background is super-sized; filling but did not thrill. Pour-over was nice too. It was lovely sitting outside at the narrow ground level veranda of 8th Day Cafe & Bakery. The weather is changing fast, and getting warmer. Soon, the days of sitting outside will be gone. Eating well within relaxed limitations.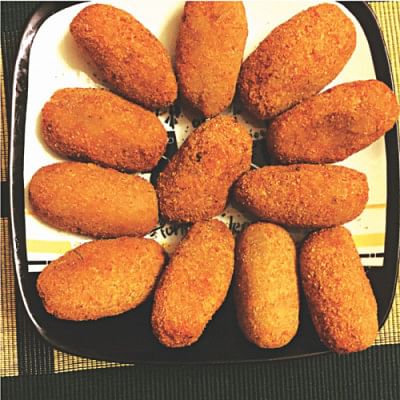 I am no food stylist and I am also not very aesthetically inclined. Hence this bad picture of something that deserves much better photographic appreciation. But maybe this is appropriate for such a simple yet popular dish. Fish chops from Machli Baba Fries. These chops are truly an homage to the cabins of Calcutta that specialise in chops and cutlets. Pure gold.
There is magic in winter veggies. Slightly unripe pumpkin, diced and stir-fried with sweet river prawns-- paanch phoron tempered. Some of the pumpkin skin was left on for a lovely texture. This is a winter regular in our household. Usually, cubed potatoes go in this as well, but not this time. Brilliant with plain rice. The natural sweetness of the pumpkin is such a match made in heaven with earthy paanch phoron.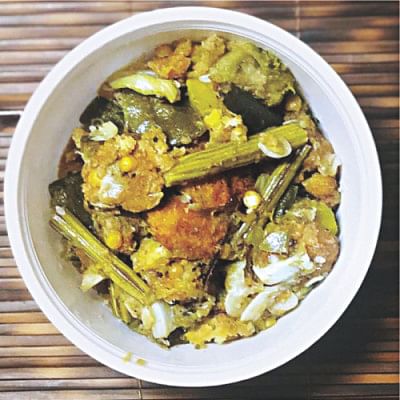 This is a very traditional Bengali dish called Chapor Ghonto. A posh cousin of shukto, albeit without the bitter gourd. All kinds of local veggies come together, along with pulses in two forms. One is pulses as is, which is texturally so cool. The others are little fritters of pulses, which are shaped by slapping the dough on one's palm. Chapor literally means a slap, and hence the name. Unlike the usual ghonto, or mishmash, the veggies retain most of their shapes. Drumsticks are also a nice chewy addition. I suspect that this has a therapeutic role as well, being largely eaten at the change of seasons, to fight the changing weather. Any knowledge on this will be most welcome. Us Bengalis have conquered a lot. The Thugees, the Company, The Raj. But we have not been able to rise above weather changes and indigestion. C'est la vie!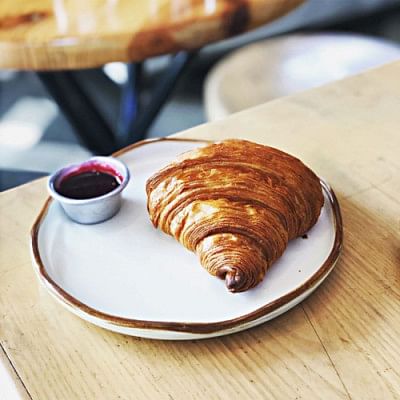 I love a good croissant. Very little compares with the wafer thin layers that crumble at the merest touch. Fabulously fat. Brilliantly savoury. It is very difficult to find good croissants in Calcutta. But the croissant game is strong with La Folie India, Mumbai. They serve it with strawberry jam which I did not have. Eating well with relaxed limitations!
Photo: Kaniska Chakraborty