Food tales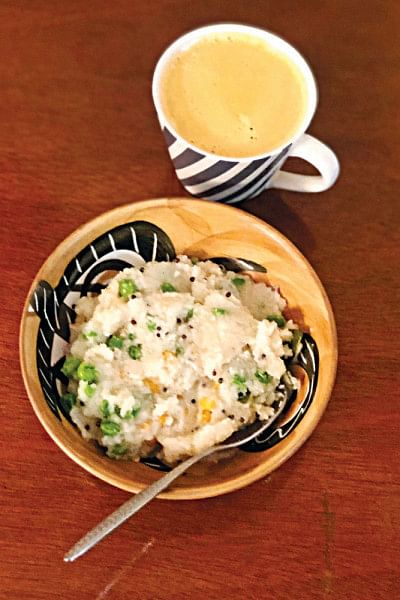 1
I got in the dog house with some of my friends for saying Shubho is not the appropriate salutation for Mahalaya since it is a sombre and solemn occasion. So, I'll steer clear of all arguments and say this instead.
Mutton curry on the auspicious day of Vishwakarma Pujo is a great tradition. Mangsho bhaat, mutton curry and rice, is the menu of choice at most factories and workplaces where Lord Vishwakarma, the celestial builder, is worshipped. One day when all workers would sit together and enjoy this simple yet delightful feast.
I remember one of my uncles had a factory and he used to take me there on the occasion. Long temporary wooden tables, topped with thick white paper as table cloth. Banana leaves as plates, mounds of steaming white rice, and mutton curry with really runny gravy. So runny that it dribbled down on my "half pants" or shorts.
This habit has slowly seeped into households and mutton curry rice has become a favourite of this day. Though it has traditionally not been a holiday, people used to find some reason or the other to either go late or not go to work at all. And the Kolkata sky would be dotted with flying kites of all sizes but similar shapes. Not the different shapes line Far Eastern cultures. No dragons or eagles or sun or rockets. These are square shaped paper kites with another small square as rail, with lurid colours and designs. Each one is named differently. But that is a story for another day.
Now is the time to enjoy this fiery red mutton curry with hot rice and slowly drift away to nap land. #That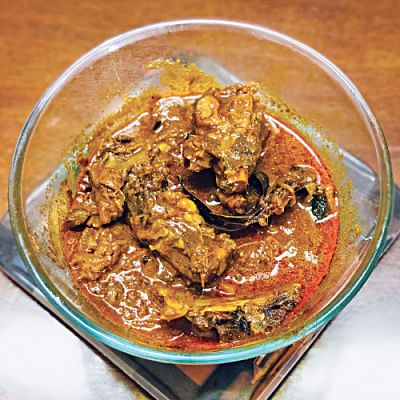 2
Another cloudy, rainy, gloomy morning. Another attempt to brighten up the morning. At least I succeeded in warming up the morning.
I love hot breakfasts, unless it is the height of summer, when I resort to plain yoghurt and granola. Otherwise, it is usually eggs for me.
Life was so different growing up. Standard breakfast was toast, butter and jam. And tea with milk and sugar. Eggs were served either boiled or made in a curry for lunch or dinner. Not a regular breakfast thing. Unless on Sunday mornings as "mamlet" or omelette fried in mustard oil. Indulgence was orange marmalade instead of mixed fruit jam. Butter was a bit scarce and hence, the adults made sure a little went a long way. Toast did not get smeared with butter, but got brushed lightly with it. Jam was also lightly spread. Bread was white. Upma was never in consideration. Dosa, idli, vada were all afternoon or evening food, not breakfast. And coffee, always instant, always with milk and sugar, was reserved for winter mornings.
How things change! Upma and espresso is one of my most loved breakfast these days. Eggs appear fairly regularly on the breakfast plate in various forms. Tea has been firmly replaced by real coffee, never with milk or sugar. Do I crave for those seemingly simpler times? Can't equivocally say yes with hand on my heart. I am a bit of a realist, and I believe we keep talking about good old days smug in the realisation those days are not going to come back in our lives. Moving on and moving ahead is the only reality. #That
Photo: Kaniska Chakraborty