Fusion cuisine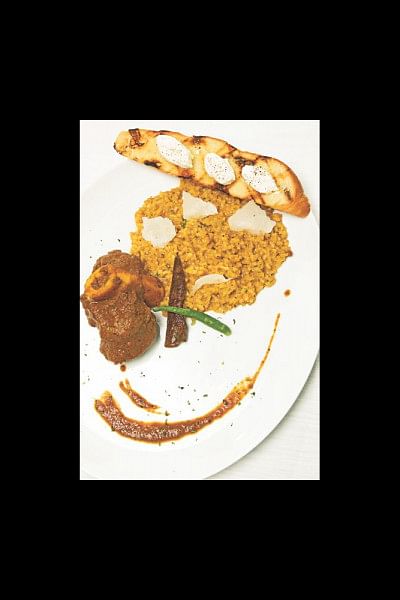 By Apoorva Kunte
Executive Sous Chef
The Westin Dhaka
Fusion is the word Duck bhuna with chitoi pitha waffle  
Serves 2 
Ingredients                                                                      
250g boneless duck bhuna
100ml chitoi pitha batter
100ml waffle cone batter 
For waffle cone batter
500g flour 
250g sugar 
125ml oil
500ml water 
14g vanilla powder 
5g salt 
Garnish
Fried brown onions, fried red chilli, spicy coriander chutney
Method
In a mixing bowl bring together sieved flour and all the mentioned ingredients. Whisk together to form a thick batter. Rest for half an hour.
Assembling the recipe
Take equal quantities of the chitoi peetha batter and the prepared waffle cone batter and mix together. Heat a waffle iron and pour in the batter. Either make a soft waffle or a crispy one as per your liking. If making a crispy waffle, you may twist it to form a waffle cone not bigger than 10cm in height.
Fill the waffle cone with the prepared boneless duck mixture, and serve garnished with spicy coriander chutney, one fried dried red chilli and brown onions, like a canapé or cocktail snack. If you like to have a soft waffle, then you may fill in the duck mixture after spreading the coriander chutney over the waffle and then roll it to form a wrap of sorts; this can be served as a tea time snack.
Achari beef risotto
Serves 2 
Ingredients:
250g beef  shank/beef curry (boiled in chicken stock till soft and tender or cooked in a pressure cooker)
500ml chicken stock 
200g risotto rice (Arborio variety) 
2g panchphoran
10ml mustard oil 
10g red onions (finely chopped) 
5g garlic (finely chopped) 
20g ghee
10g parmesan cheese (grated)
20g pureed mixed mango pickle 
5g tomato paste
Method
Heat a heavy bottom pan on a medium flame with mustard oil, add the panchphoran, chopped onions and garlic and sauté till translucent. Then add the risotto rice and sauté it till the rice grains are coated with the oil and onion mix for about 2-3 minutes.
Add in the pureed pickle mix along with tomato paste and 100ml of stock.
Using a flat wooden spoon keep stirring the rice after addition of the stock till it is all soaked in, then add another 100ml of stock and the cooked beef and continue the process of adding stock till all of it is absorbed and the rice is cooked al dente. The end product will be a mix of rice and beef, with a porridge-like consistency with a total cooking time of 16-19 minutes.
At this point take the vessel off the stove and add the ghee and parmesan cheese, using a flat spoon mix to achieve a creamy rice mix which, when put onto a plate, should become flat. Season with salt as required keeping in mind that the parmesan cheese has its own natural salt, as does the mango pickle puree. May be served as a meal by itself around lunch or dinner time.
Assembling the recipe
Heat oil over a medium flame, dip the pumpkin flowers in the prepared tempura batter and fry in oil to a crisp texture, taking care that they don't become dark in colour. Meanwhile, whisk the mayo ingredients together. Drain the tempura on kitchen paper, and transfer to a plate, serve with the kasundi miso mayo.
Kumro phooler tempura, kasundi miso mayo
Serves 2
Ingredients
12 pieces kumro phool 
200 ml tempura batter
Oil to fry
50g Kasundi miso mayo
For the tempura batter 
885g tempura flour 
1 egg yolk
1.2 litres ice cold water
For the kasundi mayo
10ml kasundi 
5g white miso paste
35g mayonnaise 
Method
Whisk water and the egg yolk together. Add this to the tempura flour and mix with hand. The batter can have lumps; it is not a smooth batter. 
Assembling the dish
Take a large white plate. Bring in the drained ravioli onto the plate in a abstract manner, they should not be in one line. Place the torn out microwave sponge behind each ravioli. Rest the fried chira brittle discs onto the sponge. Garnish with icing sugar mixed with gur powder, pieces of dragon fruit and serve.
Mishti doi and dragon fruit ravioli, gurer micro sponge, chira brittle
Serves 2 
Ingredients
For the ravioli 
240g mishti doi 
30g puree of dragon fruit skin
1 litre mineral water 
6g sodium alginate salt
Method
Mix all the ingredients using a hand blender leaving aside the water and the alginate salt. Fill spherical silicon moulds with the prepared mix and freeze it. Mix mineral water and alginate using a hand blender. Reserve.
Drop the frozen spheres of mishti doi into the alginate solution and let it stand in the solution for 3-5 minutes. Strain and clean with mineral water. Drain and serve with the micro sponge and chira brittle.
For the gurer micro sponge-
240g egg white
50g patali gur 
40g refined flour
Pinch of salt
Method
Blend all the ingredients using a hand blender. Strain through a fine sieve. Fill the mixture into a cream whipping siphon and push in two nitro charges. Shake well. Fill 1/3 of a disposable glass with the foam from the cream siphon and cook in a microwave at 900 watts for 35- 40 seconds.  Cool and serve after demoulding and tearing the sponge into small pieces.
For the chira brittle
150g semi-hard lucchi dough with sugar 
50g chira
Method
Take the lucchi dough and knead in the chira. Now roll out into a sheet of approximately ½ inch thickness. Using a cookie cutter cut into three circles of diameter 7cm, 5cm and 2cm each. Using a fork poke the rolled out circles. Fry in hot oil till crisp. Serve with the mishti doi and gurer sponge.

Photo: Sazzad Ibne Sayed
Food prepared by Apoorva Kunte