Café Sienna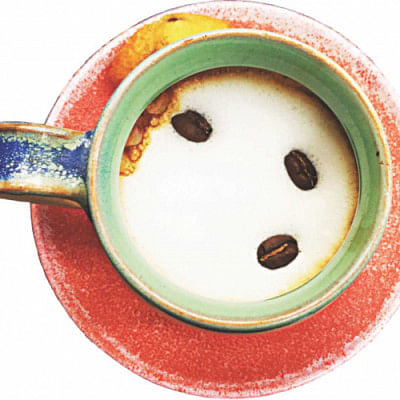 Tucked on a quiet lane, near bustling Gariahat, is Café Sienna.
Part of the growing café culture of Calcutta.
That area has quite a few cafes and eateries that cater to the young and chic.
There is Mrs Magpie, Delices, Byloom just to name a few.
Café Sienna is in the same mould as Byloom in the sense that it is inside a very chic handloom shop that sells ethically sourced fabric, ready to wear dresses and knick-knacks.
While Byloom café does a lot of classic Bangali food, like mutton chop and luchi and mutton ghugni, Café Sienna is firmly in the esoteric territory, selling bistro food like sandwiches, wraps, pasta, salads and a selection of desserts.
What really impressed me were the quirky décor and the eclectic group of people who seem to be regulars. Students, foreigners, audiovisual professionals, couples from the locality, group of elderly friends. The place was buzzing.
On our first visit, we ordered coffee and tea. Nothing remarkable. Fairly watery coffee, iced green tea made with tea bag. 
My next visit was with a dear friend. She had a cappuccino, I a macchiato. The macchiato took forever to arrive. But was a good one once it did. Loved the madeleine and the muffin that we ordered. The cakes are supplied by Shuktara, an NGO that works with differently abled boys and trains them in baking.
On my third visit, I took my mother, who is very fond of cafes and loves a simple teacake, or a nice cheese sandwich, which she did order, along with a masala chai. I ordered a ham roll with plum and star anise sauce from the special seasonal menu as that sounded nice. And also a macchiato.
The macchiato and masala chai came pronto. And continued to get cold as we kept on waiting for the food.
Her grilled cheese sandwich came, all golden with great looking potato chips, oozing cheese. So far so good.
My ham roll took some more time. And they were not kidding when they said ham roll. Usually, a roll conjures up the image of a bakery product, a croissant or a bread roll. I thought the same will be with ham inside. What came were literally two rolled up slices of ham. Kind of like the rollmops that are so common in Scandinavian cuisine.
Two rolled up ham slices that have spent more than sufficient time under a hot grill. They were stuffed with the plum sauce. Every bite was an exercise in patience, as I had to chew through the well, chewy ham to get to the overpowering sauce. Cannot say it was the most pleasant of experiences.
Café Sienna is supposedly a self-serve place where you place the order at the counter and wait forever for food. But unlike most self serve places, there are waiters serving food and collecting bills. So why not go the extra yard and let people order at the table? It would make life so much simpler, especially now that the special menu is on the tables.
A lovely place in the middle of an extremely busy part of Calcutta. It would be so nice if the service and the food were a little better.