Aroyee – truly delicious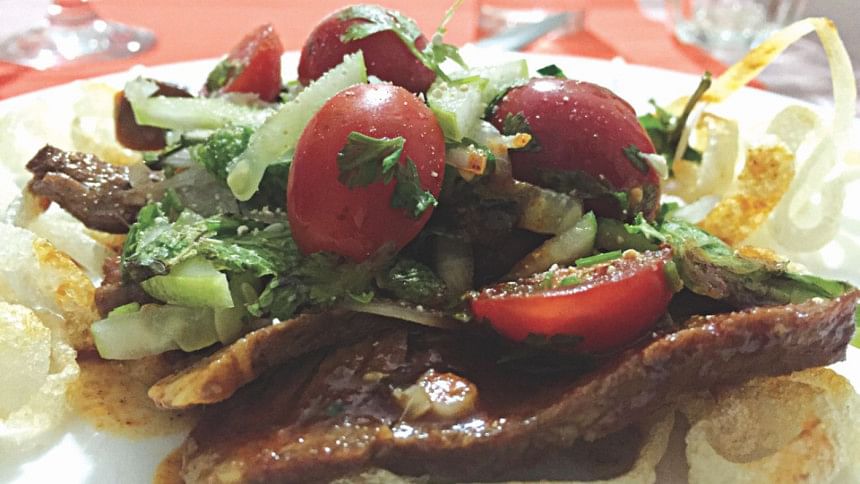 I have been very lucky lately.
I have been invited to two brilliant efforts, which are at two ends of the cuisine spectrum.
Tingama and Aroyee.
Whiles both are beautiful in their own right, Tingama is a nod to classical home cooking. Aroyee, on the other hand is all about fine dining with a twist.
Aroyee is the fruit of love of two of my friends, S and P.
Both of them are seasoned veterans of development sector and have done their tours of duty in strife torn countries.
Now that they have come back, they wanted to do something different, something fulfilling, and something that'll give back to the society to which we owe so much.
So they have started this wonderful venture, nay love affair with Aroyee.
Aroyee means delicious in Thai language.
It is a high end catering service that serves haute Thai cuisine with produces sourced ethically from Chittagong Hill Tracts. Not a restaurant. It is a home dining experience.
And their commitment to the hill tracts does not stop at procuring produce.
They are getting interested people from hill tracts, training them in the food industry and creating fine chefs out of them.
I can say this confidently as I have been lucky to have tried their cooking.
S called me one evening and invited me for dinner at their lovely office in Baridhara.
A beautiful two storied house--of a type that is fast disappearing in the mad rush of mushrooming multistoried monstrosities. 
After a quick tour of the office, we sat down to a brilliantly orchestrated dinner.
We started off with a larb, a minced chicken salad with lemongrass, coriander and ginger as the protagonists. Roasted ground rice played a lovely baseline. Spicy, tangy, meaty. Just enough to whet the old appetite.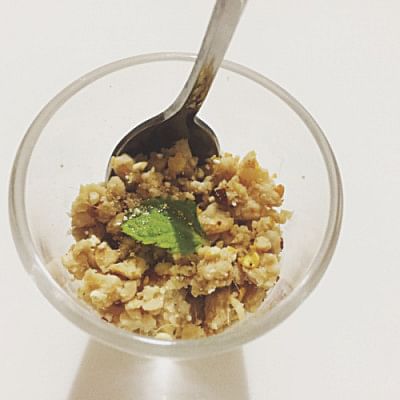 A superb fillet of John Dory followed. This was smeared with turmeric and baked to a divine perfection. Fork tender, juicy. This was topped with fried juliennes of ginger and cake with a punchy pesto of assorted herbs.
The next dish was this incredibly tender beef salad. Strips of sirloin, glazed with tamarind, served with cherry tomatoes, cucumberand what I believe is sabarang, the much-prized herb from hill tracts.
The dessert was simplicity itself. Sticky black rice, stewed with coconut cream and topped with candied peanuts. Creamy, comfortimg, cosy.
Got to meet the wonderful chefs, Alo and Jesmin. Smile never left their face, telling me that they love what they do.
And why not? This is a celebration of all things hill tract and rightly, they are proud of it.
The meat and fish are not from hill tracts, but almost everything else is.
This is an effort that should not only be lauded, but also definitely supported.
I long to go back and have the John Dory again.
Keep rocking, S and P.
Photo: Kaniska Chakraborty