Ahdoos the other Srinagar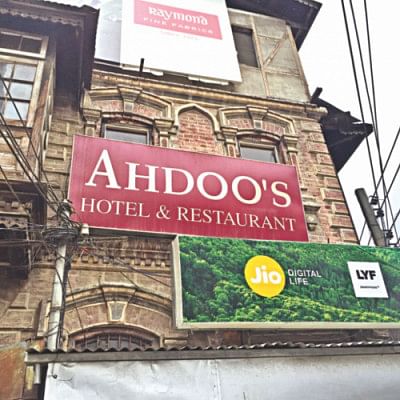 Removed from the touristy scenic beauty. 
Away from the teeming crowd of Dal lake. 
Not on the way to Gulmarg or Pahalgam or Sonmarg. 
Tucked away near LalChowk behind a block of shops is Ahdoos.
Adored by all as one of the places for wazwan while in Srinagar.
And it came heavily recommended along with Khayyam Chowk.
So off we went looking for it.
Now that is an exaggeration as we sat in the car, told the driver to take us to Ahdoos and we were there in a jiffy.
Ahdoos is a hotel.
The restaurant was on the first floor.
A nice, cosy, casual place.
Ordered a mini wazwan. She ordered a rogan josh with naan.
I quickly discovered that wazwan is not my plate of meal.
Very meaty, very spicy, very heavy.
I could not finish half of what I was served.
Surprisingly, loved the greens and the tomato paneer more than the famed gustaba. 
Her rogan josh was a delight though. Soft, succulent meat in rich creamy gravy.
But the real delight was on ground floor.
media type="image" id="211549" layout="medium" position="left" caption="1"]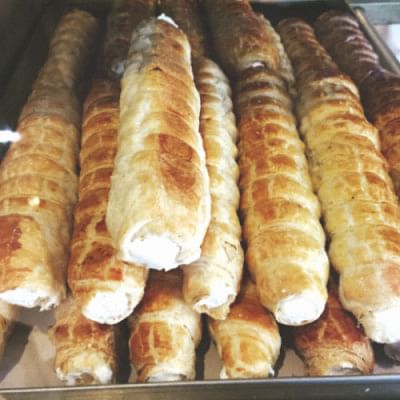 Ahdoos bakery!
Since 1918. A veritable institution.
A treasure trove for cookie hunters.
There was bakarkhani, the iconic crispy flatbread, which apart from the shape bore no resemblance with its cousin from Dhaka.
There were cookies. Glorious walnut cookies in muffin cups. Crumbly, nutty, heavenly. Not the archetypal soft centered ones. But if you are after the soft centered ones, their coconut cookies are what you want. Crispy on the outside, soft and yielding on the inside. A tad too sweet though. They also have a coconut cookie topped with almond. There were lovely butter cookies packed as assortments.
There were cream rolls. Stuffed with fresh cream and not butter cream, they claimed. I tasted one. It did not have the icky feeling of fat layering on the tongue. But the rolls did stay good for couple of days. May be a good quality butter cream?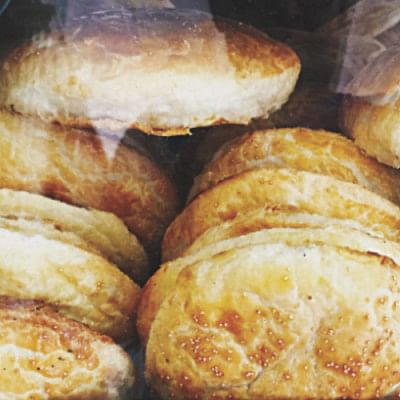 They had cakes. Apart from the obvious butter cakes and walnut cakes the thing that caught my eyes was a fig cake. Nice soft stuff, studded with dried fig bits. Great texture contrast with the buttery cake.
Met Hayat, the third generation owner of the bakery. He was kind enough to walk me through the goodies that he has and recommended the walnut cookies and the fig cake.
And we were happy to discover a not much talked about side of Srinagar.
Photo: By Kaniska Chakraborty