The clay that spoke of 'shokh'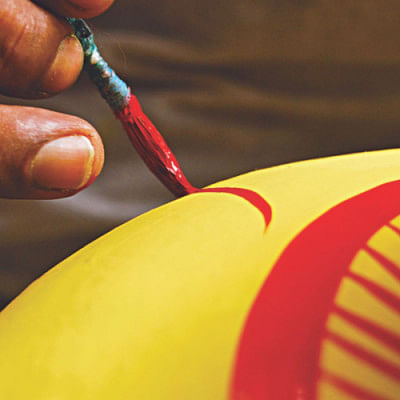 Every Baishakh sees a spike in the sales of earthenware, particularly for 'shora' (convex earthen plates) and 'hari' (clay cooking bowls). As kumars (the potters) are busy with their pottery wheel and the kilns are burning day and night to compete with spiked seasonal demand; 25 miles north of Rajshahi City, the Pal Para (neighbourhood of potters) at Basantapur is busy with another unique clay creation along with their regular wares.
The "Shokher Hari" may seem like any other clay pot, but eye catching colouring and presentation makes it one of the most unforgettable earthenware.
Shokh is a Bangla word that directly transcribes into English as hobby, and rightly so as the meaning of amusement and happiness does not get lost in translation. The Shokher Hari is not the typical Hari (everyday cooking utensil). You can easily distinguish this from the others in the Baishakhi Mela or any other traditional fair as they are stacked three to seven (and even more) with jute cords in tasteful local style macramé.Rightly living up to its other name "Ranger Hari" (colourful pot), the bright yellow base adorned with motifs and pictures in red, blue, black and white have made many children want the entire set!
This artful piece however has its position as a utensil for use on occasion. The Shokher Hari has been used on religious occasions as well as social events including Pujas, the two Eids plus as the carrier for sweets during weddings or simply being presented as a tasteful piece of traditional décor. It should come of no surprise to see this hari being presented with gifts for a first-time mother. Adorned with motifs of flowers, trees, fruits, combs and mirrors, birds and animals, the designs are all drawn from memory without any guiding or copying sample.
Hailing from Rajshahi, this charming craft has withstood the test of time. The name of Sushanta Kumar Pal is intrinsic when it comes to upholding the essence of the Shokher Hari. His and his family's expertise on this particular utilitarian art form is helping the Shokher Hari garner a position as an element of intangible cultural heritage of Bangladesh.
Pottery and clay craft is one of the key indicators of a civilisation and its society. In that context the Shokher Hari humbly offers its presence as a decorated utensil for occasions. It is not just another clay utensil with a creative pattern on it, if that were the case then just about anyone with a brush would be buying plain clay pots and painting them.
When a potter's hand makes way for the creative eye then it truly becomes the Shokher Hari, which stands as a 'shokh' for both the maker and also for the one whose home it will grace.
Photo: Collected