Trainer in your pocket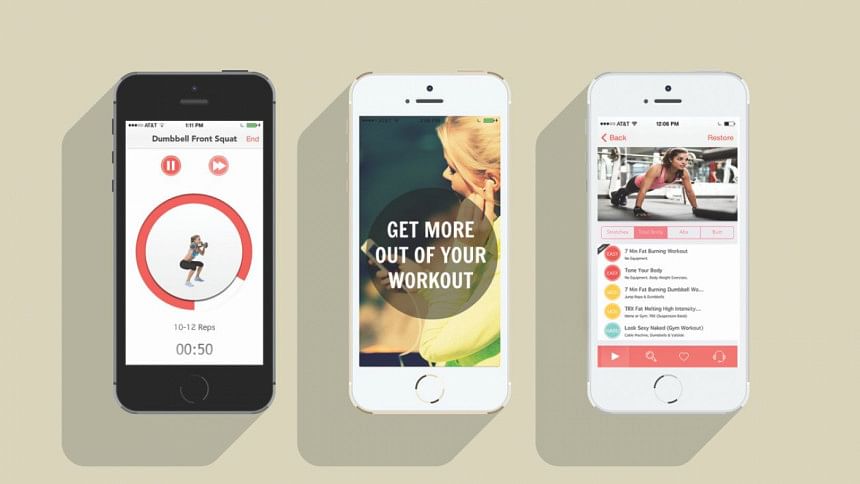 We all seem to be so bogged down with work and other commitments that we barely find time to go to the gym and break a sweat. In our heads, we tend to nurture the excuse - "tomorrow!" 
On top of that the dangerous effects of binging on junk food and leading a sedentary life are alarming. We tend to forget how much time has passed while scrolling down Facebook newsfeed in blissful ignorance. 
Yet, what if I tell you that you can get some exercise without having to put down the mobile phone?
Technology has advanced so much over the years that seemingly everything is. Working out has never been this easy.  You no longer have to run to the gym if you want to lose weight or build muscles. These apps also help one count calories and keep a track of what they are eating, making dieting much easier. 
SWORKIT

If you are looking for a personal trainer who will help you beef up those muscles, make you more flexible and guide through intensive workouts, allow me to stop you from wasting the money by enrolling in the neighborhood gym . The Sworkit is exactly what you need, and free of cost! 
With a library of total 170 exercises, sectioned into Cardio, Yoga, Strength and Stretch, one can choose to focus on certain parts of the body, selecting the number of reps and the amount of time (five minutes to an hour).
The app is also helpful as all the workouts are shown in a step-by-step manner, making it easier for the person to do it correctly. At the end of each workout they reveal the amount of calories that you have burnt. If you opt for a premium service ($4.99, for a month), you will be able to unlock more workouts. This app with its reminder option is designed to help you meet your everyday workout goals. 
MYFITNESSPAL

This app is the best for making you more aware of your eating habits and estimating how much weight you lose everyday by automatically connecting with other activity trackers. They give you a daily goal according to your weight and exercise habits.
Dieting needs a lot of calculations of the daily intake of calorie and their authentic calorie counter will definitely help you take the stress out of weight loss by tracking how many calories you have eaten without having to crunch the numbers yourself. You can also monitor what you eat using the barcode scanner or by searching the database of more than three million food items.
CALM 

This app is more for the mind than for the body but then again the fitness of the body and the mind are closely connected to each other. For people who have wanted to learn meditation but had never had the time, this is the app for you. You can choose to focus on any of these aspects - improving sleep, enhancing focus, managing stress, expressing gratitude, etc. 
By creating your own profile and fixing the number of sessions you want to have, you can escape into the world of mindfulness. 
Their seven day or twenty-one day meditation challenges with a collection of a number of soothing music and calming sceneries. Calm provides the best meditation experience.
THE JOHNSON & JOHNSON OFFICIAL 7-MINUTE WORKOUT

As the name suggests each session of workouts in this application has the duration of seven minutes. It includes 12 bodyweight exercises of high intensity with the requirement of just a chair and a wall. It adjusts its level of difficulty based on your current level of fitness. 
On days that you have some extra time, you can choose to do it a bit longer than seven minutes.  Each of the exercises is of 10 to 30 minutes with intermittent rest periods.
The seven minute exercise is best for busy people or travellers and with recent researches saying that short, intense exercises boost metabolism and helps maintain a balanced weight, this app is definitely one of the best fitness apps. 
ENDOMONDO

Endomondo is a very social running app.  It tracks the duration, distance, and speed of your runs. It has the feature of creating routes and to make running more fun, you can challenge friends who live in your neighborhood. It's about as feature-rich as running apps come.
Other than tracking runs, it also tracks bike rides and other outdoor activities with good accuracy and a simple interface. Items like an audio coach and track hydration make the app very cool. Another one of the cooler features is the ability to see other people's times on routes and test those against your own. For those who like to socialise over their runs, Endomondo provides all the options you need.
Most of the apps are available on IOS, Andriod and Windows phone and most of them are for free. 
So, step up your workout game and break a sweat with these incredible fitness apps but remember that even though you are exercising at home, you will still need to push yourself every day to exercise by responding to the reminders because what better way to de-stress!
By Mormee Mahtab

Photo: Collected