Shop Review
Häfele Design Centre now in Dhaka
If you are one of those who have fawned over the perfect futuristic kitchen counters and almost magical concealed cabinets from TV, then you are in for a treat! Häfele, one of the leading international manufacturers and suppliers of furniture fittings and architectural hardware, has officially opened its first design centre in Bangladesh on 21 January, 2018.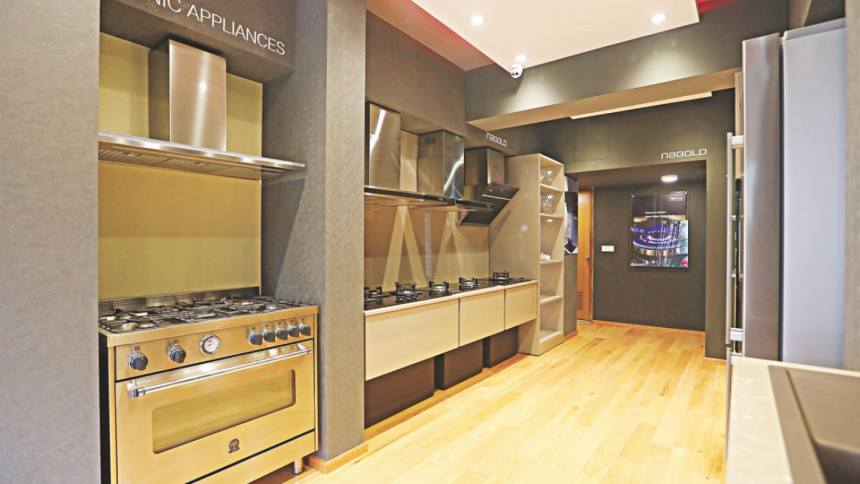 Located at Banani Road 12, the Häfele Design Centre occupies a 3,300 square feet duplex.  Visitors coming in are welcomed first by the warmly lit Live Kitchen Area. This area focuses on the elements of a well-furnished kitchen. Starting from the top of the line cooking ware to the storage containers, everything boasts of clean lines and state-of-the-art designing. The entire area is meant to provide a 360 degree interactive experience.
Visitors are not only encouraged to touch and feel the many cabinets and drawers but try first hand on how to use the products and see the mechanisms at work! It is almost like a futuristic room where a touch can open a drawer or a seemingly handle less part of the wall reveals a concealed dish-washer or a storage area. The absence of protruding handles and other typical furnishing adds to the much-coveted linear form of modern living.
Storage aside, Häfele is also showcasing various kitchen faucets and sinks, as well as sleek refrigerators, for a proper premium feel. Electric ovens and cooking stoves and induction cookers are also featured here ranging from regular cooking to serious non-commercial cooking!
The innovation continues to the wardrobe solution as sliding doors and hinged displays are again there for the visitors to test out. The wardrobe accessory section strives to utilise every millimetre of space from floor to ceiling. The wardrobe lift, where clothes can be hung and easily accessed with the pull of a lever, with an array of pull out drawers for the many smaller accessories can be easily customised to fit any home.
---
---
The upper floor hosts the bathroom fittings with a live shower display, plus door hardware and lighting solutions. The trackless doors with hinges and sliding options can be incorporated into offices to make a stylish meeting area. The various door locks and hinges on display are mainly for furniture, building and hardware supply industries. But these provide the interested individuals with a glimpse of the range available.
The Design Centre itself took a year to finally be open to the public. The effort and hard work of the whole team shines through. During the opening, Jürgen Wolf, Managing Director, Häfele South Asia, applauded his team for finally making this centre a reality. He mentioned that Häfele is meant to stay as a premium product provider and any challenge that may come is identified as an opportunity. With high optimism and confidence, Wolf talked about Häfele's beginning in 1923 at Nagold, Germany. As a family enterprise, providing best quality is their primary focus. 
Häfele started its operations in Bangladesh back in 2007. The quality of the products spoke for themselves as demands grew. Now in 2018, the Design Centre is here to work as the visual display for offered products and to showcase the brand as a one-stop destination for premium kitchen and home furnishing. This is also a great chance for interested people to experience world-class products at their home turf!
What makes Häfele stand out even more is their option to customise. You may not be able get the entire kitchen or wardrobe set, but you can make some of it a part of your home. Maybe just a part of the storage to fit into your kitchen or a beautifully accented partitioning for your living room or even a section of the wardrobe can be adjusted to fit your needs.
Anyone is bound to want their home to have at least one piece or segment that boasts premium quality, Häfele strives to be synonymous with that quality in Bangladesh.
Photo courtesy: Häfele Bangladesh
Häfele Design Centre, House - 106, Road - 12, Block - E, Banani, Dhaka
You can also visit http://hafelebangladesh.com for catalogues of available products.