The goodness of Bangaliana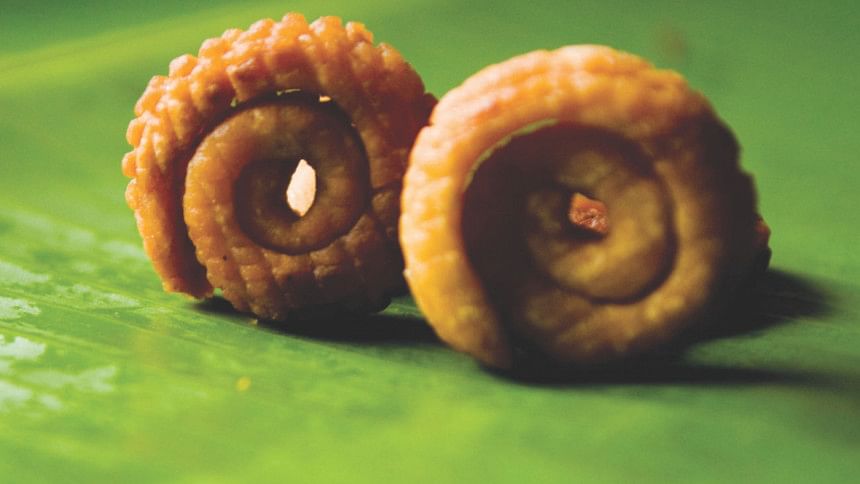 Nabanno, the Bengali harvest festival, is a joyous celebration, one that I was lucky enough to experience. Although the grandeur of the festivities has waned, in some villages people celebrate for a whole month, with their new crops, with the fresh coconuts and the jaggery made from the sap of the date palm tree.
Although not prevalent in the urban setting at all, the effects of it are visibly there - banners hung up promoting 'pitha utshab' and various types of 'melas'.
"Nabanno" fest means varieties of pithas - patishapta, puli, bhapa, bibikhana; desserts like kheer or payesh; and various kinds of other Bengali desserts.
This is an old and a tested offering, but a little twist here and some tweaking there, almost all versions o Bengali Nabanno offering can be given a cosmopolitan taste.
Bibikhana cake
Do not get confused with the name. The word "cake" here is not just an English synonym of "pitha". We are going to reinvent this traditional "pitha" as a real "cake" this time!
Ingredients
2 cups rice flour 
1 cup powdered milk 
½ tsp cardamom powder
A pinch of salt
½ cup coconut flakes
4 eggs
½ cup melted butter
½ cup orange juice
2 cups jaggery
½ cup water 
100g dates (Julian cut)
50g pistachio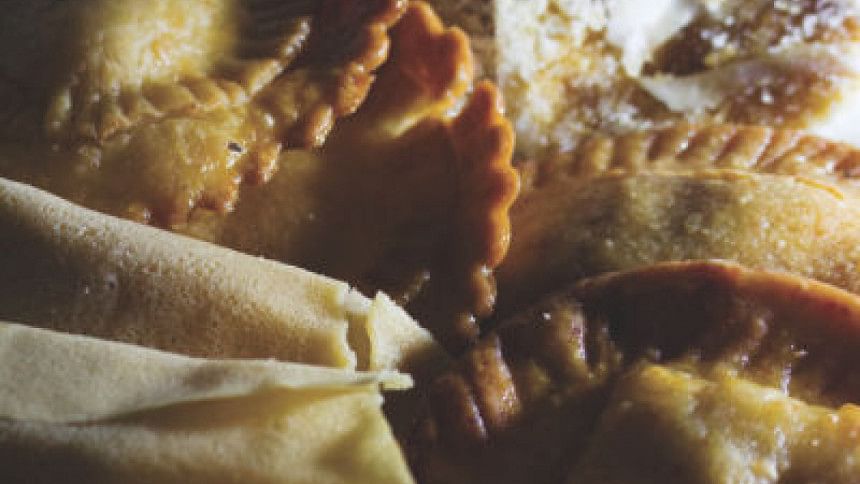 Method
First, sauté the flour in a dry skillet.  Put it down from the stove and sift in a bowl. Sift the powdered milk, cardamom powder and salt together into it. Add the coconut flakes and mix them all together. Your dry mixture for the batter is ready.
To make the batter, now beat the eggs well. Add orange juice and melted butter one by one and mix well. Mix the jaggery with water and bring it to a boil. Let it cool and then add to the egg mixture. Now add the dry mixture into it. Add the dates and fold gently.
Grease a pan and pour the batter into it. Bake it in an oven at 180 degree for half an hour. Take it out and sprinkle the pistachios over it and bake for another 20 minutes. Check if it is done and take it out of the oven. Keep it on a wire rack to let it cool. Sprinkle with coconut flakes before serving. Serve it with melted jaggery.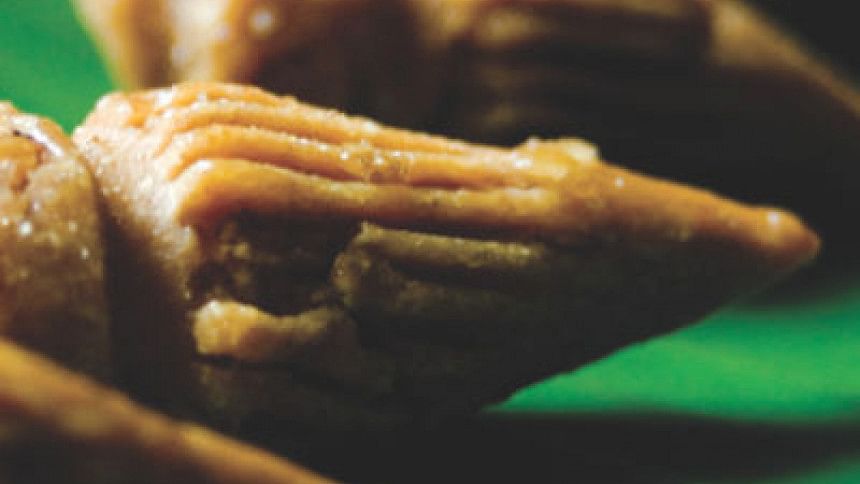 Post script -
You can use any other citrus fruit juices if you want to get different flavours; you do not need to pay attention to make the egg foam as the cake will not be very fluffy
Nabanno pancakes
Pancake is basically a European breakfast item but I thought of using some typical regional ingredients to make them different. The recipe below is going to remind you a lot about our own "patishapta".
For the pancakes -
Ingredients
½ cup rice flour 
½ cup white flour 
½ tsp soda 
¼ tsp baking powder
1 cup milk, 2 eggs
1 tbsp oil
Method
Mix all the ingredients together and make a batter. Grease a frying pan and put it on the stove. Take ¼ cup of the batter at a time and pour into the pan when hot. Rotate the pan in a circular motion to spread the batter evenly. Wait till it gets cooked and then take it out. Set aside.
For syrup -
Ingredients
1 cup jiggery
1/3 cup melted butter
Method
Take the melted butter in a pan and mix the jaggery in it. Cook for a few minutes on the stove. Your syrup will be ready.
Assembling -
Stack 3 pancakes in a column adding the syrup in between. Top with another portion of it. Let the jaggery trickle down your Bengali pancakes.
Kheeramisu!
Tiramisu is the most popular dessert in Italian cuisine. The layers of lady fingers or cake, rich cream, thick custard and sometimes, the crunch of cookies, all make this a favourite. Did you ever imagine a Bengali version of it? With layers of kheer, shahitukra, malai and a crunch of bakorkhani, let me introduce you the "Kheeramisu"!
For the first layer (shahitukra)
Ingredients
½ kg milk
Sugar according to taste
A pinch of saffron
10 pieces bread
Melted butter to fry
Method
Take 2 tablespoons of milk in a cup and add the saffron into it. Set aside. Boil the rest of the milk and add sugar to it. Keep stirring. Mix in the saffron milk before switching the stove off. Let it cool.  Cut each piece of bread into 4 pieces. Heat the butter and fry the bread pieces. Make them golden brown. And put them into the cooked milk one by one so that they get soaked.
For kheer -
Ingredients
1 kg milk
1 fist full of soaked half-broken rice
Sugar according to taste
300g cream
Method
Boil the milk for long to reduce the quantity. Add the rice into it when it becomes around 700ml. Add sugar and keep stirring. Add the cream when the rice is cooked. Put it down the stove and let it cool.
Assembling-
Take a transparent dish and line the bottom with shahitukras. Spread a gentle amount of cream over it. Cover it up with chopped almonds, pistachios and coconut. Make a layer of your prepared kheer over it. Cover the top with flakes of bakorkhani.
Jaggery milkshake
We all love milkshakes. This is definitely not a Bengali beverage, but I am trying a fusion drink this season.
Ingredients
½ tbsp date palm jiggery
200ml milk 
2 scoops vanilla ice cream 
40ml coconut cream 
Method
Take the jaggery in a small pan. Pour some milk in it. Mix and boil to make syrup. Set aside and let it cool. Pour rest of the milk in a blender. Add all the ingredients including the jaggery syrup. Blend in high speed for a minute or until smooth. Drizzle some jaggery syrup in a glass. Serve the milkshake in it with a dollop of coconut cream. Sprinkle a pinch of grated jaggery over it. The flavours are going to wrap you up with its magic.
Post script -
This milkshake is best for those with a sweet tooth. Reduce the amount of jaggery if you do not like too much sugar in your drinks.
Photo: LS Archive/Sazzad Ibne Sayed