Culinary herb gardening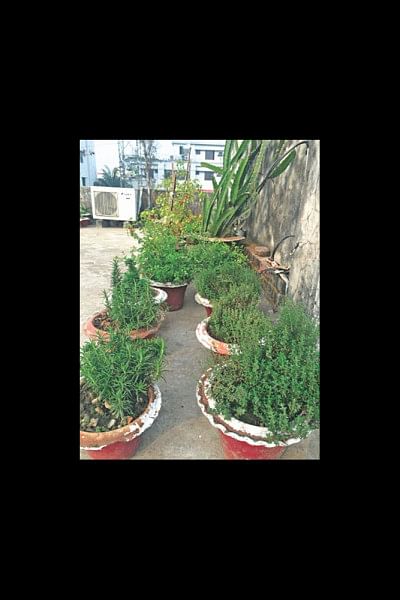 Gardening as a hobby can undergo several phases in our lives as our love from roses to orchids or from bonsais to culinary herbs resonate with our changing ages. Plants are great companions and sources of joy. My first encounter with culinary herbs occurred in 1988 when I was abroad for higher studies and came across different herbs in shopping malls and garden centres. But the real passion for growing culinary herbs as a pastime is a much more recent development; a passion adopted after experimenting with potted gardening, including growing bonsai, orchids, vegetables and amaryllis bulbs.
Of all the culinary herbs, mint is the most well-known and common to us. But other popular herbs such as basil, thyme, rosemary, dill and parsley are not known to many in our country as they grow in temperate zones, and are also not traditionally used in our cuisines.
Many herbs can be grown in winter as the temperature falls, while thyme and rosemary are perennials grown for longer periods of time. 
This piece is about growing rosemary in our country. Rosemary grows with a thick crown; the leaves are needle-like and leathery. When it is touched it leaves a strong pungent smell in your hand. It can be used to add scent to bathwater or used for hair to stop dandruff or to make the hair shine. It works great when used in potpourri.  
Culinary herbs are for enhancing fragrances in your dishes. Dried rosemary can be found in many grocery shops, but the flavour of fresh herbs cannot be matched by any dried ones.
Rosemary was greatly revered from ancient times. Greek students once wore garlands of rosemary in their hair while taking examinations to strengthen their memory. The habitat of this herb is the Mediterranean region; therefore the condition for cultivation is dry. It is hard to get rosemary plants in our garden centres, but it can be grown provided the right environment is created. 
Growing from seeds can be very difficult as seeds have very low germinating rates. Cuttings are a better option and one should try in winter when the plant is in growing mode. 
Growing culinary herbs requires a small space in your home. If you are already a plant lover, your herbs surely would give some extra joy.
By Dr M M Haque
Photo: Dr M M Haque