A charitable garden
Nilphamari day labourer transforms village with greenery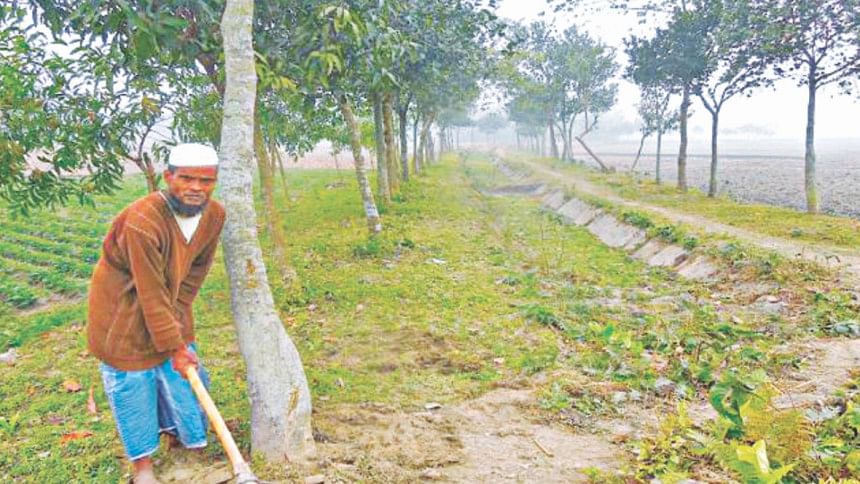 To wander around Bakdokra village in Saidpur upazila is to be greeted by a sea of green. Along the embankments of a disused Teesta irrigation canal, adorning roadsides and patches of unused land, there are unexpected trees and vegetable plots. Birdsong welcomes visitors of a day; the rich shrubbery shelters birds of a night. Much of the greenery is 55-year-old day labourer Hydar Ali's work. He has spared no effort in creating a village of beauty, with plant resources for all.
"Our Prophet advised us to plant trees," says Hydar Ali, who in recognition of his sincerity was appointed by locals as the muezzin of a mosque. "I do just that. I will do it until my death."
"Sometimes Hydar recites from the Quran upon request, conducting milad mahfil blessings, burials and other rituals at people's homes," remarks Rafiqul Islam, a former member of the local council. "For these activities he gets an honorarium, a 'hadia', which he never uses for his family's upkeep. With that money and with some of his day-labourer wages too, Hydar buys saplings."
Jackfruit, mangoes, blackberry bushes and native olive trees: Hydar has been planting useful species all over the village for the last ten years. "When I see tired farmers or other pedestrians taking a rest under the shade of trees I planted, or when poor housewives are collecting fruit and vegetables in time of need, my heart is soothed," Hydar says.
"Hydar has planted at least 4,000 trees," says one local, Moti Jotdar. "He has made numerous vegetable plots along the roadsides; and he gives fruit and vegetables to everybody for free. He never takes them home for his own family's benefit."
His charitable gardening efforts haven't always been without problems. "Last year some unscrupulous people felled 250 trees in the dead of night," laments Hydar. "This year 250 bamboo stakes that I use to support saplings and cost around Tk 3,000 were stolen."
"I complained at the Saidpur police station after last year's incident, but they took no action," Hydar adds.
He was also involved in a land scuffle with a number of wealthy individuals who, in the hope of grabbing canal-side land, told him not to plant saplings there. "They uprooted some saplings," Hyder recalls, "and broke the upper portions of tender trees."
Despite such setbacks, there is no chance that Hydar will change his ways. It's a simple fact known to none better than his wife, Nur Nahar Begum, 45. "My husband's thirst for planting trees will never be quenched," she says. "Sometimes he spends the whole of his day labourer wages on trees. It makes it hard to feed our five-member family at times but I'm not unhappy. For his good work, people honour our family."
"I have heard about Hyder's generosity," says Saidpur's upazila nirbahi officer Bazlur Rashid. "We hope to support him and plan to honour him in a ceremony soon. I want that everybody should be inspired to work towards a better society in the way he does."
Hyder Ali's latest dream is to create a bamboo clump beside the canal. He wants to give poor villagers a free bamboo supply to use for household burials.