Tete-a-tete with Ellen Johannesen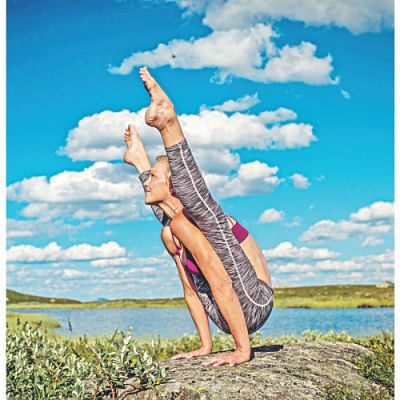 How did you get interested in yoga?
I was always interested in spirituality and yoga felt like an extension of that. I grew up in Norway and I loved to dance. I loved to move.
At 19, I came to London to study contemporary dance. Later, when I was on tour in New York, a friend took me to Jivamukti Yoga Centre, a studio founded by two former performance artists. They offered exactly what I had been looking for: a challenging asana practice with a devotional, but undogmatic focus.
We would practice yoga to inspiring music, there was chanting in the evening, and the teachers would give a little philosophical talk before each class. It was the coolest place I had ever been and the classes were full of Lower-East-side dancers and actors.
Where did you learn yoga? What kind of yoga do you teach and where?
I learned yoga partly in New York, where I practically lived at Jivamukti for six weeks. After Jivamukti, I studied with Eddie Stern, who was the main New York ashtanga teacher at that time. I loved the ashtanga sequence for what it did to my body and mind. It was a very physical practice and also very meditative.
In 1997, I finally went to Mysore to study ashtanga with Guruji Pattabhi Jois. But my main teacher is John Scott, with whom, I did a two-year teacher training. In the old days, teacher training was very long.
I have been teaching ashtanga yoga for over 20 years. I like to integrate meditation since I'm also trained in Buddhism and Buddhist philosophy. I am based in Nepal at the moment, where I teach at the Dalai La Boutique Hotel. I also do teaching tours to Norway, Iceland, India, Italy, Egypt, and wherever I am invited.
In what ways has yoga benefited you?
Yoga has given me grounding and physical strength. I was very "vata," spaced out, and all over the place. Yoga was a way to control my mind. I discovered that I was able to change my moods through yoga, and what used to seem like big trouble did not seem so stressful anymore. Yoga is a way to keep your mind sane and your body healthy.
Yoga has given me the best job in the world. I get to do something that truly helps people, and that makes me happy. When you teach ashtanga, ordinary people can get deeply in touch with their bodies and learn to do amazing things with it. Ashtanga also lengthens your attention span, which is very important in a world increasingly filled with distractions.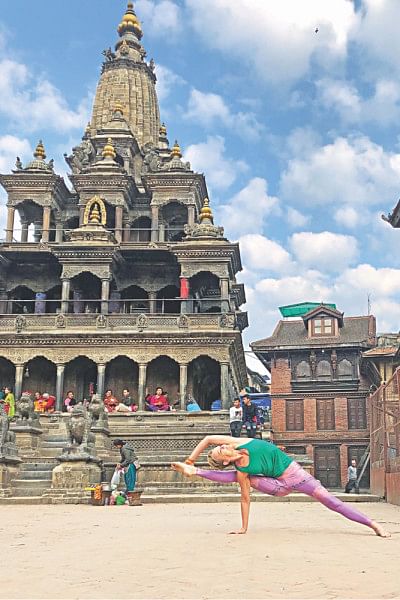 Describe a typical day in your life.
There are no typical days! But while in Nepal, I wake up at 4AM, do my practice, cycle to class, teach a group of dedicated students. Then I hang out after class for breakfast with my students. In the afternoon I might undertake some Buddhist study, cook lunch and eat with my boyfriend, do some office work, read, have a snack for dinner and get to bed by 9PM. 
What advice do you have for someone who has never tried yoga?
There are many different styles of yoga. Find the yoga that suits you, and a teacher who knows what he or she is doing.
What advice do you have for yoga practitioners?
Breathe and pay attention to your body — you will get in touch with it through practice and your body starts to feel light and transparent. Then, if you do not practice, you will feel like your body is a heavy sleeping bag. But do not be satisfied with merely the feeling of wellbeing. Learn as many limbs of yoga as you can; stay inspired, keep exploring, and go deeper!
What are some of the things you do to take care of the world that you have learned along your journey? And to take care of yourself?
Practice compassion for yourself and others. Pay attention to your own practice, especially if you are teaching a lot. If you are injured, practice an alternative sequence, but keep practicing. Meditation is a natural progression from yoga practice.
You start to experience your breath and body in a subtler way. Meditation is a way to understand that we are really making up the world. Our world is nothing but our mind and body. If you learn to control the mind, you can handle the world, your emotions, your reality. We all have Buddha nature within us. We need to purify ourselves, break through our patterns and conditioning through meditation, and then we can see the light.
Ellen's website: www.ashtanganepal.com Ellen's instagram: ashtanganepal