Meals of memory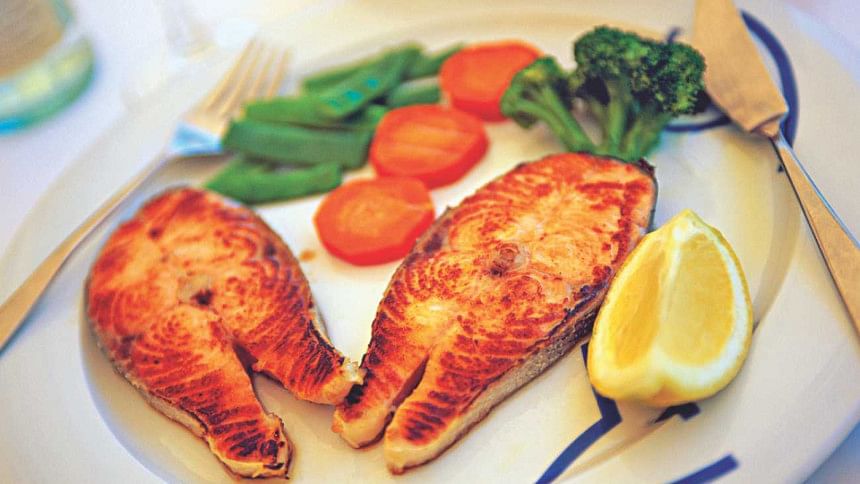 French Omelette

Ingredients

2 pieces potato, 2 tbsp green peas

4 splits cauliflower, 1 piece carrot (small size), 2 pieces tomato, 2 pieces eggs

4 tbsp ghee,

½ cup flour

½ tsp each of green chili, coriander leaves, and black pepper

½ cup grated  mozzarella cheese

Method

Cut potato, carrot and cauliflower into small pieces and boil. Boil green peas. Chop tomato, green chilli, and coriander leaves. Beat eggs and add flour, black pepper, salt with some water. Add boiled vegetable and chopped tomato, green chili and coriander and grated cheese. Mix all ingredients well. Make a thick paste. Heat ghee in a fry pan and fry both side of the omelette. The mixture should make two omelettes. Cut them into four slices. Serve hot with bread. Or make sandwiches with the omelette, adding some mayonnaise to the bread.
Fish & Vegetable (Chinese)

Ingredients

250gm Bhetki or prawn

½ cup Cauliflower

2 tbsp green peas

1 cup papaya

½ cup carrot

2 pieces onion

2 tbsp corn flour

1 tbsp ghee

2-3 pieces green chili

Salt to taste

Method

Clean, wash and cut fish into regular slices. Cut all the vegetables into thin 2 inch pieces. Boil all vegetables in 2 cups of water. Then add fish pieces, salt, onion petals, chopped green chilli. Then add corn flour with one cup of water, mix well. Remove from heat. Heat ghee in a fry pan, add chopped onion and garlic while stirring. Then pour them into fish and vegetable mixture. Serve hot with rice or pulao
Beef White

Ingredients

1 kg boneless beef

1 tbsp black pepper

1 tbsp garam masala     

1 piece large onion

5-6 pieces green bell pepper 

2 tbsp of ginger garlic paste

1 cup yogurt

½ cup cream

½ cup oil

Method

Boil beef in 2 cups of water with salt. Then keep aside. Heat oil in a pan, add chopped onion and sliced bell pepper, stir frying till onion turns light brown in colour. Add ginger garlic paste, salt, black pepper, garam masala, and some water. Stir for a few minutes. Then add beef and stir, add yogurt and mix well and cover for few minutes. Fry more till the  beef becomes tender. When oil separates from beef, add fresh cream and mix lightly. Take off from heat and serve hot with naan.
Muzaffarn (Vermicelli)

Ingredients

3 cups sugar

250gm butter

4 to 5 cardamoms

200gm vermicelli

4 cups powder milk

2 pieces lemon juice

10 to 15 almonds

10 to 15 pistachios

15 to 20 raisin

A pinch of saffron

Method

Heat 1 ½ cups water, add sugar and bit of saffron. Make a thick syrup. Mix powder milk with 3 cups of water. Heat a pan, add butter, cardamom and vermicelli, stirring continuously on medium heat till it turns golden in colour. Add sugar syrup, stirring continuously till it becomes dry. Then pour milk into vermicelli mixture and some saffron. Then add lemon juice and keep stirring continuously, until the milk curdles into chhana. Then cover for few minutes on low heat. Add chopped almonds, pistachios, and raisins, mix them well. Your Muzaffar on ready to serve. Try it, it is very tasty and quite different from normal jorda shemai.
Chicken with Mustard Cream Sauce

Ingredients

4 pieces skinless, boneless chicken breast

1 tbsp butter

125 ml chicken stock

150 ml cream

2 tbsp ground mustard

2 tbsp chopped parsley

Salt and pepper as require

Method

Place each chicken breast between two sheets of cling film and beat firmly with a meat mallet or rolling pin to flatten the chicken to about 1 cm or ½ inch thickness.  Season with salt and pepper. Heat the butter in a large frying pan over medium high heat. Cook the chicken for about 5 minutes on each side until the chicken is cooked through and the juices run clear when a skewer is inserted into the thickest part of the meat. Transfer to a plate. Add the chicken stock to the pan. Whisk in the cream, mustard, and parsley. Cook for about 3 minutes, until the sauce has thickened. Pour the sauce over the chicken and serve.
Beef Pan Cake

Ingredient

250gm hunter beef

2 pieces potato, 1 piece small cauliflower

4 pieces onion, 125gm ghee

2 cups flour, 2 pieces egg

1 tsp black pepper

2 tsp baking powder

2 tbsp soya sauce

2 tbsp sugar, Salt to taste

For Hunter beef

2 ½ kg boneless whole leg piece

2 lemons or 4 tbsp white vinegar

1 tsp black pepper, 2 tsp salt.
Method for Hunter Beef

Make deep cuts in beef with fork so that spices may get inside. Then soak the beef in lemon juice and salt for 8 hours. After 8 hours, drain lemon water and boil the beef with a full pot of water on low heat. When the water is reduced, add soya sauce and sugar and mix well.  It will make a nice gravy over the beef. When beef is tender and water is dried out, hunter beef is ready.
Method of Pan Cake

Cut hunter beef into small pieces. Cut all the vegetables and onion into small pieces. Heat ghee in a pan, add onion and vegetables, stir. Add beef pieces and some water. Stirring continuously till all liquids are reduced. Now mix flour, black pepper, baking powder, salt, and eggs with water. Make a thick paste (like pan cake mixture). Then add beef and vegetable mixture to this batter. Heat 1 tablespoon ghee in a frying pan, pour ¼  portion of the mixture and fry both sides on low heat. It will become double in size. Make four pancakes with this mixture.
Photo: Collected