Hooked!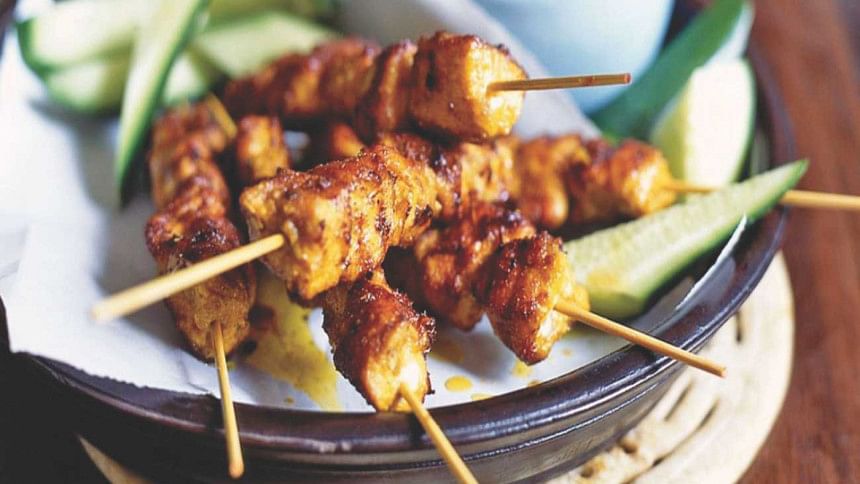 COCONUT MILK RICE 

Ingredients

1kg pulao rice 

2 tbsp ghee

½ tsp ginger paste

½ tsp garlic paste

2 large onions, chopped

3 capsicums - red, yellow, green - roughly chopped

2 cups coconut milk

1½  cups chicken stock

8-10 red colour chilli

 ½ cup cashew nuts

Salt to taste

Hot water, as needed
Method

Wash and drain rice. Keep aside. Heat ghee in a wok, add chopped onion and stir till it turns golden in colour. Add rice and ginger garlic paste, stirring continuously. When the rice is adequately fried, add coconut milk, chicken stock and salt. 
Add hot water if needed. Cover and keep on low heat for 7-8 minutes. Remove lid and add chopped capsicums, red chillies, and cashew nuts and gently mix all together. Cover and keep on low heat till serving. 
RED CHICKEN SALAD

Ingredients

4 pieces large skinless chicken breasts

2 tbsp Thai red curry paste

2 tbsp oil

1 piece Chinese cabbage, torn into large pieces

½ cabbage, shredded

2 onion, finely chopped

2 garlic cloves, crushed

1 tbsp vinegar

2 tbsp sweet chilli sauce

2 tbsp Thai soy sauce

1 upper part of the Chinese cabbage leaves, shredded
Method

Cut the flesh of the chicken into cubes and rub the curry paste into each cut. Cover and marinate in the refrigerator overnight. Heat a wok over a high heat, add 1 tablespoon of the oil. Add the chicken breasts and cook for 5-6 minutes, turning once or twice, until the chicken is cooked through and the juices run clear, when a skewer is inserted into the thickest part of the meat. 
Remove from the wok, set aside and keep warm. 
Heat remaining oil in the wok and stir-fry the Chinese cabbage, cabbage until just wilted. Add the onion and garlic and stir-fry until just tender but not browned. Add the vinegar, chilli sauce and soy sauce. Remove from the heat. Arrange the Chinese leaves on serving plates. Slice the chicken, arrange on the salad leaves and drizzle the hot dressing on top. 
Serve immediately.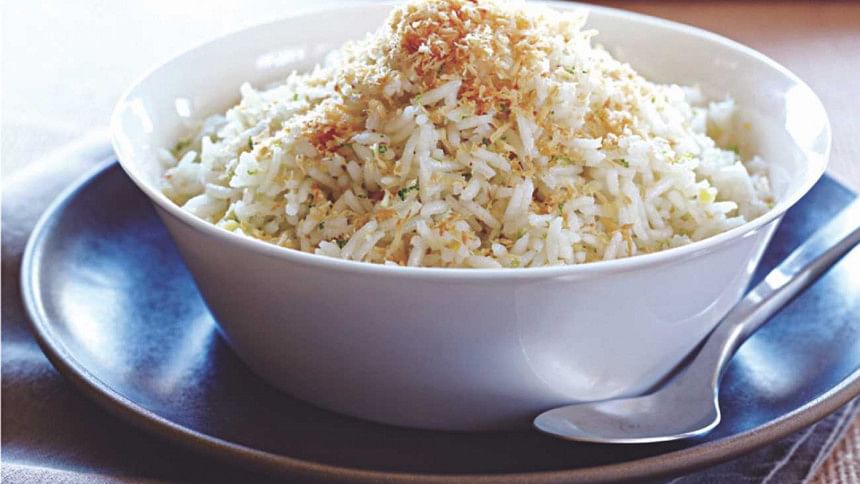 CHICKEN SATAY SKEWERS

Ingredients

4 skinless chicken breasts

4 tbsp soy sauce

1 tbsp corn flour

2 garlic cloves, finely chopped

1 inch piece ginger, finely chopped

1 cucumber diced, to serve

Peanut sauce -

2 tbsp groundnut oil or vegetable oil

½ onion finely chopped

1 garlic clove finely chopped

4 tbsp crunchy peanut butter

4-5 tbsp water

½ tsp chilli powder
Method

Put the chicken cubes in a shallow dish. Mix the soy sauce, corn flour, garlic and ginger together in a small bowl and pour over the chicken. Meanwhile, preheat the grill to hot. Thread the chicken on to 12 pre-soaked, wooden skewers. Cook the skewers under the preheated grill for 3-4 minutes or until the chicken is tender and cooked through. 
To make the sauce -
Heat the oil in a saucepan, add the onion, garlic and cook over a medium heat, stirring frequently for 3-4 minutes until softened. Add the peanut butter, water and chilli powder and simmer for 2-3 minutes until softened and thinned. Serve the skewers immediately with the warm sauce and sliced cucumber.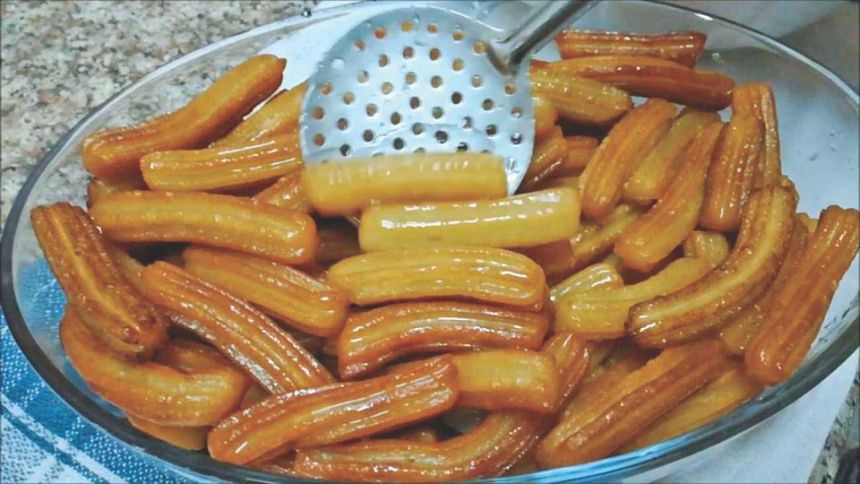 SALT AND PEPPER CRISPY BEEF

Ingredients

400g boneless beef

1 inch piece ginger

4-6 cloves garlic

½ stalk celery

1 large onion

5-6 pieces spring onion greens

5-6 red chilli whole

4 tbsp cornstarch

Oil to deep fry, 4 tbsp oil

1 tbsp soy sauce

1 tbsp peppercorn crushed

2 tsp sugar

¼ tsp tasting salt

Salt to taste



Method

Clean, wash and cut beef into very thin strips. Peel, wash and finely chop ginger, garlic. Wash, trim and finely chop celery and onion. Diagonally slice spring onion greens for garnish. Remove stem and break red chilli into two. Mix cornstarch thoroughly into beef pieces. Heat sufficient oil in a wok and deep fry cornstarch coated beef pieces for 4-5 minutes or until crisp. Remove and drain onto an absorbent kitchen towel. 
Heat oil in a wok, add broken red chilli, chopped ginger, garlic, celery and stir fry briefly. Add chopped onion and continue to stir fry for a minute more. Add fried beef pieces, soy sauce, crushed peppercorns, sugar, tasting salt and salt to taste. Cook on high heat for a minute, tossing continuously. 
Serve hot, garnished with sliced spring onion greens.
FISH N' CHIPS

Ingredients

1 kg skinless, boneless fish (bhetki, or katla)

1 tsp of salt, black cumin, mustard powder or paste

¼ cup lemon juice

Note: Mix all these ingredients and add fish pieces for marination for about half an hour. 

For butter -

1 cup flour

½ tsp salt

1 tsp baking powder

2 tbsp oil
Note: Mix them with ice water. Make a thin paste. Dip the fish pieces into the butter and deep fry the fishes with sufficient oil.
Dipping sauce -

½ cup mayonnaise

1 tbsp lemon juice

1 tbsp cucumber pickle

1 tbsp onion pickle

¼ tsp salt

¼ tsp pepper

Chopped parsley or coriander leaves

Mix all together. Serve fish chips with this sauce.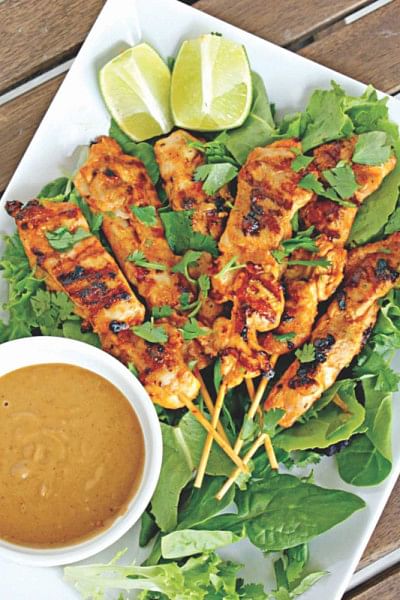 FISH KORMA

Ingredients

1 kg katla fish or any other kind

2-3 tbsp lemon juice

½ cup oil

½ tsp fenugreek seed

250g yoghurt

1 piece large onion fried

1½ tsp garlic paste

½ tsp turmeric powder

2 tsp coriander powder

2 tsp red chilli powder

¼ tsp of garam masala, nutmeg and mace powder

Salt as require
Method

Wash and cut fish into regular size. Marinate the fish pieces with salt and lemon juice for half an hour. Then wash the fish again. In a bowl add yoghurt, fried onion crush, garlic paste, turmeric powder, coriander powder, chilli powder and salt. Mix them well and make a thick paste. Heat a wok, add oil and fenugreek seeds. Add yoghurt mixtures. Cook for 2-3 minutes. Add some water. Cook another 2-3 minutes. Then add fish pieces, turn once and cover for 4-5 minutes in medium heat. Remove the lid and simmer for few minutes. Remove from stove and sprinkle garam masala, nutmeg and mace powder.
TURKISH TULUMBA

Ingredients

2 cups water

2 tbsp unsalted butter

2½ cups flour

3 eggs

1 tbsp starch

3 tbsp semolina

For syrup -

3 cups sugar

2 cups water

1 tbsp lemon juice
Method

Melt unsalted butter in the hot water. Add flour and stir it on the medium heat. When it becomes non-sticky and soft, transfer the dough to another bowl so that it cools down quickly. For the sugar syrup, transfer water into a large pot over medium heat. Add sugar when it starts boiling add lemon juice and turn the heat off. Transfer the cooled dough to the mixing bowl of a mixer, add semolina and starch. Then start adding eggs gradually. Mix well until it becomes smooth. Fill piping bag with the dough. Heat oil in a pan, pipe the dough into frying oil, and cut the dough into 2-inch long with an oiled scissor. Turn the heat low, fry them until they are fully golden browned. Then out from the oil and directly transfer into sweet sugar syrup. After 2 to 3 minutes, take them out of the syrup, and serve into a serving dish.
Photo: Collected