make it or bake it
A CALL FOR CAULIFLOWERS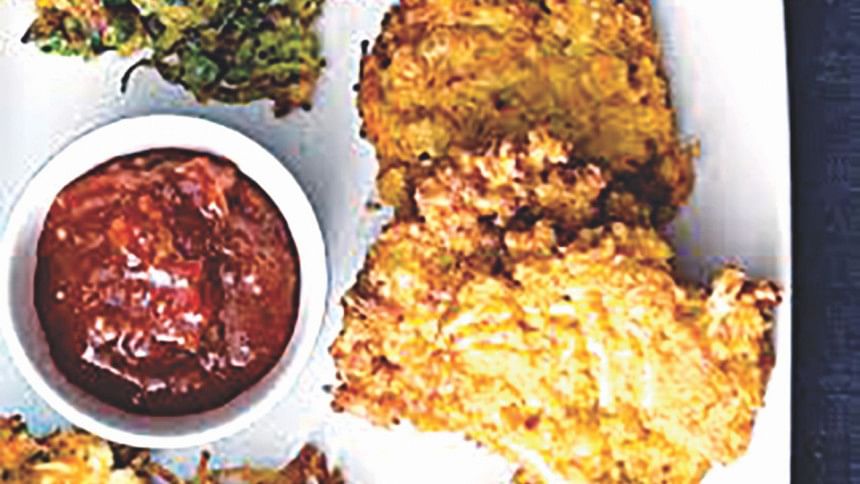 Contrary to an iconic line of a very popular TV series, WINTER IS GONE, and with it, gone are the days of a season full of fresh, succulent green produce. Winter in our country is more like a long lost feeling now, a time for reminiscing our childhood, bringing with it only the memories of a pleasant and delightfully cool season after the long, hot summer months. Winter today is more about its offerings, of its bountiful vegetables.
And the cauliflower is like an emblem of winter to many of us. This beautiful produce lasts in its truly fresh form for a much longer period of time than many other vegetables and is very versatile too. So let's maximise on that to celebrate our love for the winters of days past!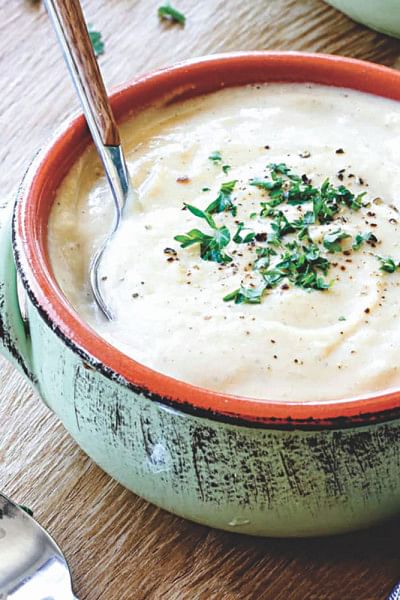 WHOLE ROASTED CAULIFLOWER
Ingredients
1 medium head of a cauliflower
¼ cup extra-virgin olive oil
2 tbsp dijon mustard
2 tbsp apple cider vinegar
1 tbsp dried oregano
1 tsp dried chives
1 tsp garlic powder
1 tsp onion powder
1 tsp salt
½ tsp ground black pepper
½ tsp chilli pepper flakes
Method
Preheat the oven; trim the outer leaves off the cauliflower and cut the stem flush with the rest of the head so it can stand straight upright. Then place the cauliflower in an ovenproof casserole bowl; trim the base of the cauliflower if necessary.
Combine the rest of the ingredients in a cup and mix well with a fork until well combined.
Pour the mixture onto the cauliflower and rub it in well with your fingertips until the cauliflower is completely coated.
Cover the bowl with aluminium foil and pop it in the oven for about 35 minutes, or until the cauliflower is tender.
Remove the foil, set the oven to broil and place the cauliflower in the broiler for 5 minutes or until it becomes a beautiful golden brown.
Carefully transfer the cooked cauliflower to a plate, garnish with a handful of freshly chopped parsley and a dribble of extra-virgin olive oil if desired. Serve immediately.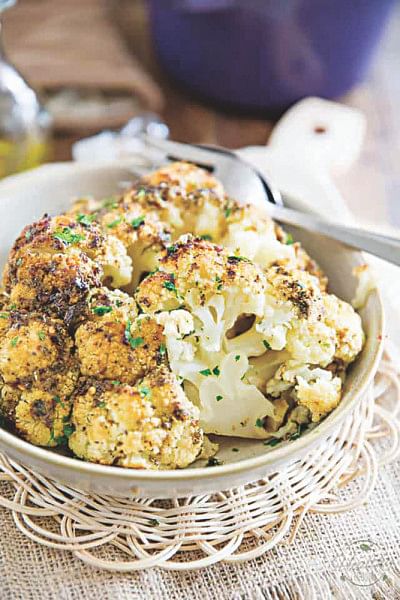 CAULIFLOWER FRITTERS WITH WARM PEPPER RELISH
Ingredients
1 cauliflower
100g of plain flour
4 eggs                 
100g of feta cheese, roughly crumbled into small chunks
125g ball of mozzarella, torn into small pieces
Small bunch of flat-leaf parsley, roughly chopped
Olive Oil (to fry)
For the relish
1 onion
2 red peppers, chopped
1 small ginger
2 garlic cloves, crushed
1 red chilli, chopped (leave the seeds in)
2 tsp yellow mustard seed
1 tomato
2 tbsp brown sugar
1 tbsp olive oil
Red wine vinegar (optional)
Sultanas (optional)
Method
For the relish, soften the onion, peppers, ginger, garlic and chilli in the oil in a large saucepan. Once softened, add the mustard seeds, tomatoes, sugar and vinegar. Cover and simmer for 30 minutes, then uncover and simmer for another 10 minutes until soft and sticky but not too saucy. Turn off the heat and stir in the sultanas. This relish will keep in the fridge for up to 3 days, or freeze for up to a month.
Boil a large saucepan of water. Quarter the cauliflower and cut away most of the central large stalk. Weigh 350g of cauliflower for the recipe and put the rest in the fridge to use another time. Very roughly chop the cauliflower – you should end up with a mix of small florets and some finer bits. Once the water is boiling, add all the cauliflower, cover and cook for 3 minutes exactly. Immediately drain, then tip everything back into the saucepan and put back over a low heat, to dry out for a few minutes.
Put the flour into a large bowl with plenty of seasoning and gradually whisk in the eggs to make a smooth batter. Stir in the cheeses, lemon zest and most of the parsley, then gently stir in all of the cauliflower.
Pop your oven on low so you can keep the fritters warm while you cook in batches. Place an old sturdy oven tray (anything flimsy might buckle) or a sturdy frying pan or griddle straight onto the barbecue. Wipe with some olive oil, then spoon on some mixture to make roughly 10-12cm round fritters. Fry for 3-5 minutes until golden underneath and the batter just looks set on the top, then use a fish slice to flip the fritters over and press down with the back of the slice to squash any big cauliflower bits and flatten the bottoms a bit. Cook again for 3-5 minutes until golden, then transfer to a parchment-lined tray and keep warm in the oven while you cook the rest.
To serve, warm up the relish slightly, scatter the fritters with remaining parsley and add some lemon wedges.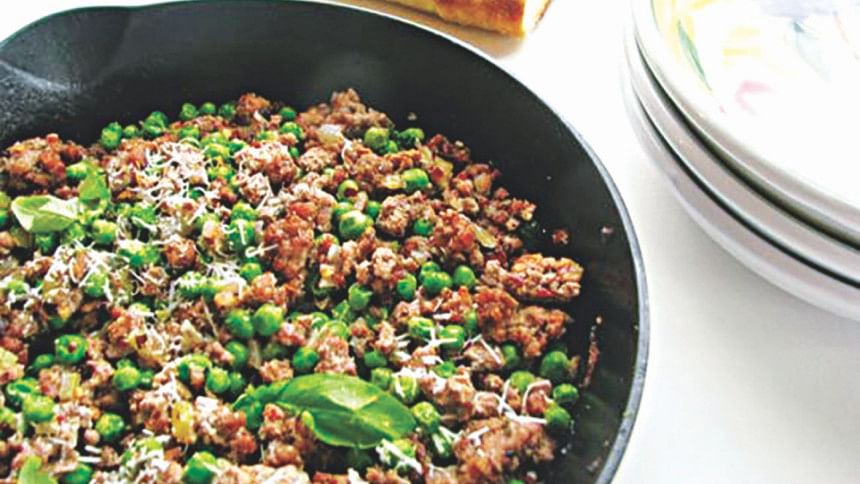 LAZY WOMAN'S CAULIFLOWER SOUP
Ingredients
1 tbsp butter
1 tbsp unbleached flour (gluten-free is fine too)
1 medium head cauliflower, chopped
1/2 cup chopped onions
4 cups salt-free chicken broth (vegetarians can use vegetable broth)
Sea salt (to taste)
Crushed pepper (to taste)
Method
In a medium saucepan, make a roux by melting the butter on low heat.
Add the flour and stir about 2 minutes.
Add the chicken broth, onions and cauliflower and set heat to medium.
Bring to a boil, then cover and simmer over medium-low heat until vegetables are tender (about 20 minutes.)
Puree with an immersion blender until smooth. Season with salt and pepper and enjoy on your lazy nights.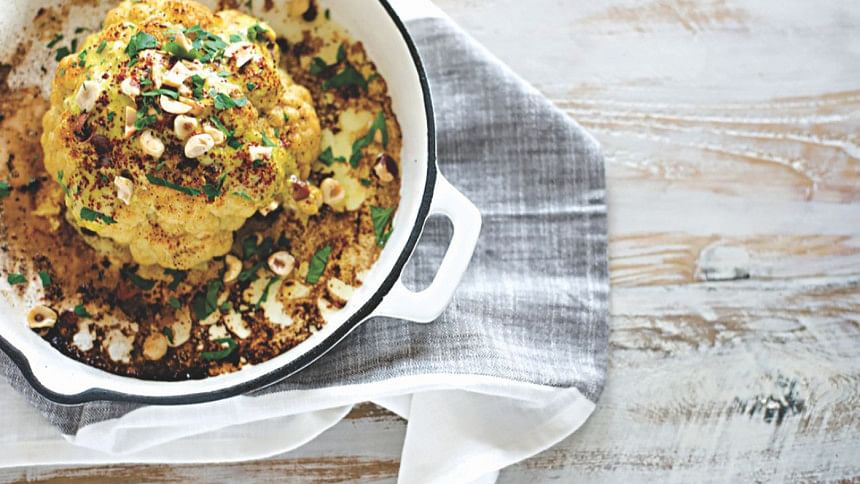 CAULIFLOWER AND CHICKPEA SALAD
Ingredients
1 whole cauliflower
1 ½ cup chickpeas (soaked in water and the boiled to al dente)
2 tomatoes
1 onion
1 cup Greek yoghurt
1 can coconut cream
handful of coriander leaves
1 tsp roasted cumin
1 tbsp roasted chilli flakes
1 tbsp extra virgin olive oil
Method
Preheat oven to max. Mix together all the marinade ingredients plus 1/2 teaspoon sea salt and 1/4 teaspoon freshly ground pepper. Drizzle the oil over the base of a medium roasting tin. Use your hands to coat the cauliflower entirely in the marinade, then sit it in the oiled tin. Spoon any leftover marinade on top. Roast for 30 minutes until the topping is set.
Splash 100ml water into the tin, then cover loosely with foil. Return to the oven and let the cauliflower steam for 30 minutes.
Meanwhile, toss the chickpeas, onion, spices and some seasoning together. Uncover the cauliflower, scatter the chickpea mixture around it, the water should mostly evaporate, if not, drain or towel-dry. Then, roast for 20 minutes further until the onion is tender and the chickpeas are crisping. The cauliflower should be golden and tender by now – when you insert a skewer through the middle, it should meet little resistance.
Stir the yoghurt and coconut cream together to make a loose dressing, then season. Fold the tomatoes, coriander and lemon juice through the chickpeas, then serve with the dressing and a drizzle of extra virgin olive oil, if you like.
KEEMA-CAULIFLOWER
Ingredients
1½ cup cauliflower; grated
1 cup mince meat (beef or chicken)
½ cup green peas
½ inch ginger; chopped
Handful of garlic cloves
3-4 green chillies
2 tbsp vegetable Oil
1 tsp cumin seeds
1 tsp coriander powder
1 tsp red chilli powder
2 tbsp yoghurt
Salt to taste
Method
Chop ginger, garlic and green chillies in a chopper. Heat oil in a non-stick pan.
Add cumin seeds and sauté until fragrant. Add ginger-garlic-green chillies and sauté for 1-2 minutes.
Add cauliflower and mix well. Add mincemeat and mix again. Add salt, mix and cook for 5 minutes.
Add coriander powder and red chilli powder and mix. Add green peas. Cover and cook on medium heat for 5 more minutes. Add yoghurt and mix. Cover and cook on medium heat for 10-15 minutes.
Garnish with more green chilies and serve with home-made "roti" or "paratha."
Photo: Collected