When you are tired of all the meat, grease and spices, come back to your old favourite, come back to the humble source of protein and minerals, come back to fish!
Also, come back to your oven and create some extraordinary, light, delicious fish dishes. Fish require less time to cook, lesser quantities of spices and of course is less time consuming. These could be your go-to palate-changers after all the festivity and are all quite welcoming for the guests you are entertaining in the holidays. 
Almond-crusted sea bass  

Ingredients

2 tbsp butter, melted

Zest of one lemon 

Juice of one lemon

2 cups almond meal 

Handful of almonds, roughly chopped

2 tsp sea salt 

1 tsp red paprika powder 

1 tsp pepper, freshly grounded

4 medium sized fillets of Sea bass
Method

Preheat oven to 350 degrees. Melt butter in a saucepan, remove from heat and add lemon zest and juice. Set aside.  
In a large bowl or clear bag, combine almond flour (ground 2 cups of almond finely in a mixer/food processor if you cannot get almond flour), salt and pepper. Set aside.
Rinse fillets and pat dry.  Dip in butter mixture and then the bread in almond flour mixture.  Place in a baking dish.  Repeat with each fillet.  Pour the remaining lemon butter over each of the fillets in the baking dish.
Sprinkle paprika and chopped almonds on top of the fillets for extra crunch and flavour. Bake for 20 minutes, or until the outside is crispy and the centre of the fillet is done.  Serve immediately with a slice of lemon to squeeze over the top just prior to eating.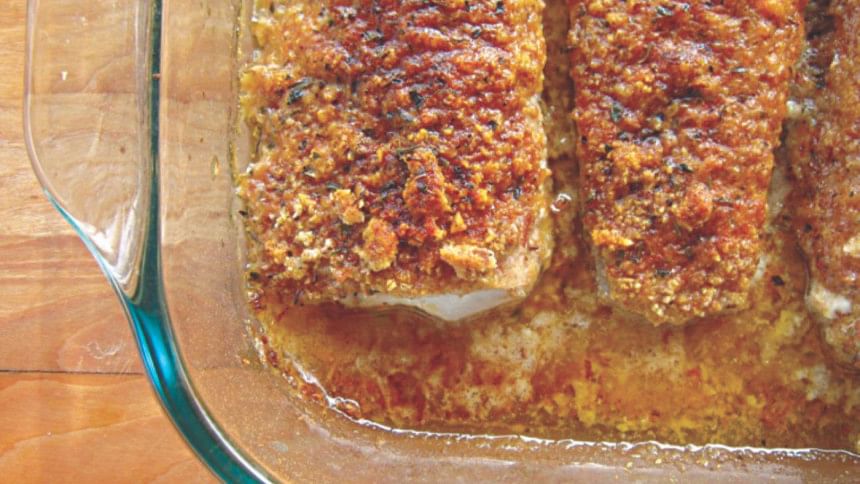 Garlic parmesan white fish 

Ingredients

To prepare the fish -

2 bhetki fillets or any kind of white fish, skinned.

2 tsp dijon mustard

1 tbsp olive oil 

Salt and pepper

For the crumb -

½ cup breadcrumbs

1 tbsp parsley, finely chopped

2 tbsp parmesan, grated

1 garlic clove, minced

1 tbsp olive oil

Pinch of salt
Method

Preheat oven on high heat with the grill option turned on. Combine the crumb ingredients and mix well.
Season each fillet with salt and pepper; spread the mustard on the top of each fillet. Press the crumb mixture onto the mustard on each fillet. Press down firmly to make it stick.
Heat an oven proof pan on the stove, pour olive oil and place the fillets in the pan keeping the crumb side up. Cook for 2-3 minutes. 
Turn down the heat of the oven and place the pan inside with the grill rod while still hot. Make sure the pan is about 5" away from the heat source. Grill for about 5 minutes.
The fish is ready when the crumbs are golden brown. Serve immediately.
Coconut cilantro basa

Ingredients

2 tbsp edible coconut oil

4-6 pieces of basa

¼ tsp sea salt

½ coconut milk

½ cilantro leaves

1 tsp ginger

2 garlic cloves

½ jalapeno pepper, seeded and chopped
Method

Preheat oven. Grease baking pan with coconut oil and place fish. Sprinkle some salt. 
Combine coconut milk, cilantro, ginger, garlic and jalapeno in a food processor and pulse until smooth. Pour two-third of the mixture over the fish. 
Bake for 15-20 minutes or until thoroughly cooked.Pour remaining mixture over baked fish and serve.
Baked fish in creamy dill sauce

Ingredients

To prepare the fish -

4-6 fish fillets, any white fish 

2 tbsp olive oil

1 tbsp lemon zest

2 tbsp lemon juice

Sea salt and black pepper, freshly grounded 

For the sauce -

3 cups Greek yoghurt

3 tbsp mayonnaise 

1 clove garlic, finely minced

1 tbsp chopped fresh dill

2 tbsp milk (or more)

1 tbsp honey

Salt and freshly ground black pepper
Method

In a bowl, mix together Greek yoghurt, mayonnaise, garlic, dill, honey, and enough milk to reach desired consistency. Season with salt and pepper to taste. Store in refrigerator, allow to rest at room temperature for 20 minutes before serving so that it is not cold over warm salmon.
Whisk together olive oil, lemon zest and lemon juice. Grease a baking dish and place salmon fillets. Season tops of salmon with salt and pepper then rotate to opposite side. Drizzle tops evenly with lemon mixture and gently rub over salmon. Let rest at room temperature for 10 minutes.
Bake in preheated oven 12 - 16 minutes, or until salmon has cooked through (cook time will vary based on thickness of fillets and how well done you liked them). Serve warm, topped with Creamy Dill Sauce.
Honey garlic salmon 

Ingredients

2 salmon fillets 

1 tsp fresh garlic paste 

½ tsp minced ginger

3 tbsp honey

2 tbsp soy sauce

1 tbsp lemon juice 
Method

Pat dry salmon and set aside. Combine all the ingredients and make a runny sauce. Marinate the salmon in the sauce for 15-30 minutes. 
Arrange salmon on a foil-lined baking sheet and bake at 350 degrees F for 15-20 minutes depending on thickness, basting the salmon with the leftover marinade halfway through. For a slightly crisp and caramelised top, sear the top of the salmon over medium high heat for 1-2 minutes before baking.
Over medium high heat, bring the leftover marinade sauce to a boil and simmer for 3-5 minutes until reduced to half. 
Serve the salmon hot, drizzled with reduced sauce*.
*If you donot want to reduce the marinade to use as a drizzle, you can divide the sauce into half; half for marinade/basting and half to reduce for a drizzle. If you want even more sauce, double the sauce ingredients before dividing it into half.
Photo: Collected