Horology explained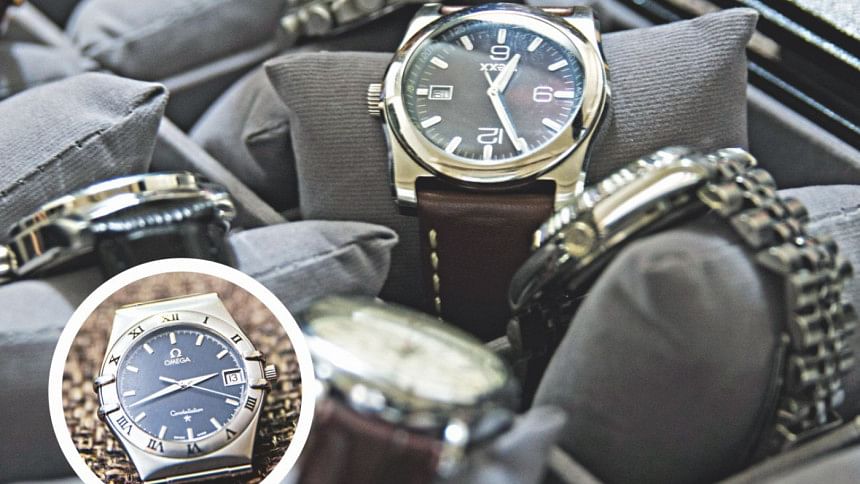 "What time is it?"
Of course, a timepiece provides the answer to the oft asked question, but is that their only purpose?
Watches mean more than toting something that will send you off to a commitment with unshaken punctuality. Advertising campaigns and history have romanticised timepieces in the macho eyes and made the male audience crave one as one of the ultimate accessories.
Coveted similarly as a deluxe bachelor's pad, watches look good and make quite the fashion statement. Nothing adds shine to you like a new penny quite like a plush wristwatch with a dash of panache.
Deemed timeless, nothing appreciates in value quite like a Patek Philippe Nautilus, a luxury sports watch or Bulova's special edition Precisionist in matte black. That however is only for the connoisseurs with the deepest pockets.
Storytelling with watches can simply be a three-way game. If you are a true appreciator, you know that the heart of a watch lies in the movements of its hands. Thus, here, they are divided. In the lands of timekeeping, mechanical watches are what is truly appreciated, not because of just telling time, but because of the watchmaker's craftsmanship they are evocative of.
Powered by a coiled metal, mechanical watches are intricately engineered with springs and gears, all working meticulously just for a smooth sweep of the hands across the face of the watch's dial. If you appreciate history and refinement, opt for a classic Swiss marque to ensure good quality.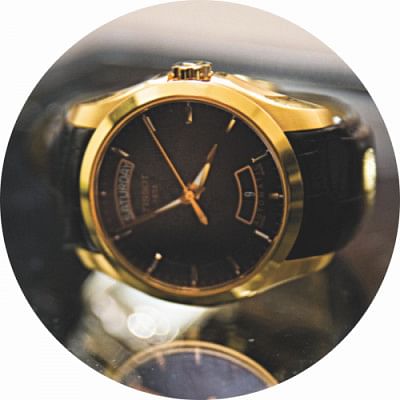 Perfect for a night out, Omega's De Ville Tourbillon Co-Axial 44mm is a watch to watch out for. Now in a standout blue dial, the spectacular piece glorifies gold-polished hour and minute hands, sapphire discs and an embossed case-back medallion. (Tk 19,990)
Still a connoisseur's favourite for turning heads at offices, clasp on an automatic watch which needs no battery and is self-wound. Requiring pedigree in crafting each piece and hours on detailed work with springs, a smooth movement is still achieved with automatic timepieces. Rock one of many of Longines' master collections with chronograph functions with black leather which would perfectly complement any formal attire and gather up a round of compliments everywhere you go! (Tk 8,000-12,000)
For the average Joe walking into a room like a true class act, a little wrist candy can add a whole new dimension to the ensemble. Picking out a quartz watch that runs on a small battery with a distinctive 'tick, tick, tick' movement can be all the causal sophistication he needs. Avi 8's Lancaster Bomber, crafted from stainless steel with a leather strap, and tested for endurance, is ideal for the adventurous spirits of driving and flying (Tk 16,000-17,000).
With the three kinds of watches duly sorted out, the industry of men's watches lies still at large. Operating in an overdrive, the horology industry is booming with cutting edge style and technology. Out of the digital era and embracing hip-hop bling, showpiece watches by luxury brands such as Rolex and Cartier have enticement built–in, with stone-set works of art that dare us to dream about owning one. It is because of the rarity and intricacy of such brands that a sparkling wristwatch from these adds an enchanting allure to any occasion.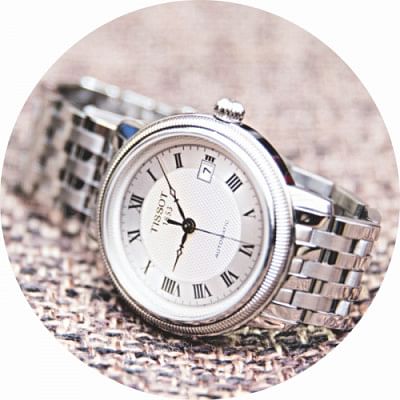 Tissot's Classic Dream with a clean dial coupled with silver-plated sophistication can sweep any man off his feet, and be the perfect bling at any event (Tk 20,000). Or how about a Rolex Submariner prizing itself as a signature piece and causing a dent in your wallet without even being encrusted with a single diamond at Tk 6 lakh?
With the 21st century's new trend of engagement watches, these iconic pieces will not only speak of your refined taste in jewellery, but also wrap themselves up neatly enough for Uber cool wedding gifts. 
With no one-fit-for-all guide when it comes to these, watches tell the most important story there is: the one of who you are. Whether in sparkling steel, engraved gold or bejewelled, a watch is synonymous with class and the go-to accessory for any man in any millennial. And with the right timepiece for you, the all-too-elusive time itself will remain elusive no more.
Digital Watches for Men
To be tagged the best dressed gentleman in the room, the style essential you'll require come in both vintage and digital.
Instead of being the one who takes out his smartphone to check the time, put a little thought and care into what you have strapped on the wrists and you'll be sure to scream a cut above the rest whatever you step into.
And if its digital? The sea of possibilities lies at large.
Smart watches are the new tech-loaded timepieces in the industry and if vintage analogues aren't your cup of tea, live your urbane lifestyle to the fullest by perhaps donning an Apple Watch Series 4.
Redesigned with a larger display, better battery life and a touch screen, you can do more with a Series 4 as opposed to any of its predecessors. The Infograph surface of the watch prizes itself upon having UV index, air quality index, weather, world clock, heart rate, and even has a timer, stop watch and an alarm clock, other than the time, of course (Tk 68,990).
Samsung's Galaxy watches in Gear S3 champions exactly this- allowing the wearer to use his phone's data plan to send texts, emails and also make calls without even a glance at your phone (Tk 29,000).
Pairing technology and cutting edge designs makes for the right shade of masculinity which is exactly what sparks a new love affair between men and smart watches. If you're a technology adopter through and through, investing in a smart watch is what will redefine connectedness in 2018 for you.
Photo: LS Archive/Sazzad Ibne Sayed