Interview of a yogi: Ulfath Kuddus
Ulfath is one of the most amazing yoginis in Dhaka city. She is dainty and graceful, but under her veneer of feminine softness, is a warrior spirit and a force of energy that can make things happen. All of that warrants a tête-à-tête with the amazing yogini.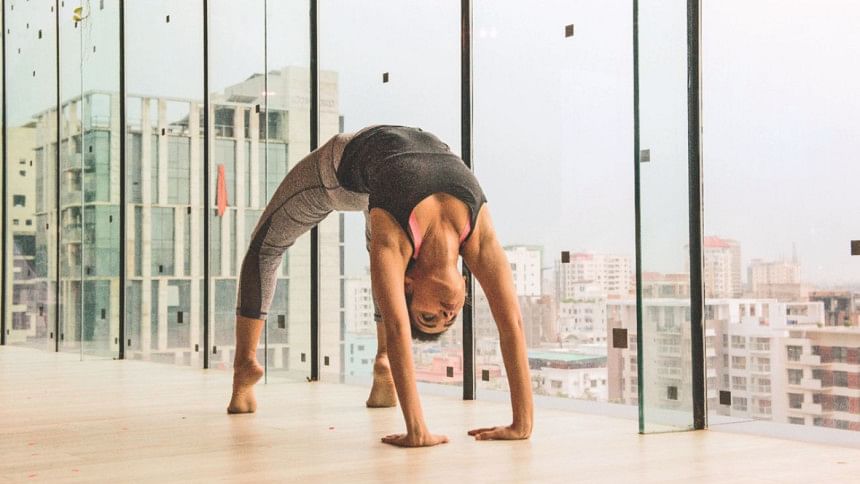 1. How did you get interested in yoga?
I am my mother's biggest fan, and growing up, I did everything she did- I basically wanted to be her! She was really into yoga (and Jane Fonda), and after a few sessions in my early teens, I was hooked! It first started off as a way to keep fit, or more like something that 'allowed' me to eat as much as I wanted. My flexibility was incredible, and I must admit, I loved it! I wasn't very strong however, and I tried to hide behind my flexibility. I then realised that yoga was something that I could use to build strength. My interest grew, and I started practicing various forms of yoga, making up sequences for myself as I practiced. And when I discovered how the breath could be used to propel each asana, I started to appreciate and practice meditation.
2. Where did you learn yoga? What kind of yoga do you teach and where?
I learnt with and from my mother initially, and then from different books and different teachers. I would also always make it a point to go to as many different types of classes as possible when on holiday. I still do so- and it helps me develop as a teacher for sure, but also as a student. I'm constantly learning at these classes, and I'm constantly 'borrowing' or 'stealing' ideas for my own practice and for my class. I teach Sivananda, hatha, and vinyasa in Dhaka, thrice a week. We usually do a power vinyasa class- sometimes using props like towels as the 'peak' pose or sequence, a Sivananda class, and a strength building class.
3. In what ways has yoga benefited you?
It helps keep me physically active, mentally stable, and has helped me with depression. A friend of mine recently introduced me to the concept of 'JOMO'- the joy of missing out- to me, that basically means enjoying my own company and that of a very small close group of friends... and I only truly realised and accepted the 'joy' versus the 'fear' thanks to yoga! The community that has grown as a result of sharing my practice is incredible- men and women of all ages who are smart, intelligent, beautiful, kind, and generous.
4. Describe a typical day in your life.
I wake up at 6AM, meditate, make a cup of tea, get dressed, and go to work by 7:30AM. I read the news and have a cup of coffee at work, before reading and responding to emails. I'm a preschool teacher- which, if you like children, is a pretty great job, and I do. So I spend my mornings at work, usually playing! I take a one-and-a-half-hour lunch break at 1:30PM, which I usually come home for. Lunch is my favourite meal, and this is the heaviest meal I usually eat- lentils, vegetables, sometimes fish. Around 5PM, I practice and prep for class, which usually starts at 6:30PM and ends at 8PM. Usually after class, I go home, have a super light meal or a green juice, shower; and go to bed by 10:30PM, after I've done some reading or watched something on Netflix.
5. What advice do you have for someone who has never tried yoga?
Give it a shot- try at least two classes with the same teacher or a few classes with a few different teachers to see how you feel. There are so many different kinds of yoga, and so many different ways of being taught- there is joy in it for everyone! You just have to find a teacher, a practice, and a space that works for you... and trust me, you will!
6. What advice do you have for yoga practitioners?
Never skip on savasana! It's so important to give the body time to realign, shift, and focus. And also for the mind and body to communicate and settle.
7. What are some of the things you have learned along your journey?
To slow down, breathe, appreciate and be grateful. Breath is life and I'm very aware of the air around us, not only because of yoga, but also because of the nature of my work, and also the effect it has on my family. Since the beginning of 2018, my husband and I have been working on trying to be better, kinder people to the environment. Aside from the 'reduce- reuse- refuse,' we have made a few lifestyle decisions, like giving up fast fashion, trying to minimise the purchase of plastic, and so on. It's been a challenge, but worth it!
Photo courtesy: Shazia Omar