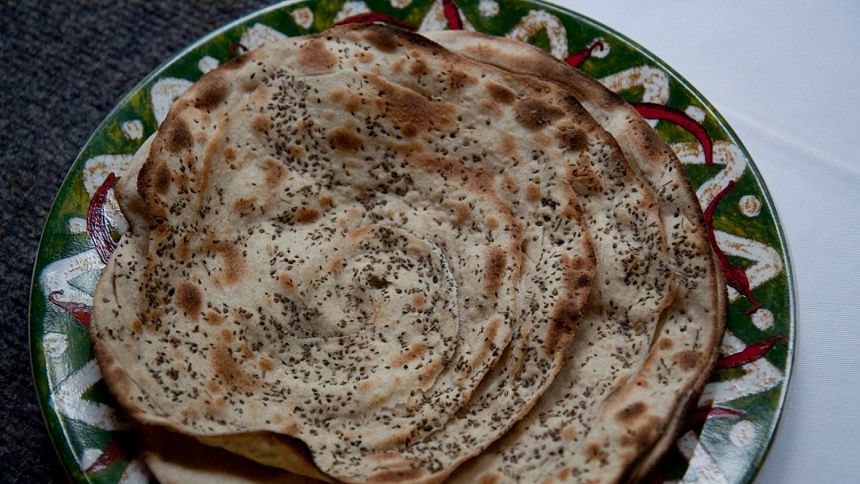 Central to the observance of Ramadan is the food we serve during iftar and sehri. Keeping in mind the long hours of fasting we will experience this year, the food on our platters should be hydrating and packed with nutrition and healthy in all aspects.
From the first of Ramadan, Star Lifestyle will present for its readers one recipe a day that would be an ideal addition to your iftar/sehri dishes. From the secrets of the Mughal kitchen to the charm of Middle Eastern cuisine; from the culinary tricks of your grandma's magical hands, to the fusion cuisine that is all the rage these days, The Food Spread, hopes to be the golden key to Ramadan gastronomy.
Today, we start with simple roti recipes. High in carbohydrates and fibre content, these items will go well with meat dishes.
Kashmiri roti
Ingredients
1 cup whole wheat flour
¼ tsp cumin seeds
¼ tsp fennel seeds
½ tsp crushed black pepper
A pinch of asafoetida
½ tsp carom seeds
½ cup warm milk
Salt to taste
Ghee for cooking
Method
Combine all the ingredients in a bowl and knead into semi-soft dough without using any water. Cover and keep aside for 10 to 15 minutes. Divide the dough into 4 equal portions and roll out each portion into 150 mm (6") diameter circles. Heat a non-stick wok and cook over a medium flame, using ghee, till both sides are golden brown in colour. Serve immediately.
Kesari nan
Ingredients
½ cup ghee/coconut oil
½ cup refined flour 
¼ cup besan, gram flour or chickpea flour 
¼ cup semolina 
1 tbsp milk powder
½ cup fine sugar
¼ tsp cardamom powder
¼ tsp baking powder 
8-10 saffron threads soaked in 1 tsp milk
Method
Preheat the oven at 180°C. Keep a baking tray ready and line it with parchment paper so that the biscuit bases do not blacken too much. Heat the ghee and cool it till you can handle it with your hands. Use fine sugar, or grind granulated sugar in a coffee grinder. In a big container, add all the dry ingredients together, except the sugar. Once the ghee is cooled, add powdered sugar and mix well with hands till it dissolves completely. You will see a creamy texture. Add soaked saffron to it and mix. Now add this ghee mixture to the dry mixture and gently mix with your hands. Bring the dough together.
Start making small balls out if this dough, which will still be slightly crumbly. Use light hands. Slightly flatten the bottom of these shortbreads and lay them on the baking sheet. Repeat till all the dough is used up. Place them 1 inch apart from each other. Make a delicate cross on top of each biscuit. Do not over press your knife or you will break them.
Bake them in the oven till they are slightly pink on top. It might take 12-20 minutes, depending on the oven and outside temperatures too. They should be firm to touch. Take the tray out. Let the biscuits sit for 1 minute. They are very delicate when hot. Take a flat spatula and gently transfer them to the cooling racks.
Recipes by chef Kamal Waris and Sheikh Furkan, Khazana Restaurant
Photo: Star Lifestyle Archive