BOISHAKH WISHLIST
Flights of fancy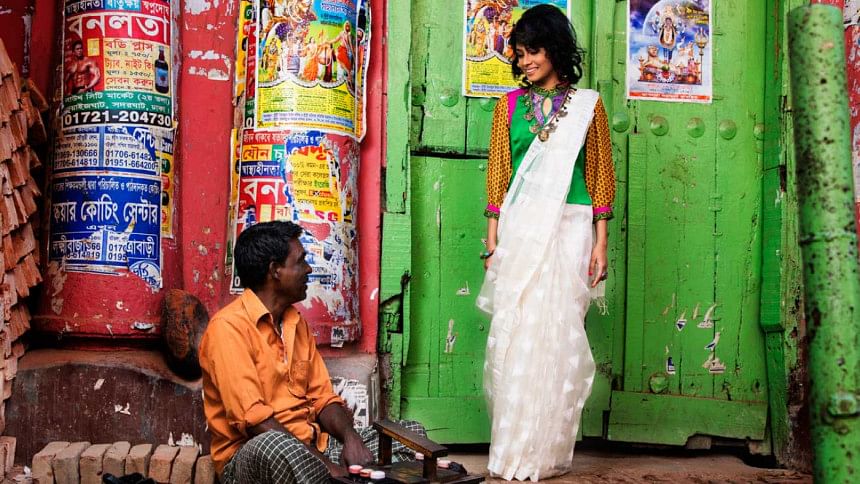 Spring is rolling by, and the scorching summer heat is upon us. So is Pohela Boishakh, the month of nor'westers when the heat of summer is washed away with a gust of cool wind and pouring rains. Bengal is to be cleansed of dirt and grime with the coming of the new year, as shopkeepers will open their "haal khata", girls will be dressed in white and red, boys will don their new panjabis, raw mango "bhortas" will start to appear on street sides and the masses will welcome yet another year to their lives. 
Some things are just part and parcel of who we are – so here are a few items that you might want to keep a look out for this boishakh.
THE EDIBLES

This Boishakh, go all out on a shopping spree sourcing the freshest and most local produce. A drive away from the city will land you in one of the countless local bazaars—a common scene in rural Bangladesh. Fill your bags with seasonal red tomatoes bursting in flavour, a heavenly mix of sweet and sour, add some green chillies to that, fiery and fragrant they promise to elevate every dish you cook. Or maybe buy some eggplants; grilled over a fire till they are nice and soft and eaten with piping hot rice. A Bengali household finds great joy in preparing and eating food and most of our festivals revolve around traditions that showcase our rich food heritage. The Bengali New Year is no different. The must-haves on your list are "shutki" (dried fish) and various kinds of "bhorta" all mixed with a good dash of mustard oil. The highlight of the new year, however is the king of all fish—hilsha. A quick drive to Mawa Ghat will answer your woes. Here you will find not only a selection of the freshest and oiliest hilsha on offer, you will also find a wide variety of other fish fresh off the boat. A little bit of haggling and bargaining will result in one of the fishiest Boishakhs you have celebrated. Apart from these, Pohela Boishakh brings the first of the raw mangoes to the local bazaars, a bag full of these and you are all set for a Boishakh fiesta.

For a quick bite, stop for some sugary delights. Grab our local malai ice-creams served on banana leaves or grab a quick whey (mattha) to whet your appetite.
FLOWERS

Nothing accentuates the beauty of a Bengali woman more than flowers. Floral ornaments are a must-have for most Bengali women, be it to deck themselves up, or to decorate the house. The streets of Farmgate are transformed in the early mornings as shipments of flowers in every size and colour imaginable arrive from all over the country. From here they go to all places in Dhaka, among them one of the most popular destinations—Shahbagh. Here you can order and customise the flowers into any design you want. Add a pop of colour with rose buds for earrings, white jasmines to adorn your hands and a halo of flowers over your head. 
HANDMADE CRAFTS

Boishakh is just not complete without a hand woven fan or "taal pakha" fanning away the lone tendril that promises to come loose. The summer heat cranked up on high, a "taal pakha" is a must have on Pohela Boishakh. Along with this, Bangladesh has a wide array of handmade crafts that can be used to decorate the house. Mats, bronze candle stands and ornaments are all available in stores like Jatra, Aranya and Aarong. One can also opt to buy clay dinnerware adding a traditional touch to Boishakh meals. Most clay items are available near Shahbagh, Dhaka University and Shishu Academy in Dhaka for bargain prices. With this come our local toys – the tepa putul, dolls made from old rags, wooden swords and lots more. Look around a bit on the roads, and you might just find the toys your mother speaks of from her childhood.
SARIS

Today what has become a special occasion or formal wear for many was once worn everyday by the women of this sub-continent. Dating back to almost 2800 BC, saris have evolved today taking up a special position in every woman's wardrobe. And what better occasion than Boishakh to adorn yourself with this beautiful creation? The one go-to stop for local saris is Bailey Road; lined with stores of all sizes, no one will come back empty handed. Apart from these there are stores like Aarong, Aranya, Deshal and Rong that bring out some of their best designer collections keeping Boishakh in mind.
But what are things if you do not live it? What ever happened to staying up all night at your village house listening to your grandmother tell stories while eating pithas? Head out this Boishakh and partake in these things that have made us who we are.
HEAD TO A VILLAGE MARKET

The market place in most villages is slow in the early mornings and gathers pace around the mid-afternoon, not so much because the people are sleeping in but because they have to get the days produce and work on their fields in the mornings. The village market is the congregation place of the villagers, where news of the day is exchanged amidst cups of tea and piyajus. Local produce is sold such as potatoes and sugarcane in Joypurhaat, pineapples, shathkora and lemons in Sylhet, dried fish (shutki) in Chittagong, hoards of shrimp in Khulna and mangoes in Rajshahi. The village market is an enchanting place - each person you meet carries a story worth listening to. The haats are integral to village life and have been the centre of not just commerce – this is where the community meets. Make your way to a village market this Boishakh and find yourself among the simplest of settings yet promising the true essence of the new year.
ODE TO THE RIVER

This 400 year old illustrious city flourished and grew around rivers. Men trading their ware, women collecting water for daily chores, children playing on the muddy river banks to people travelling from one place to the other, the waterways showcase the true spirit of Bengal like no other. So why not pay tribute to the great rivers of Bangladesh this Boishakh. One can drive from the city to the rivers and spend the day by the banks, see life infringed on the banks of the mighty Meghna, find a story unfolding as you walk alongside the great Padma. You can even take boat rides on these rivers by hiring local boats or there are services like the Contic via which you can book an entire day of boating on the river. 
CHARAK PUJA

Celebrated on the last day of Choitro, Charak Puja is an age old tradition seen mostly in the southern regions of Bangladesh. Celebrated so that the sorrow and suffering of the year will be washed away on the eve of the new year, the puja is a display of the power of belief. Part of this is the tradition of a priest being hung from a hook and spun around a frame. Head to Manikganj or Dhamrai and you might just catch a glimpse of this. Be warned, Charak Puja is not for the faint at heart. 
A CLOSE SHAVE

Head out of the city, walk around the suburbs and villages – you will surely see the sight of a road side barber giving people haircuts and shaves. If you dare, experience this, give your look a new do on the road. A little precaution though – it would be wise to get the barber to change the blade of the razor first.     

Pohela Boishakh brings out the Bengali in us, and what better way to live in the moment than to indulge the way we have for generations. The vestiges of these traditions are all that remain now and it is important we preserve them by making them part of our lives – otherwise we might lose the very essence of our identity.