Watch the Chanel Cruise Collection 2015/16 show online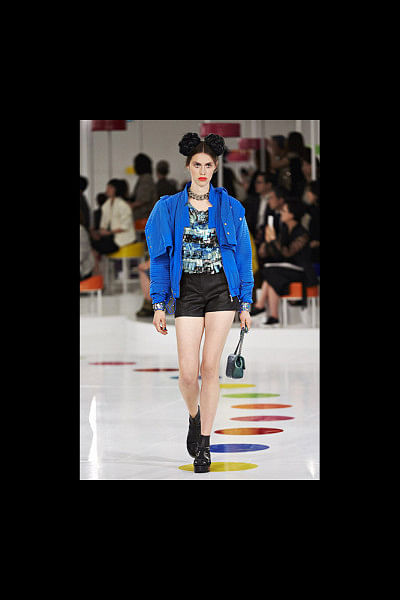 Karl Lagerfeld is having a Korean fling. The Chanel designer was in Seoul this week to unveil the label's Cruise 2015/16 collection -- a kaleidoscopic vision of colour and pattern that could only have been inspired by the K-pop trend sweeping the West at the moment. The fashion house has now made videos of the event available.
Describing the collection as a "modern version of the pop art scene," Lagerfeld said he was inspired by Korean traditions but wanted to adapt them for the world of today.
"I love the proportions of the dresses, and even the fibres," he explained at the show. "We had some made here because the fibres don't exist."
The designer also revealed that one of his fabric designers at Chanel is Korean and that her friends and K-pop singers regularly visit the fashion house.
He concluded: "The modernity of Korea was something I was used to as an idea, but I wanted to see the reality."
The cruise runway featured cute summer dresses, skirts and tops in bold geometric striped prints, as well as trousers and dust jackets. Structures were kept loose, floaty and playful, with the wigs adding to the sense of fun.
Of course it wouldn't be Chanel without tweeds, and the house sent plenty of those down the catwalk too. Pastel greens, candy pinks and rich purples gave life to jacket and skirt combos, while a turquoise and black houndstooth check made one look pop.
Korea's influence was evident throughout the collection, from a cream and bubblegum pink confection worn by Barbara Palvin to a cobalt blue jacket teamed with black mini shorts modeled by Georgia Hilmer. Lace fingerless gloves, sixties sunglasses and knee-high socks were all added into the mix.
The show, held on the same date as the Met gala in New York, attracted a star-studded audience including Kristen Stewart, Gisele Bündchen and Tilda Swinton. Chanel has now released a full-length video of the show:

Watch Karl Lagerfeld's interview: