Jamai khatir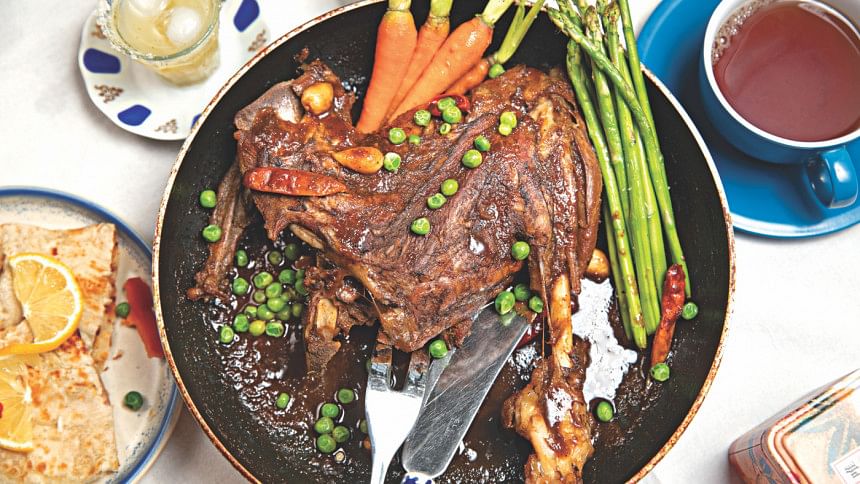 COCONUT ROSE SHERBET
Pampering the newest member of the family starts with the mother-in-law treating the newly-wed groom with sherbet. This refreshing drink recipe has coconut water, the soothing texture of tender coconut meat, and the pleasant aroma of rose syrup.
Ingredients
3 cups chilled tender coconut water
½ cup chopped tender coconut
2 tbsp rose syrup
2 drops kewra essence
Method
Combine all ingredients in a mixer and blend till smooth. Pour equal quantity of the drink into four individual glasses and serve immediately.
CHICKEN DAAK BUNGALOW
This recipe has its roots in the British era. Daak bungalows were originally built as rest houses, and used for providing lodging facilities to government officials, and sometimes, for other travellers. During their stay in the bungalow, khansamahs (stewards) used to prepare meals with the local fresh produce in country-style cooking. The addition of eggs and the use of whole spices was the specialty in a Daak Bungalow chicken/mutton curry.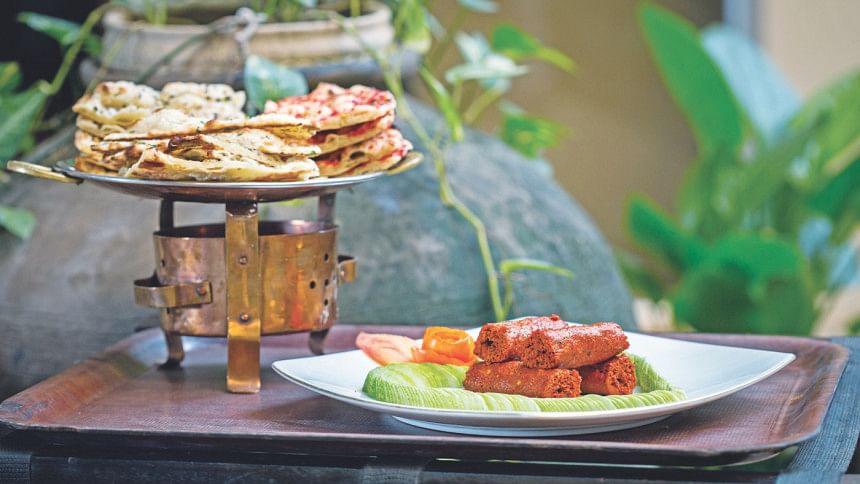 Ingredients
500g chicken
4 medium sized onions, sliced
2 tomatoes
1 tbsp ginger-garlic paste
½ cup curd
1 tsp turmeric powder
2 tsp red chilli powder
1 tsp coriander powder
4 cloves
1-inch cinnamon stick
1 black cardamom
8 pepper corns
2 bay leaves
3 green chillies
2 large potatoes, cut in quarters
4 boiled eggs
½ tsp garam masala powder
¼ cup mustard oil
Salt to taste
½ tsp sugar
Method
Dry roast the whole garam masala. Cool and put in a blender. Add ginger-garlic paste, tomatoes, green chillies and curd. Make a fine paste. Wash and dry the chicken pieces. Marinate chicken with half of the paste. Add two tablespoons of mustard oil. Mix well and keep aside for one hour.
 Heat oil in a pan. Apply turmeric to potatoes and boiled eggs. Fry them until golden brown. Keep aside.
 In the same oil, fry sliced onions till golden brown. Add bay leaves and dry red chillies. Add rest of the marinade and cook for two minutes.
 Add marinated chicken and mix well. Add turmeric, chilli powder, coriander powder, salt and sugar, and mix well. Cook on low heat for 10 minutes or until oil separates from the chicken. Add fried potatoes and mix. Cook for another 5 minutes. Add garam masala, eggs and ½ cup of water. Mix and cook for 2-3 minutes on high heat. When it is done serve hot.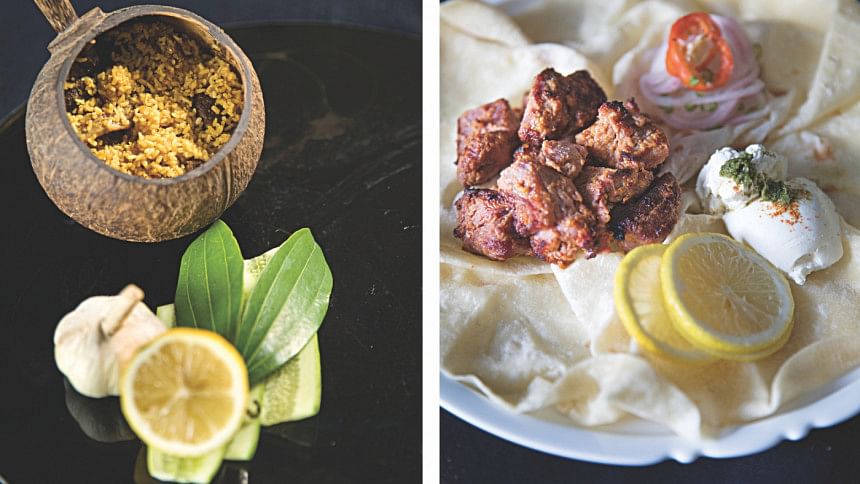 PESHAWARI RAAN (ROASTED LAMB LEG)
Raan, a famous dish in the North Eastern parts of the Indian subcontinent is basically the leg of a lamb that is cooked in the tandoor. This Indian mutton recipe is very popular in the northern states of Punjab and Kashmir.
 Cooking the leg of lamb, usually a large one, in generous portions of butter or ghee, is the original and delicious raan recipe.
 The most important thing about a raan is that the meat should melt in your mouth. You need a special cut of the lamb's leg for cooking this delicacy. It is usually a large cut of the leg including the thigh and is called the raan cut.
Ingredients
1 leg of lamb
4 tbsp ginger-garlic paste
2 tbsp lemon juice
1 tbsp vinegar
1 tbsp red chilli powder
½ tsp turmeric powder
5 cloves
1-inch cinnamon stick
4 cardamoms
10 peppercorns
1 tsp cumin seeds
2 tbsp curd
1 tbsp fenugreek leaves
1 onion, sliced
3 tbsp ghee, or butter
Salt to taste
Method
Use a carving knife to make a small, but deep incisions on the lamb leg. This has to be done so that it absorbs all the spices properly.
 Pour lemon juice and vinegar on the lamb leg and season with salt. Pat ginger-garlic paste on the leg and into the cuts. Keep aside for one hour.
 Blend cumin seeds, pepper corns, cloves, cinnamon sticks, turmeric powder and red chilli powder with little water and make a thick paste. Mix this paste with curd and marinate the lamb leg with it. Refrigerate this for at least two hours.
 Add two tablespoons of butter or ghee to a greased baking dish. Keep the lamb leg on it. Cook it uncovered in an oven preheated to 400° F for 30 minutes. Turn it around and cook for another 20 minutes.
 Meanwhile, melt butter or ghee in a shallow pan, season with fenugreek leaves and sauté the onions in it. Pour onions and extra butter on the roasted lamb leg. Cover it and cook it at 350° F for another 30 minutes. Leave it to set for 45 minutes. Serve raan with onion rings, slices of lemon, green chillies and naan or roti.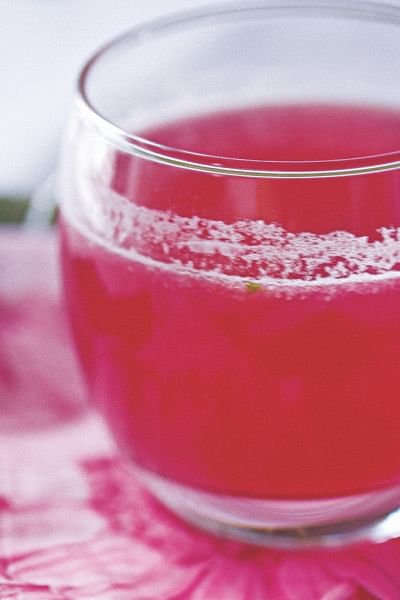 BEEF BOTI MASALA
Ingredients
1 kg boneless beef
½ cup yoghurt
1 tbsp ginger paste
½ tbsp garlic paste
1 tsp red chilli powder
½ tsp black pepper powder
½ tsp cumin powder
½ tsp coriander powder
½ tsp nutmeg and mace powder
1 tsp garam masala powder
1 cup chopped onion
Whole garam masala, as needed
½ cup oil
½ tsp sugar
Salt to taste
Method
Cut the meat into one-inch small cube pieces. Clean and pat dry with pepper towel, and keep aside. In a bowl, mix yoghurt, ginger, garlic, cumin, red chilli powder, coriander, nutmeg, mace, black pepper powder, garam masala, salt, and sugar. Then coat masala paste with the meat pieces. Cover and marinate for 12 hours in refrigerator. Heat oil in a deep bottom pan. Fry chopped onion and whole garam masala until brown. Add marinated meat and cook on high heat for 10-12 minutes.
 Now, add little water and cook on medium heat until soft and tender. Once cooked and gravy is thick, turn off the flame. Transfer to a serving dish and garnish with fresh mint leaves. Serve with rice, naan or paratha.
MUTTON TIKKA
Ingredients
1 kg mutton (boneless, cut into chunks)
2 large onions, chopped
5 green chillies, chopped
¾ cup vinegar
1 cup tsp salt
1 tsp garlic paste
2 tsp ginger paste
3 tbsp oil
1 large tomato, chopped
¼ tsp black pepper
¼ tsp chaat masala
½ tsp lemon juice
Method
Chop onions and green chillies. Soak them in the vinegar for 10 minutes. Then remove and set aside. In the vinegar, add meat, salt, ginger, and garlic paste. Allow it to marinade for two hours in the fridge. Put meat and vinegar mixture in a small pot and bring to a boil. Cover and decrease to a simmer and cook on a low flame until the vinegar has evaporated and the meat is cooked through, approximately 1-2 hours.
Heat two tablespoons of oil in a frying pan over medium low heat. Add onions and stir for few seconds, add tomatoes and meat and fry until the tomatoes start to break down. Add soaked green chilli mixture and continue frying. Season with black pepper, chat masala, and lemon juice. Test and adjust seasonings if desired. Serve with lemon wedges and chat masala. 
UMM ALI
Umm Ali is an Egyptian dessert that contains phyllo dough or puff pastry, milk, and nuts. Use any kind of nuts that you would like. It tastes best when hot, and is served totally soaked in milk. You can serve it warm with a scoop of vanilla ice cream.
Ingredients
1 package puff pastry sheets
½ cup chopped walnut
½ cup chopped hazelnuts
½ cup chopped pistachios
½ cup raisins
1 cup flaked coconut
1¼ cups sugar, divided
4 cups milk
½ cup heavy cream
Method
Preheat oven to 175° C. Butter a baking dish. Place the pastry sheets in the baking dish and place the dish in the oven. When the top layer turns crunchy and golden, remove it from the oven. Continue until all the sheets are cooked.
In a mixing bowl, combine nuts, raisins, coconut and ¼ cup sugar. Break the cooked pastry sheets into pieces and stir into the mixture. Spread mixture evenly in a baking dish. Bring milk and ½ cup sugar to a boil in a medium saucepan over medium heat.
Pour over nut mixture. Beat the heavy cream with the remaining ½ cup sugar until stiff peaks form. Spread evenly over nut mixture in dish. Place dessert in oven. Bake for about 10 minutes or until top is golden brown. Serve hot. 
Photo: LS Archive/Sazzad Ibne Sayed