Check It Out
An inner look at e-commerce giant: Daraz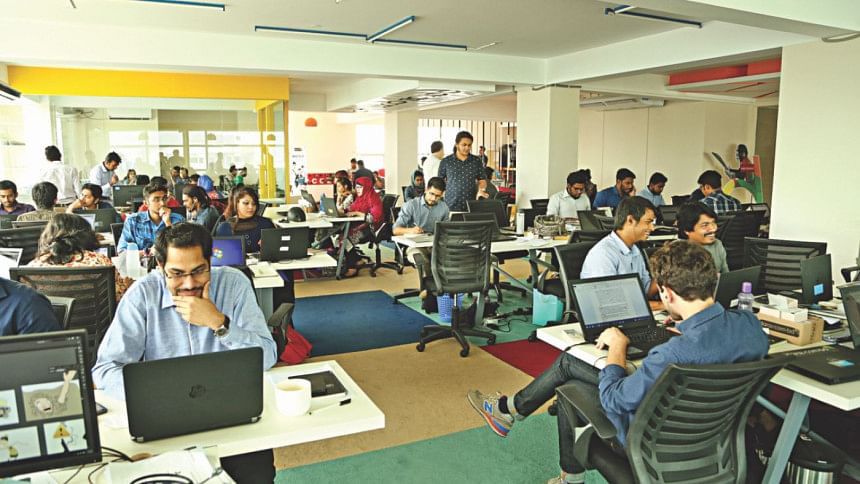 Daraz is an e-commerce venture which started in Pakistan in 2012. Financed by three German brothers, it has since expanded into both Myanmar and Bangladesh. Following a soft opening last October, Daraz officially opened in Bangladesh this February and has since then become a frontrunner in the e-commerce industry. Daraz's specialty is exclusive products and deals and they have already successfully partnered with major local brands such as Bata, Ecstasy and Yellow as well as with tech giants Symphony, Samsung and Butterfly. It has certainly taken the e-commerce market by storm with the website attracting around two million visitors every month.
According to co-founder Sumeet Singh, one of Daraz's aims is to become the biggest online market in Bangladesh. "We are choosy in terms of what kind of products and sellers we bring onboard. What makes Daraz different from everything else here is that we are a curated market place," he said, during a sit down with Lifestyle at their head office. "We are also very committed to providing the most convenience and also the best available deals and prices," he added. It is one of a kind in the sense that they are indeed providing amazing deals on their website for a whole array of products from electronics to accessories to clothing products.
The deals are about to get even sweeter since they recently announced that, in collaboration with their other offices in Pakistan and Myanmaar, Daraz will have a massive sale starting on December 4 in their South Asian markets. The sale - called Fatafati Friday - is set to host huge deals and discounts exclusive only to Daraz. "We adopted the Black Friday concept from the west and applied it to our market in Africa and it was a huge success. So this year, we think that it'll blow up here. We are running a lot of campaigns to provide the customer with discounts. Companies like Samsung and Symphony will be giving away huge discounts on our website and fashion items will also be available up to 70 percent off. We want to create a huge impact and make this the biggest e-commerce sales event in the country," said Sumeet Singh.
Despite their drastic rise to the top in the e-commerce industry, Daraz continues to face challenges that they have had to work hard to overcome. Initially, one of their main challenges was deliveries. At the time, Bangladesh did not have a cash-on-delivery concept so cash collection in itself was a big challenge. To eliminate this problem, Daraz introduced Easypayway to their website so that customers could pay online and also set up their own logistics network in Dhaka. Also, to ensure that all deliveries are on time during the Fatafati sale, Daraz has multiplied their delivery capacity by ten. Another big challenge that Daraz faces is changing the habit of the customers and getting them to trust and buy online. Since this is still a relatively new concept in Bangladesh, Daraz sought the help of the former captain and local hero, Mushfiqur Rahim, to gain the trust of the local public.
It is clear that Daraz is here to stay. Their office centres around a huge room with benches where all their employees sit together on their laptops and work side by side. It is very interactive and emits a Silicon Valley vibe. Coupled with an excellent customer service section and a foosball lounge where the employees can let off some steam, Daraz seems to have captured the perfect work environment.
Daraz is also working hard to ensure that their customers get the best quality products. Because of the Fatafati sale, their fashion manager flew in from Paris to oversee the fashion aspects of the sale. "I am here to get an overview of what's going on. We have a global overview of what the main trends in fashion are and we plan to incorporate that with our knowledge of the local markets to ensure that we offer the latest in fashion and style. We are also planning ahead and looking at trends for 2016," said Florencia Tonoli, the Fashion Category Manager for Daraz Bangladesh and Myanmar.
Daraz is already one of the giants of e-commerce and with the addition of Fatafati Friday, they are set to make waves and host the biggest sale in Bangladesh ever. So, if you are looking for spicy deals on the best products that are available here, definitely go check out Daraz and be sure to join them in the coming Friday for the sale of the century! You can be sure that we here at Lifestyle will be glued to our monitors, ready to push that Add to Cart button!
By Naveed Naushad 
Check out: daraz.com.bd
Fatafati sale: http://bit.ly/1NZlHZk
Photo courtesy: Daraz