ASK MAYA APA
www.maya.com.bd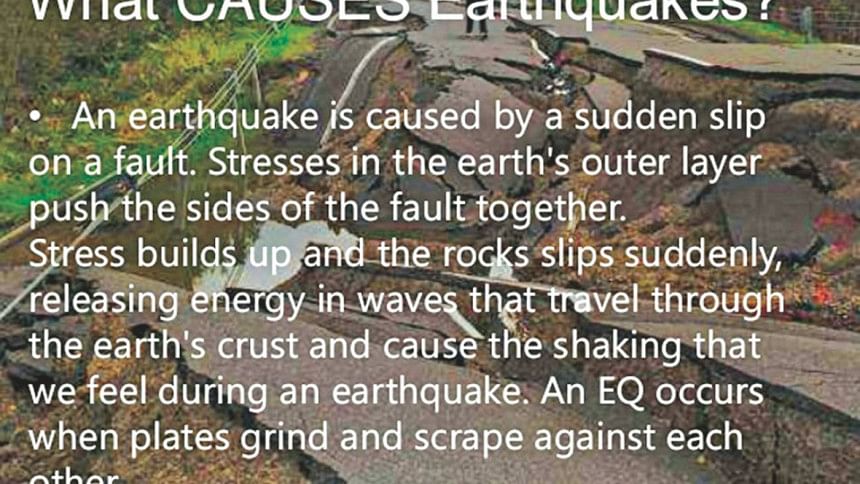 Dear Maya Apa,

My husband and I live in a six-storey building in Dhaka. During the recent earthquake, I was home alone and I could feel my whole building shaking. I did not know what to do but thankfully, the tremors went away. However, the event made me very nervous. I am a diabetic and I spend most of my day alone in the house while my husband is at work. With so many earthquakes happening in this area, I am afraid that the next time I may not be so lucky. Can you tell me what to do?
Dear Reader,

Thank you for your question. It is completely understandable to be nervous and anxious when these events occur, as quite often nothing is within our control. Dhaka is such a chaotic and populated city, it can be very confusing to know what to do. However, by reaching out for help and information, you have taken a positive step towards being prepared if such an event re-occurs.

There are three areas to focus on –

Being Alert

Being alert during an earthquake

Being Alert after an earthquake

Being alert

Once an earthquake has occurred, communication lines and electricity will not be working and so it is important that you make a package containing items that will help you to survive for the next few days after an earthquake. You mentioned that you are diabetic, so it is very important that you ensure you have a supply of medicine and food/snacks to maintain your blood sugar.
Your package should include:

Water

Food/snacks that do not require cooking

Medication e.g. your diabetes medication, paracetamol, first aid kit plasters, antiseptics, scissors, bandages, cotton pads, tape

Torch

Blanket

Clothes

You also mentioned that your husband is at work for a large part of the day. After an earthquake, many people get displaced. It is useful if you both decide on a mutual place to meet. If the prospect of an earthquake is high then many people secure large pieces of furniture such as large bookcases to prevent them from falling on top of you and causing injury. 
During an earthquake

If you are in indoors, then stay indoors. Do not go outside as there are too many high rise buildings and electricity lines that may cause more harm. You may have heard of "Drop, Hold, Cover". This means that you should drop to the ground, go under a table for cover. Do not stand near windows in case of glass shattering and never go into the elevator. 
If you are outside, then try to get to an area where there is open space and no buildings or electricity lines that may fall on you.
After an earthquake

If you think there has been electrical damage, shut off the main power box. Use your phone in case of emergencies. Beware that aftershocks can occur after the earthquake, which can be just as damaging. 
We hope we have been able to help and provide some tips on what you can do to keep yourself and your family safe.
Please feel free to ask any more questions.

Always by your side,

Maya Apa