Biman's maiden Hajj flight tomorrow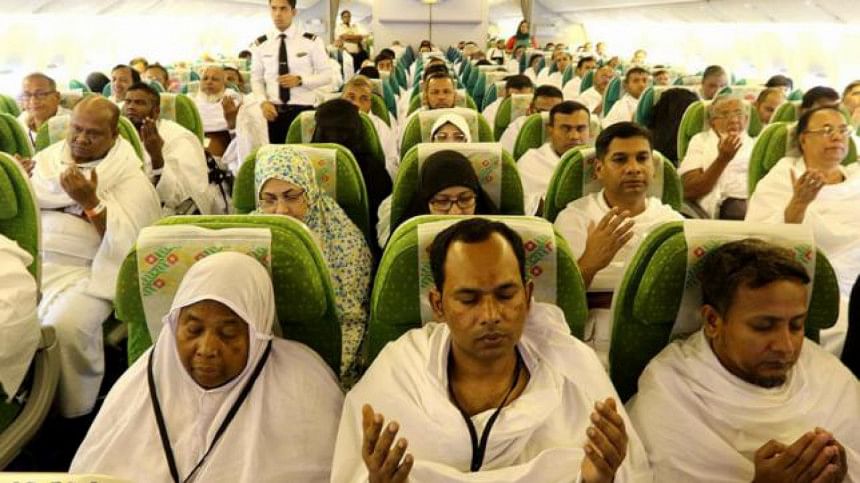 The first hajj flight carrying 419 Bangladeshi pilgrims is scheduled to take off tomorrow morning (June 5, 2022).
The maiden hajj flight of Biman Bangladesh Airlines is set take-off from Dhaka airport around 9:00 am, Jahid Hossain, director (sales and marketing) of Biman, told The Daily Star.
State Minister for Civil Aviation M Mahbub Ali and State Minister for Religious Affairs Md Faridul Haque Khan will be present at the Hazrat Shahjalal International Airport to see off the pilgrims, avvording to sources at the two ministries.
However, two other airlines -- Saudia and Flynas, will start operating Hajj flights from June 10, M Shahadat Hossain Taslim, president, Hajj Agencies Association of Bangladesh (HAAB), told this newspaper.
Hajj pilgrims will have to pay a minimum of Tk 5,22,744 for performing Hajj under private agencies, Tk 1,68,150 more compared to 2020.
Besides, every pilgrim irrespective of performing Hajj under private or government management would have to pay an additional Tk 19, 683 for a Qurbani (sacrificing animals) coupon from the Islamic Development Bank in Saudi Arabia.
According to the bilateral agreement between Bangladesh and Saudi Arabia, a total of 57,585 Bangladeshis will be able to perform the Hajj this year, likely to be held on July 8 depending on the sighting of the moon.
Of the total pilgrims, 4,000 will perform Hajj under government management while the rest will perform under private Hajj agencies, he also said.
According to Biman, the national airline is expected to ferry 29,000 pilgrims by three Boeing 777 aircraft under its 130 dedicated flights with 65 round trips.
In 2019, around 1.27 lakh Bangladeshis were allowed to perform hajj.
However, due to the global Covid-19 pandemic, the largest annual Muslim congregation was held on a limited scale in the last two years.