7 must-visit places for your Maldives vacation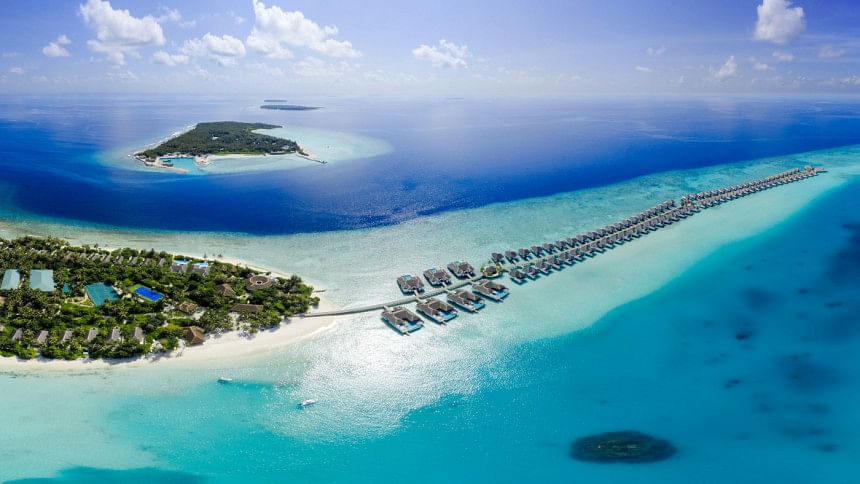 The Maldives are home to a collection of the world's most beautiful islands and beaches and a selection of five-star resorts perfect for an exotic vacation. This far-flung nation welcomes tourists with open arms and offers exhilarating activities for adventurers, beautiful places to spend time with loved ones, and delicious food. But, with a better boat transportation system and more independent guesthouses sprouting, Maldives is becoming more budget-friendly. So, here are 7 exciting destinations that are a must-see for everyone traveling to this magical wonderland.
Malé City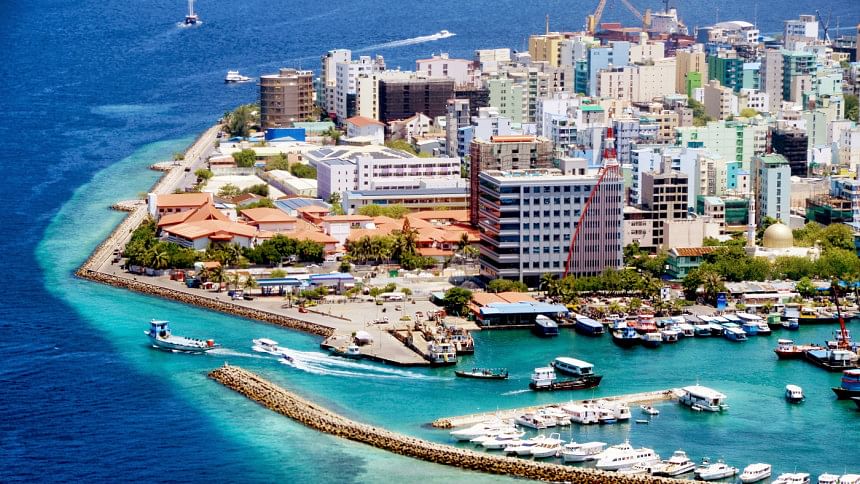 To see the best of what the Maldives has to offer, you should begin in Malé, the capital. Malé is a must-see destination due to its rich history, vibrant architecture, azure seas, and swaying palm trees. It is bordered by historic structures on one side and varying colours of blue and green on the other. There are a lot of fascinating things to do in Malé, such as taking a walk through the streets that are bursting with colourful markets or learning about the history of the Maldives at the National Museum.
Vaadhoo Island
The beaches of the Maldives are some of the most stunning in the world, and Vaadhoo Island is home to a particularly breath-taking natural occurrence — sparkling blue water. The dazzling "Sea of Stars" is a natural phenomenon that contributes to this celestial scenery. Phytoplankton in the ocean produces bioluminescence, which causes this effect. The brilliant blue-neon hue that emanates from the breaking waves is most striking at night and such an event occurs very rarely. You can expect its recurrence from late summer until the end of the year, although it is not fixed. As with every natural occurrence, a little bit of luck is necessary to fully appreciate this magnificent shining event!
Ithaa Undersea Restaurant
In the native language of Dhivehi, "Ithaa" means "mother of pearl," which is an apt description of the stunning scenery here. The Hilton Maldives Resort & Spa's restaurant is a small, intimate spot with seating for just 14, situated five meters below the ocean's surface. The ceiling is slanted like a tunnel, giving visitors a panoramic view of the coral reef that surrounds them. To get there, you will need to book a flight on a seaplane departing from Malé International Airport. They provide a unique blend of Western and Asian flavours in their modern fusion cuisine. Although the restaurant's prices are above average, the serving sizes are fair, and hotel guests may enjoy lunch starting at $120. 
Whale Submarine
Taking a 45-minute submarine tour is one of the most enjoyable activities in the Maldives that your whole family can enjoy. Whale Submarine, a popular tourist destination in the Maldives, is an unforgettable adventure. It is a thrilling introduction to the diverse aquatic inhabitants of this island country and is sure to leave a lasting impression. You may see marine life such as yellow boxfish, blue snapper, lionfish, turtles, and shark rays during your journey. If you do not want to dive, this is among the greatest things to do in the Maldives!
Grand Friday Mosque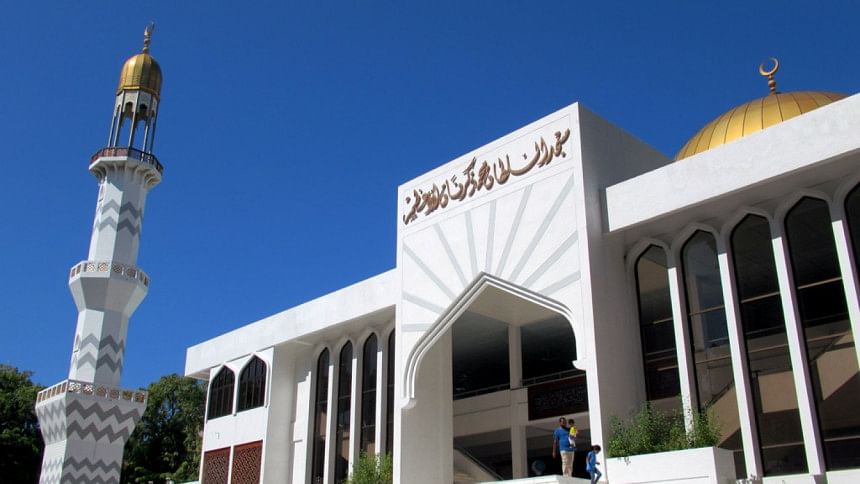 One of the world's largest mosques, the Grand Friday Mosque, can accommodate up to 5,000 people. The mosque attracts many visitors and pilgrims each year due to its exquisite marble exterior and enormous gold dome, both of which are much more breath-taking in person. As a component of Malé 's Islamic centre, this mosque is conveniently positioned close to the city's main pier, making it visible from the water. You are welcome to visit any time between 9AM and 5PM. However, you should try to avoid going during prayer times so as not to disrupt the congregation of worshippers.
Banana Reef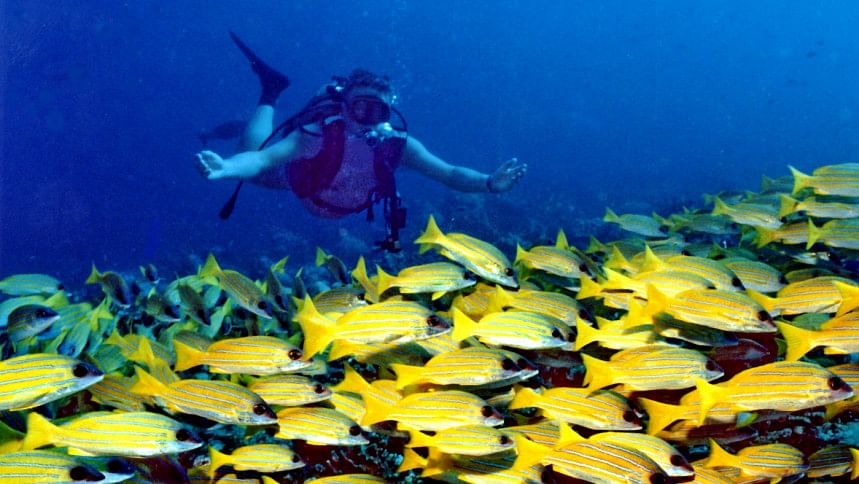 Banana reef, so-called because of its form when seen from above, is located to the north along the Malé island. This is, without a doubt, the most well-known diving spot in the whole Maldives, perhaps even worldwide. Beautiful reefs and corals of all different colours thrive there, along with a rich marine ecosystem and several cliffs and caves. If you are looking for a thrilling underwater journey, this is the finest place for you. Banana Reef is also a great place to dive because it is frequented by reef sharks and barracuda!
Fulhadhoo Island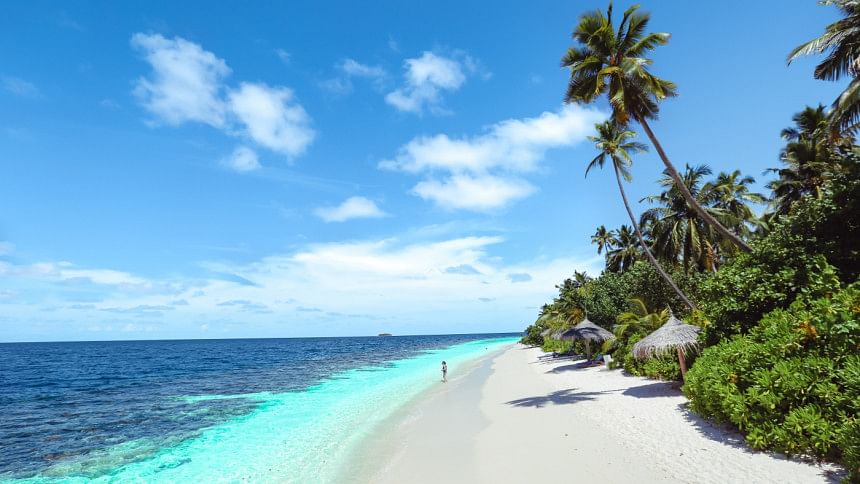 Fulhadhoo Island is a popular tourist destination in the Maldives due to its crystal-clear lagoons, white-sand beaches, overhanging palm trees, and tranquil atmosphere. The riches on this unspoiled island are likely to remain undiscovered for as long as it remains one of the world's most remote and uninhabited islands. Snorkelling, scuba diving, and keeping an eye out for dolphins and turtles are all great ways to make the most of your stay here!