5 of Meghalaya's natural wonders: Waterfalls, living bridges, and more!
Meghalaya is a jewel of India where nature paints with a masterful hand. Known for its hills, valleys and caves, Meghalaya is home to countless waterfalls. So, there's no denying that this state's pristine beauty is sure to content the hearts of nature lovers and adventure enthusiasts. Though there are plenty of tourist attractions to explore in Meghalaya, here are 5 mesmerising places you just can't miss!
Umkrem Falls
Located near Dawki Bazar, Umkrem Falls offers an incredible view to visitors — especially during the monsoon. This cascading waterfall flows in its glory from July to September.
To soak your feet in the cold water of this beautiful waterfall is an experience you will not forget easily. Hills and lush greenery surround Umkrem Falls, and an unused, yet antique bridge stands nearby to enthral the visitors.
If you're entering Meghalaya through the Dawki port, Umkrem Falls won't be far from you. Just rent a car from Dawki Bazar, and you will find this incredible waterfall around four kilometres away.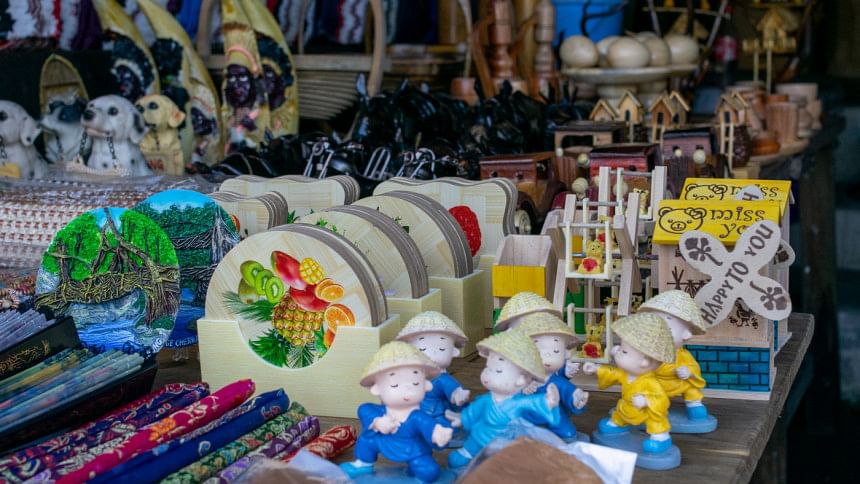 Mawlynnong Village
Regarded as Asia's cleanest village, Mawlynnong is a picturesque village that has gained recognition for its immaculate environment and well-maintained surroundings. The village is surrounded by lush greenery and vibrant gardens — the refreshing mix of rolling hills, meadows, and tropical foliage will make you feel that you have been transported into the Gardens of Versailles.
Mawlynnong is pleasant to visit throughout the year, but the best time is during the monsoon season. It is located approximately 72 kilometres from Shillong, and taxis or cars are available for transportation. From Dawki, the village is just 45 minutes' drive away.
Living Root Bridge, Riwai Village
Just at a close distance away (about eight kilometres) from Mawlynnong is a village named Riwai, which has the same lush greenery and clean environment. Deep within Riwai is a bridge crafted not by bricks or wooden logs, but by the roots of the Ficus elastica tree (rubber tree species). It is called the Living Root Bridge, which is a living testament to indigenous techniques of bridge building.
It has been built by guiding the roots of rubber trees over decades to form a sturdy bridge. Unique to the Meghalaya region, the Living Root Bridge is renowned for its strength and eco-friendliness.
Exploring the area around the Living Root Bridge involves trekking through the pristine forests and footpaths. So put on your best sneakers and be prepared for moderate treks!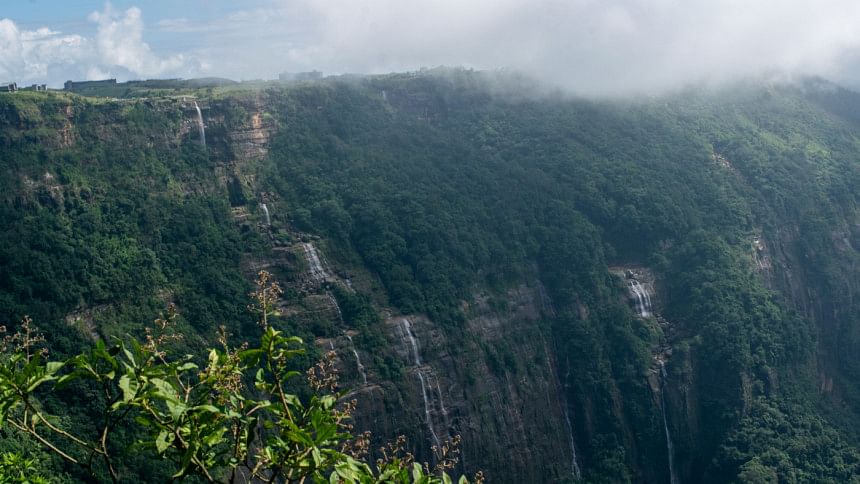 Seven Sisters Waterfalls, Cherrapunji
The Seven Sisters Waterfalls, also known as Nohsngithiang Falls, are renowned for their unparalleled natural beauty. The waterfalls consist of seven individual segments that gracefully cascade down the cliffs.
This unique feature creates a mesmerising visual as the water gracefully flows from one tier to the next, framed by the lush greenery of the surrounding landscape.
The beauty of the Seven Sisters Waterfalls is most pronounced during the monsoon season (June to September) — the heavy rain during this time leads to a dramatic increase in water flow. It is located around four kilometres away from the Cherrapunji bus stop.
Nohkalikai Falls    
Also located in beautiful Cherrapunji, Nohkalikai Falls is considered to be the tallest plunge waterfall in India. And the sight is truly spellbinding! The water plunges from a height of approximately 1,115 feet amidst the lush greenery of the Khasi Hills, and blue-green water is seen below, which is the result of mineral-rich sediment in the pool at the base.   
The best time to visit Nohkalikai Falls is during the monsoon season, but the waterfall looks pretty all year-round.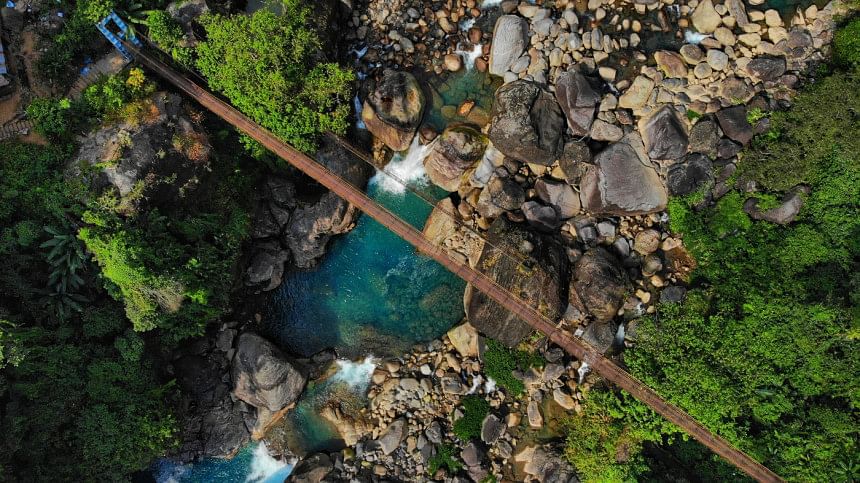 Travel notes
The cheapest and most convenient way to reach Meghalaya from Dhaka is by taking a train or bus to Sylhet and then driving to the Tamabil-Dawki border. After crossing immigration, hire a car or jeep, and it will take you to Shillong or Cherrapunji.
Alternatively, you can fly from Dhaka to Sylhet or Agartala, and then take another flight to Guwahati, the nearest airport to Meghalaya. However, this option may be more expensive and time-consuming.
Homestays are a good option if you're looking for cheap accommodation in Meghalaya, which typically costs around Tk 1,600 to Tk 2,700. However, luxury resorts and hotels are also available.
No matter what type of accommodation you prefer, don't forget to try the local cuisine and keep the environment clean!