Wasfia sings praises for winter hero, Mingma David Sherpa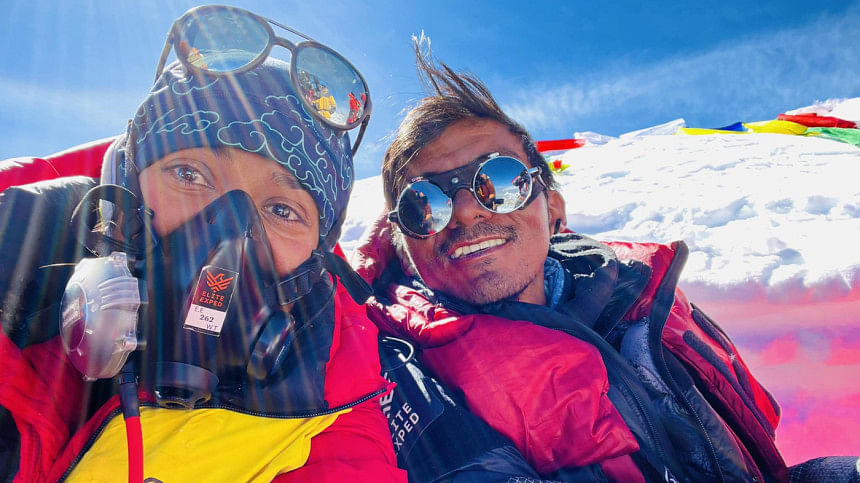 In a recent successful endeavor, Wasfia Nazreen made her nation proud by being the first Bangladeshi to summit the notorious mountain K2 in Pakistan. Despite the tumultuous journey and various uncertainties, her team made it possible for her years of hard work.
The K2 summiteer said on a social media post, "Last Friday, I was blessed to be on top of #K2 for 50 minutes. A large portion of it, I was just crying — I couldn't stop myself; the emotions were overwhelming as years of hard work, struggles, and dreams finally saw fruition, that too in the very first attempt." 
Finding one's true calling can lead to a few outcomes; ignoring it and terming it as a passing phase, pursuing it and leaving it due to circumstances, or going at it with grit and drive. With that being said, if you invest long enough on a journey like that, you are bound to come across people who will only push you further.
She thanked her team members and especially mentioned Mingma David Sherpa, a world-renowned mountaineer, for his comradery and support.
She added, "A number of our friends were on the summit at the same time, and I knew I was safe. Many came and hugged me while I couldn't even utter a word. Parts of that time, I was simply sitting beside my Bhai Mingma David Sherpa — who patted me from time to time and kept smiling, saying as if without words, that he understood and everything would be ok.
"Right after the descent, the winter K2 hero went on to climb K2 again with a record-breaking fifth time, "the highest of any human in the world, and he just did so the latest time in 14 hours 22 mins from basecamp to the top," she concludes by congratulating Mingma David Sherpa.