Warrior Women Bangladesh: Empowering girls with martial arts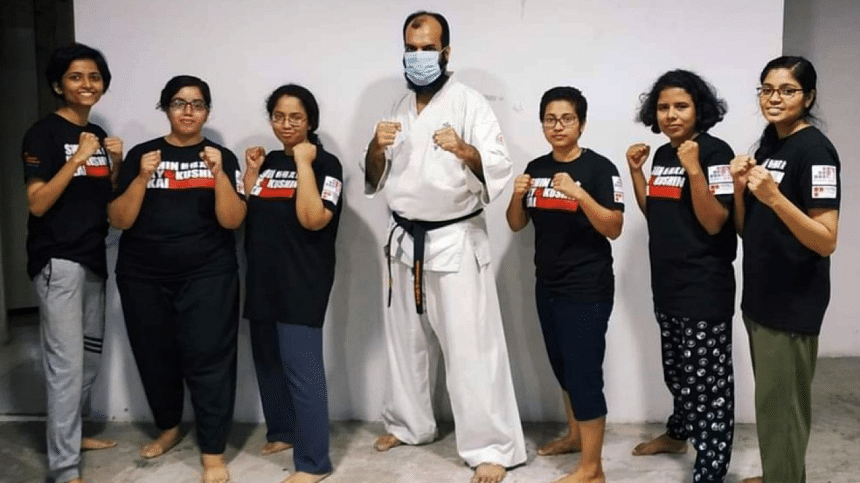 The social scenario of our country offers a disturbingly grim picture to us and the number of sexual violence cases is on the rise. It is distressing and proves that we have not progressed much as a nation. To help women fight back, teach basic self-defence strategies and rewire their mindsets to end the cycle of abuse and trauma, the Warrior Women Bangladesh project began its journey in September 2017.
The project took its shape under the guidance of Mashroof Hossain, a Bangladeshi police officer and Abdullah Mohammad Hossain, the chief instructor at KO Fight Studio and the country representative of World Karate Organization (WKO), Shinkyokushinkai Bangladesh.
"The mass sexual assault incident of 2015 (during Pohela Boishakh celebrations) infuriated me and I was deeply concerned and wanted to create awareness so that in the future women can defend themselves. So, I approached Mashroof regarding the Warrior Women Bangladesh project and started this venture together," states Abdullah.     
While stereotypical views such as girls can never be equal to boys when it comes to strength, stamina and endurance (not to mention, winning a fight) are deeply ingrained in our belief system and patriarchal norms have been promoted from time immemorial, Abdullah stands resolute with his philosophy that such discriminating beliefs should be abandoned and girls must receive the same privileges that boys usually do.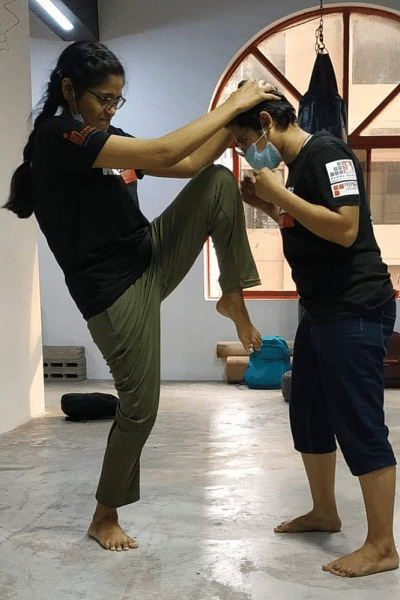 Abdullah comments, "If a boy can continue the fully-fledged Karate training, a girl can also do the same. Why should there be any discrimination?" And so, this self-defence course has been designed based on full-contact Shinkyokushin Karate and is conducted by Abdullah at his KO Fight Studio in Gulshan, which is currently registered under the World Karate Organization Bangladesh. The course offers sixteen classes over eight weeks and the classes are two hours long.
"Due to having a busy schedule, not everyone can continue regular training. So, from my thirty years of experience, I have curated this short course through which girls will be able to increase their mental and physical endurance and will have the idea about basic self-defence strategies," explains Abdullah.
This life-altering course is offered to women from all walks of life — from homemakers, professionals to students — everyone can join after registering for the course. In this two-month-long programme, trainees are tested on every level and they go through rigorous workout sessions to build strength and endurance.
Sadia Sultana, a former trainee of the Warrior Women Bangladesh project and a current student of KO Fight Studio voices, "We (girls) suffer a lot while navigating the streets. It is unquestionably traumatising and humiliating. But after completing this course, I've reinvented myself differently and positively — it feels like I've been able to break from some sort of mental imprisonment and I feel more confident and powerful."
Similarly, another trainee, Shagufta Khan Emam affirms, "This programme has changed and motivated me a lot. And now, I'm not afraid to fight for myself anymore."
The 12th batch of Warrior Women Bangladesh is expected to commence at the beginning of the next year and those who are interested can get further details on KO Fight Studio's Facebook page and official website.
Essentials—
Website link: https://www.wkobangladesh.com/
Contact no. +8801924-999000
Facebook page: https://www.facebook.com/KOFSDhaka/
Address: House19-20, Road 113/A, Gulshan, Dhaka, Bangladesh