Top 4 ideas to decorate an aquarium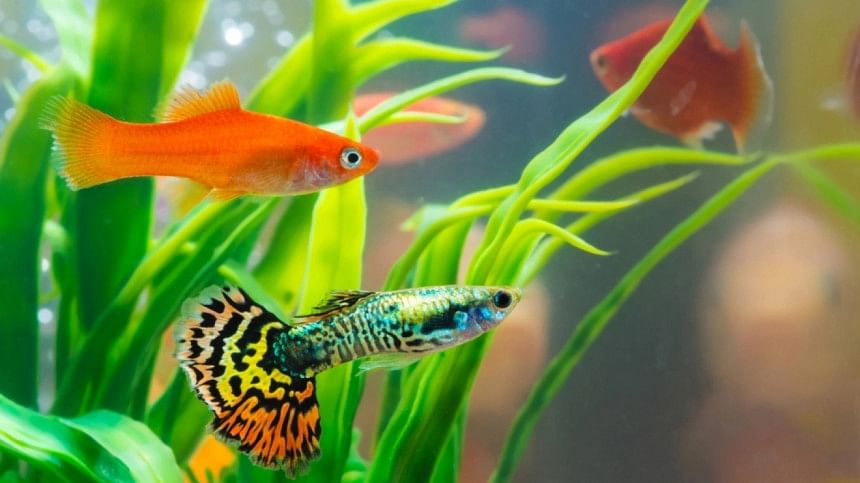 A fish tank is an amazing piece of decor to add to your home. The crystal-clear water, the oceanic vibe and the tiny colourful fishes swimming in it, bring a sort of calmness to its surroundings. Not only is it surprisingly easy to maintain, you are at complete liberty to showcase your creativity while decorating your aquarium.
That being said, here are some unusual and super fun ideas to experiment with.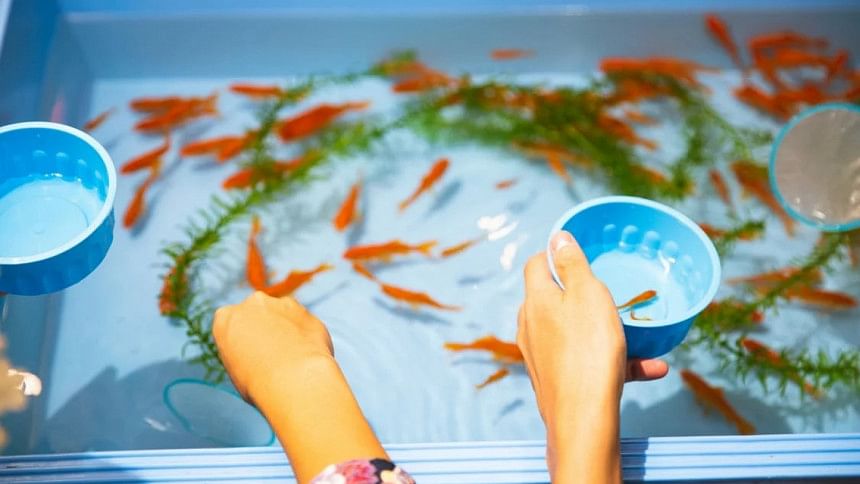 Kingdom of Imagination
While an ocean vibe is often displayed with rocks, seashells and plants amidst sand, our imagination should not be limited to that. Our favourite cartoon characters like Little Mermaid, SpongeBob, Nemo, and Dory showed us how magical the underwater world can be. By collecting some action figures, you can create an aquatic world of your own.
You can even have unexpected crossovers. Just imagine how cool it would be if SpongeBob was to deliver crabby patties to Ariel's castle!
Shiver me timbers!
You can get adventurous with toy ships sinking to the bottom of your 'ocean'. Also take a quick scan around the house for some old jewellery and marbles. Lay them down in the sand as 'treasure' and you have got yourself a pirate-themed aquarium.
Circus in town
Take a second to think about all the unusual acts in a circus and then get started. For this one you will need a quick visit to the nearest shops and some DIY.
You can put plastic dolphin balancing a ball on its nose in one corner while a unicycle can stand tall in another. Find hoops big enough for your fish to swim through and tie it on top of coloured straws. Then place them firmly in the sand. You can actually teach your fish to jump through these hoops, thus nailing a classic 'tiger jump' trick!
You may hang some fairy lights around the aquarium to complete the circus.
A tea party
Thinking completely outside the box you can arrange a tea party for your fishes. Put a medium sized teapot with two cups making sure that the fishes do not feel crowded in any way. You can also lay down a table cloth underneath the aquarium to give it a classy look from outside.
Who knew an old china set can work such wonders, right?
Where to find them
While aquarium shops are nothing new, a little bit of research can help you find the best deals and quality.
Nature Aquatics specialises in selling a wide range of marine fishes, aquariums as well as decorations. Not only do they have an impressive collection of fishes and decorations, but the water in their aquariums seem to practically sparkle! What's the secret? Apparently, a regular thorough cleaning process, proper filtration and weekly maintenance does the trick.
Founder and managing director, Ashraf Shiddke Rizve talks about how correct selection of decoration pieces depends largely on the type of the aquarium one owns.
"Fresh water aquarium can have both natural and artificial decor," he says, "For instance, you may choose to decorate it with low tech aquatic plants, stones, drift wood, etc. but they are not suitable for a salt water aquarium. The salt water aquarium itself is of two types. Where a 'fish only' aquarium can be decorated with live rocks, a 'reef' aquarium can have rocks, live corals and reef-friendly fishes."
Among our other top picks is Aqua Street situated in Bashundhara residential area and Fisher's Cave by Unimart featuring all kinds of marine and tropical fishes.
Decorating an aquarium can be super fun, but the safety of our fishes must be our top priority at all times. There are plenty of guidelines and tips available these days where we can learn proper filtration process and sanitisation of decor items before adding them to our fish tanks. With that being said, let's get creative!