Things you probably didn't know about mosque architecture in Bangladesh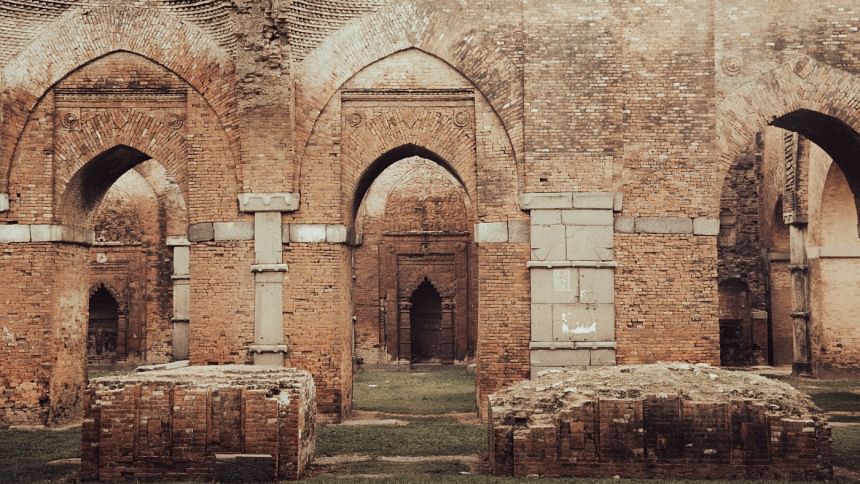 The cultural legacy of Bengal is imbued in its breath-taking religious structures. Being a predominantly Muslim land, it's unsurprising that mosques constitute the majority of such architectural wonders. Throughout the course of Islamic rule in Bengal, stretching from the early Sultanate period to modern times, the designs of mosques have undergone a continual evolution. These changes in architectural style have mirrored the diverse cultural influences and shifting times of the region, resulting in a rich and varied architectural heritage. 
Let us delve into some lesser-known facts about such grand structures. 
The hut-dome mosques: A unique structure from Bengal 
Pre-Mughal architects in Bengal came up with a distinctive style of roofing, which is commonly referred to as the hut-shaped or curvilinear dome. Inspired by roofing techniques used in thatched huts that were common in Bengal at the time, this design is a clear reminder of the modest beginnings of mosque construction during the early stages of Islamisation of this land. 
The shape was later incorporated into brick constructions, resulting in a unique dome style originating from this region. Also known as the "Bengal Roof", this Sultanate-era design was subsequently adopted by the Mughals and echoes of this style can be found in prominent structures like the Hawa Mahal in India. Such domes usually came in two shapes: Do-chala (two slopes) or Chou-chala (four slopes). 
An exemplary illustration of this roofing style can be observed in the Chhoto Sona Mosque, constructed between 1493 and 1519 in Chapai Nawabganj.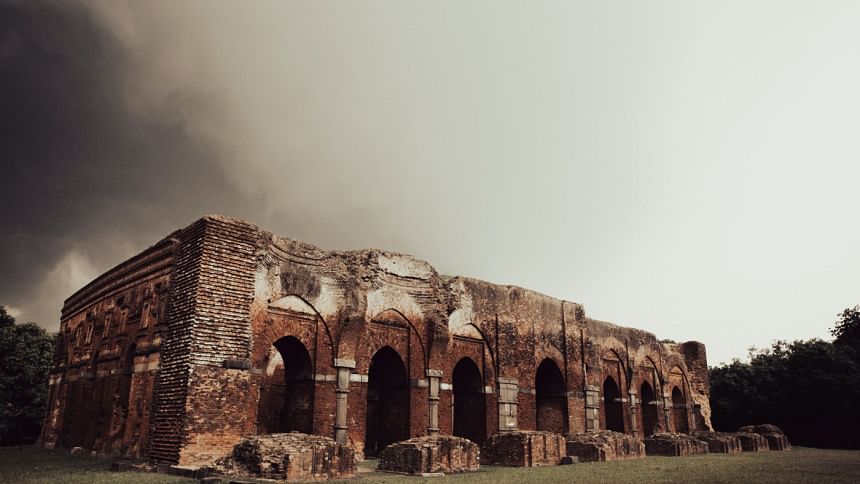 The minarets came later 
Although minarets are now a common feature of mosques, it was not always the case in Bengal. Early mosques in this region did not usually include any tall and slender structures in their designs. However, the Mughal builders introduced the construction of minarets, which became more prevalent in the mid-15th century and onwards.
It is quite easy to explain the absence of this well-known element of Islamic architecture in earlier mosques as a deliberate decision, given that the earliest mosques lacked any such feature. The Shat Gombuj Mosque of Bagerhat can be considered one of the earliest examples of mosques with minarets in Bengal. 
The Mughals replaced the terracotta 
There was a time when the mosques of Bengal featured magnificent terracotta designs that showcased beautiful calligraphy, geometric patterns, and vegetal motifs. Despite the fact that these mosques were constructed by rulers of West Asian descent, the origin of such terracotta art forms cannot be solely attributed to either foreign influence or local traditions. Instead, it is an assimilation of both and represents a separate and distinct artistic style.
Examples of such independently grown unique Islamic art style can be noticed in pre-Mughal mosques like the Darashbari masjid (1479), the Khania Dighi masjid (around 1480), the Dhunichawk masjid (mid-15th century), the Jami Masjid (1523), etc. However, the Mughals abandoned this local brick and clay-based design in favour of imported stones, glazed tiles, and plastered surfaces as an exhibition of their imperial splendour.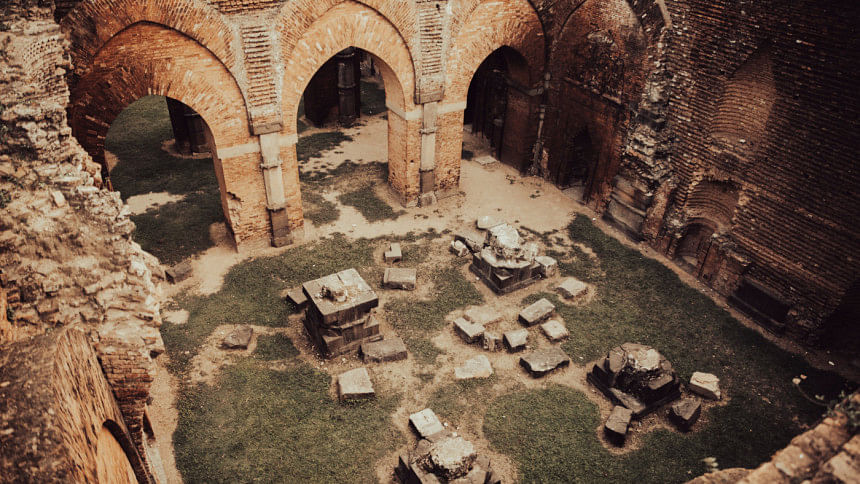 The unique multi-mihrab style of Bengal
A distinctive characteristic of mosque design that emerged during the reign of pre-Mughal rulers was the construction of multiple mihrabs that aligned with the aisles and entrances. This feature is a common occurrence in mosques located in Bengal, and occasionally in North India, but is almost non-existent in other Muslim regions. 
Although early Muslim structures in Delhi like the Jamatkhana Mosque do exhibit multiple mihrabs along the qibla wall, their quantity is never determined by the number of entrances, as is the case in Bengal. An architectural style was developed that emphasises the direction of qibla rather than a solitary niche. Nevertheless, in the majority of cases, the central mihrab remained the focal point in terms of both size and embellishment.