The romance of rain, or not!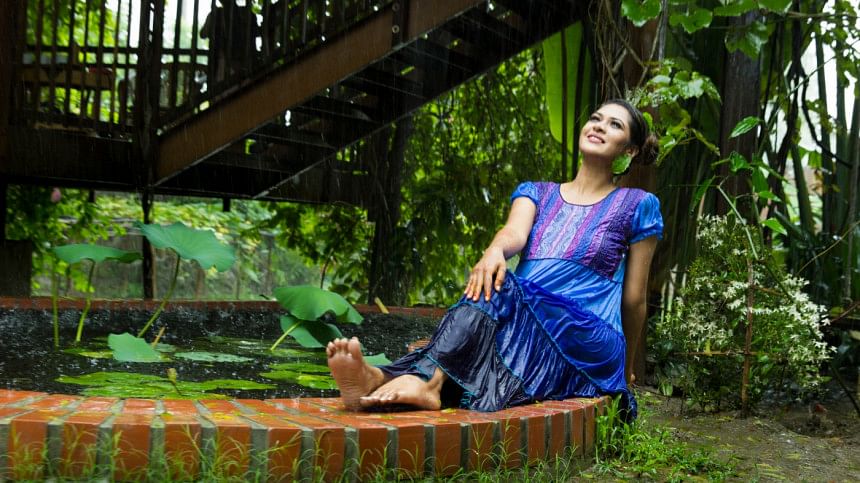 Monsoon is dreamy for some and exasperating for others, yet it is the best season in Bangladesh. The rivers are full and abundant with sweet water fish, nature is at its greenest best. It is the right time to explore the nooks and crannies of Bangladesh.
You hear monsoon and you think lush green outdoors drenched in raindrops; curling up in bed with a steaming cup of cardamom tea and a book; aubergine fritters and a warm plate of khichuri; dancing in the rain and singing at the top of your voice without a care in the world. Or, sitting at the favourite cosy corner looking out the glass window while the dark clouds and grey sky make the day even darker.
A rainy day can mean visiting grandparents for a tea-party; sipping milky frothy tea with biscuits and puris and yummy fritters. It can be collecting flowers and leaves from the garden to play with pots and pans and dolls. It can be listening to fairy tales and stories from grandpa, curling up on his side while his baritone voice recreates action in words of how the demons were beaten by the prince!
Such monsoon afternoons are made of sheer happiness at its purest form. 
When it rains, you are also reminded of wind pushing the bedroom door so hard that it jams the locks; the incessant heavy downpour makes the rainwater sweep inside the room through the door crack, the living room full of wet clothes dumped on chairs and racks, power cuts disrupting daily chores: For a homemaker monsoon conjures up for these images and the thoughts are very much realistic. It is the real-world side of the otherwise romantic season of Bangladesh.
Monsoon also means water-logged roads, early morning office goers splashed dirty by a zooming car, school children in raincoats, men and women with umbrellas and tiffin boxes trying to hop on a bus, CNGs stuck on the road, rickshaw pullers make do with plastic wrap around the head demanding hefty fares or rain-soaked passers-by sitting at the local 'tong' and sipping a cup of hot milk tea.
For an onlooker looking down on the street from her tall apartment building, these might be joyful fodder for a newspaper article, but down at ground zero, monsoon is dirty drain water, stench ridden air and water-logged streets.
But come monsoon, good or bad, you try and make use of the season of plenty.