Thank God It's Friday: Music all the way
Songwriting Masterclass by Nirob Islam
Date: FRIDAY, SEPTEMBER 9, 2022
Time: 3 PM
Venue: The Daily Star Center
Learn from first-hand experience of writing chart topping singles accumulating over 1 billion streams on Spotify. Followed by a Q&A session to have all your questions answered. Please register below to be invited to this one-of-a-kind Songwriting Masterclass by Nirob Islam.
Nirob Islam will be visiting all the way from Sweden to connect with young aspiring songwriters and seasoned professionals through an interactive and informative session. Having broken through into the industry under his writing pseudonym SHY Nodi, Sweden based Nirob is now an acclaimed songwriter and has generated over 1 billion streams for some of the world's biggest artists such as Chainsmokers, Alesso, Steve Aoki, Icona Pop, John Newman and many more. Checkout some of his works: Songs by Nirob Isla
Registration link: https://tinyurl.com/4ut6b22mm.
Shironamhin 25th Anniversary Concert with Symphony Orchestra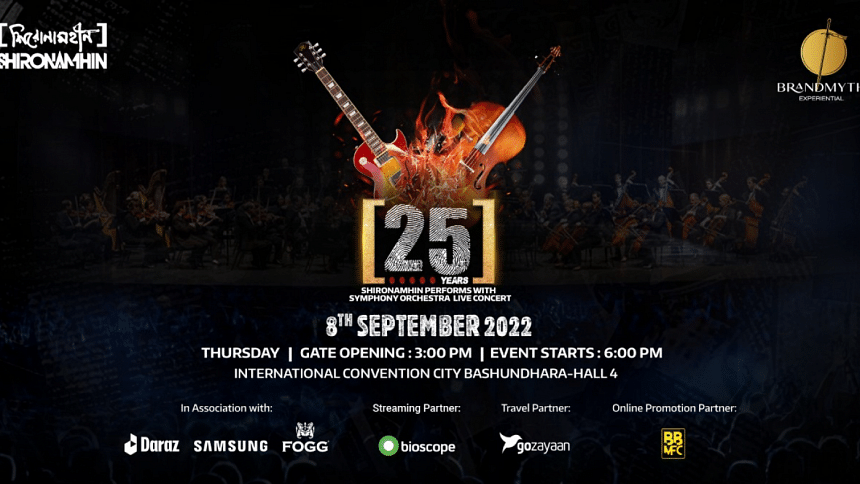 Date: THURSDAY, SEPTEMBER 8, 2022
Time: 7 PM – 11:15 PM
Venue: Novoratri -4 Bashundhara Convention Hall
"Shironamhin", arguably is one of the biggest names of its generation and a well-known brand in the field music industry in Bangladesh. The rock band has now hit a 25 years milestone to celebrate the ecstasy of the silver jubilee. To make the event grand, for the first time ever in the history of Bangla rock music, Shironamhin will collaborate with the symphony orchestra. The legends of Bangla band music will also share the stage with Shironamhin on this grand occasion to make this one of the most iconic concerts Bangladesh has ever witnessed. Gate Opens: 2:00 PM, Show: 6:00 PM - 11:00 PM
Ticket Link: https://shironamhin25.brandmythexp.com
Ticket Price: Regular- Tk 500 (VAT & TAX Included) VIP- Tk 1200 (VAT and TAX Included)
Shreya Rave
Date: SEP 9 and SEP 10
Time: 10AM to 10PM
Venue: Sheraton
Team Glamour Village would like to invite to biggest lifestyle exposition of the year-Shreya Rave 2022. Shreya rave is two day event where GLAMOUR VILLAGE will showcase MaC COSMETICS and more USA based products