Inspiring quotes from Shah Rukh Khan to live by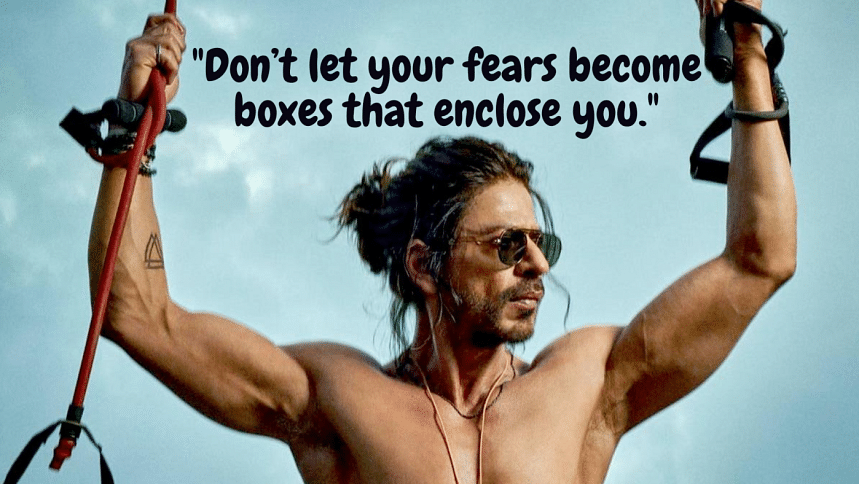 Shah Rukh Khan rules the Hindi film industry with his powerful screen presence and charming smile. From enduring the burns of financial instability to becoming the Badshah of Bollywood, SRK's story is unquestionably an inspirational one. The brilliant actor rose to fame after overcoming both personal and professional losses and with immense hard work and dedication.
Here, we have gathered some truly inspirational quotes from Shah Rukh Khan for an uplifting and successful time ahead— 
"Success is not a good teacher. Failure makes you humble"
In our entire lifetime, we are bound to face both success and failure. At one point, we may find ourselves soaring high by accomplishing our desired task or winning a long-cherished award or position. Then again—just in the blink of an eye—we can hit the rock bottom and drown in the sea of hardship and disappointment.   
We should never let success get to our head whatever the scenario is—rather we should appreciate the blessings of our life when time gets rough and accept the teachings of failure with humility and sincerity. This is what SRK did and said when his team Kolkata Night Riders won the Indian Premier League (IPL) finals after losing for five consecutive years.   
"It's okay to be confused. Confusion is the route to all clarity in the world"
Confusion is an inseparable part of life, especially for people who are planning to choose a new career path. It is not merely a feeling. Rather indecisiveness allows us to take a pause and think things through. SRK completed his bachelor's degree in Economics—however, he took a complete U-turn and followed his heart. And in this way (by being doubtful), Shah Rukh Khan became the superstar he is today.
Hence, we should question our choices more often and strive for clarity instead of getting swept away by the glitz and glamour of our modern world.  
"My biggest achievement is that I can make a lot of people smile just by my presence, even if it's a Lux ad"
Who can't help but fall in love with the charming smile and humour of SRK? Even this quote itself can put a smile on a grumpy face! And this is how hearts are won—by being humorous and putting a smile on our faces even when life may seem too difficult to cope with. Studies show that humour improves productivity and reduces stress. And you can always make anyone listen to you by telling a good joke.
So, endeavour to develop a good sense of humour. It is certainly an essential life skill.  
"Don't let your fears become boxes that enclose you. Open them out, feel them, and turn them into the greatest courage you are capable of"
We prefer to get out of our comfort zone rarely. But whenever we do this, extraordinary things happen and we get amazed by witnessing our latent talents and capabilities. Fear is a constant in our lives and so is our courage and willingness to conquer it. During the first phase of his career, Shah Rukh Khan was rejected by many directors and producers. However, he did not let his fear of rejection hold him back. And we shouldn't either.
Whether it is the fear of starting a new venture, leaving a toxic relationship, or sitting for a difficult math test, don't let this cage you. Instead, turn this fear into the fuel that pushes you to move forward. 
"Don't ever treat your little insanities as if they are aberrations that ought to be hidden from the rest of the world"
The abilities to treat our childish absurdities and insanities with compassion and laugh at our own follies are rare qualities to have. While speaking at the prestigious University of Edinburgh, SRK, again and again, reiterated the importance of believing in ourselves. It's okay to not know where we're going to be in twenty years as long as we follow our hearts and have faith in ourselves.
The world can be a very cruel place sometimes and won't hesitate to make us feel bad about ourselves. But we've to be brave enough to acknowledge our insignificant absurdities and show them to the world with confidence.