How team Morocco has taught us the importance of family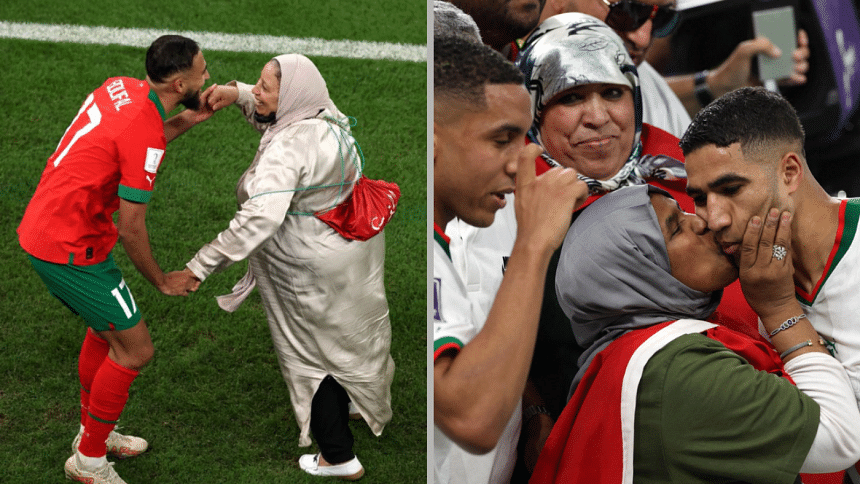 Most teams at this year's FIFA World Cup have talked about being like family, and the Moroccan team has truly been one. With their commitment to togetherness, strong support from their family members, and mutual respect among teammates, they have performed at the highest levels achieving success that no one anticipated.
Families are the bedrock of our lives. The way parents make sacrifices for their children, from ensuring they are protected from anything harmful to guiding them towards a better life by enlightening them, it's the family that one can always count on. Family members are also well-versed in the struggles they had to go through to raise their children.
Achraf Hakimi's mother worked as a cleaning lady, and his father a street vendor. Many other Moroccan players have a similar tales of hardship. From Sofiane Boufal bringing his mother to the pitch to celebrate the win against Portugal to their goalkeeper Bounou seen playing with his son after the match ended — this Morocco team is giving us sweet doses of family moments.
The fact that the Moroccan players' families are present on the pitch is not a coincidence. All the team members chose family members for an all-inclusive vacation to Qatar, as directed by coach, Walid Regragui and president, Fouzi Lekjaa of the Royal Moroccan Football Federation.
Morocco's headquarters at the Wyndham Doha West Bay hotel thus resembled a sweet parent-run summer camp. The happy parents of Moroccan players have bragged about their kids, and how they view all of the boys on the team as their own whenever the media has inquired.
This is something the Moroccan players desperately needed, as even though things look so wholesome now, it was not the case earlier this year. The idea of integrating the family members with the players at the World Cup came to be to cleanse the toxic environment created by Vahid Halilhodzic, the previous Moroccan manager who did not pick many players just because they were born abroad, among other mismanagements.  And, it's no surprise that it has worked as well as the players look so inspired with their families around at the World Cup. 
Morocco did not start as favourites in this World Cup, but by reaching the semi-finals for the first time in their history, they have already made their fans and families proud. They have also emerged as a team many neutrals are rooting for, thanks to their spirited display and strong emotional attachments to their family members.